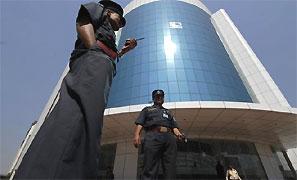 Hopeful that the Real Estate Investment Trusts will eventually make it big in India, regulator Sebi's chairman U K Sinha on Friday said there is a need to look into the reasons why there has been 'very little enthusiasm' so far in this market.
Striking a positive note, Sinha said REITs took a long time even in the US to take off in a big way and the growth started only after 5-6 years.
"I find that even after the regulations have come through, there is very little enthusiasm in the market for REITs.
"I hope that we discover, we analyse and we find out why it is so.
"I'm not discouraged, because even if I look at data from US, first few years were areas of learning.
"The growth started happening only after 5-6 years, Sinha said here at a Sebi-organised conference on REITs.
Sebi had last year put in place a separate regulatory regime for REITs, while Finance Minister Arun Jaitley also announced a tax-friendly regime for these investment instruments in the Budget last month.
Sinha said there is a need to look into whether there was something that was missing and assured the industry and investors 'if there is an informed advice that Sebi needs to do something, we'll be more than willing'.
"REITs were looked at with a degree of suspicion in the beginning.
"In 2008, the Sebi board felt it is risky and disallowed it but then we took the idea forward," he said, while adding that some sections even felt that REIT is a vehicle to avoid tax.
"Right now, the industry has been representing to us on concerns regarding Dividend Distribution Tax and Minimum Alternate Tax. Sebi's decisions are based entirely on the feedback it receives.
"Initially, there was a thought to include Infrastructure Investment Trusts as part of the regulation on REITs, but now we've decided to have it separately.
"The Budgets in July last year and in February this year have given clarity in certain areas," he added.
In a fillip to investments in realty and infrastructure sectors, Finance Minister Arun Jaitley, in his February 28 Budget speech, announced a rationalised capital gains tax regime for the sponsors of newly-created business structures -- REITs and INViTs.
In September 2014, capital markets regulator Sebi had notified norms for listing of REITs and INViTs that would help attract more funds in a transparent manner into the real estate and infrastructure sectors.
These two trusts, which can be listed on stock exchanges, would help channelise both domestic and overseas investments into real estate and infrastructure projects in the country.
Stating that these collective investment vehicles have an important role to revive construction activity, Finance Minister Arun Jaitley had said that a large quantum of funds is locked up in various completed projects which need to be released to facilitate new infrastructure projects to take off.
"I therefore propose to rationalise the capital gains regime for the sponsors exiting at the time of listing of the units of REITs and INViTs, subject to payment of Securities Transaction Tax.
The rental income of REITs from their own assets will have pass through facility," Jaitley had said.
Real estate developers and property consultants have been demanding further tax clarity in REITs to ensure the launch of this trust for commercial assets.
REITs, a new investment avenue in India on lines of one in developed markets like the US, UK, Japan, Hong Kong and Singapore, can be listed and trading would be allowed in units of REITs like any other security on stock exchanges.
INViTs are also set up for similar purposes.