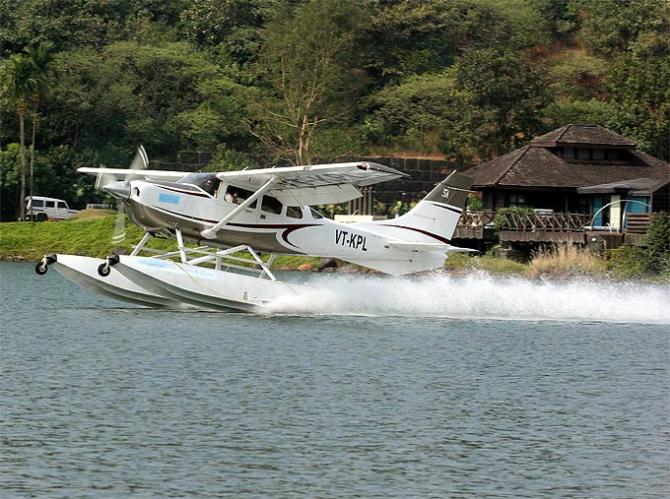 A 9-seater sea-plane of Maritime Energy Heli Air Services (MEHAIR) landed successfully in Gangapur dam near Nashik, thirty-five minutes after taking off from Juhu in Mumbai.
Officials of MEHAIR and Maharashtra Tourism Development Corporation were present at the dam to witness this test-flight, which was piloted by captain Priyanka Manuja and co-pilot captain Rahulkumar Pushpa.
The company, in association with MTDC, is planning to run a regular sea-plane service for the tourists.
However, local environmental activist Ramesh Kadlag of Paryavaran Santulan Sanstha and others staged a protest, saying that seaplane landings can endanger and drive away the migratory birds which visit the area in the winter.
It could also affect the fishing, Kadlag said, apart from polluting the water of the dam which is the main source of drinking water for Nashik city.
President of Nature Conservation Society of Nashik, Vishvarup Raha, too opposed the proposed sea-plane service saying that it would disturb the habitats of migratory birds.
He said his organisation was planning to approach the national green tribunal over the issue. However, Siddharth Varma, co-founder and director of MEHAIR, dismissed the fears.
He said the company was also going to start sea-plane services to Lonavala and Ganapati Pule in the state, and had already launched a service to Mula dam in Ahmednagar district.
Nashik collector Vilas Patil, who was present to witness the landing of the plane, said administration will hold meetings with farmers and nature lovers to learn their concerns before allowing a regular service.