Unlike Saradha mastermind, Gautam Kundu used illegally collected money to expand the company's hotel business across India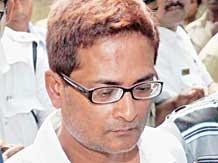 "I am not a fool like Sudipta Sen," Rose Valley Chairman Gautam Kundu shot back when reporters asked him whether he too had to face political pressure like the alleged mastermind of the Saradha scam.
Late last month, Kundu was arrested by the Enforcement Directorate for running what the agency thinks was a Ponzi scheme.
By all accounts, Rose Valley is believed to be one of the biggest money pooling businesses in India after Sahara.
While the Enforcement Directorate estimates that Rose Valley collected close to Rs 15,000 crore (Rs 150 billion), the All India Small Depositors Association pegs the amount at close to Rs 40,000 crore (Rs 400 billion) -- 16 times the size of the Saradha scam.
Right now, both Kundu and Sen are behind bars.
But there is a crucial difference between them: while investigators have not been able to trace the money Sen collected from depositors, Kundu created many assets on the ground.
Thus, Rose Valley Hotels & Entertainment owns nearly 23 properties across India. According to Amit Banerjee, secretary, Rose Valley Group Field Union, the combined value of these hotel assets would be close to Rs 2,500 crore (Rs 25 billion).
It would have been possible to pay investors back by selling some of these but for the embargo on their sale.
The Securities and Exchange Board of India had prohibited the sale of real estate by Rose Valley in January 2011 and the state government had followed suit.
In addition, all the 2,600 bank accounts of the company, which together hold cash balances of Rs 800-1,000 crore (Rs 8-10 billion), have been frozen by the government, according to Banerjee.
Most of these assets were built over the 18 years since Kajal Kundu, the elder brother of Gautam Kundu, started Rose Valley Hotels & Entertainment.
Alongside, he also set up Rose Valley Real Estate & Construction. In the initial days, the scale of operations of the two companies was hardly of any consequence.
By 2001, Kajal Kundu had started another company, Rose Valley Chain Marketing, which in 2002 became a corporate agent of state-owned Life Insurance Corporation, or LIC, the country's largest insurer.
In 2003, Kajal Kundu, his wife and son died after their car plunged into the Barapani lake, about 10 km from Shillong.
The reins were passed on to Gautam Kundu.
Rose Valley Chain Marketing's mandate was renewed in 2005 and 2008, but it ran into trouble around 2012 when the Insurance Regulatory and Development Authority of India, raised objections about its operations.
According to the IRDAI order of March 2012, Rose Valley Chain Marketing was selling insurance products through people who did not possess any certificate to do so.
Further, IRDAI accused the company of charging the policy holders unauthorised fees such as administration fee and service charges to the policy holder.
The money raised through such fees, alleges Subir De, convenor of the All India Small Depositors' Association, was transferred to other Rose Valley companies.
According to De, Kundu leveraged the agent network of Rose Valley Chain Marketing to mobilise deposits from the public.
This money, he says, was ploughed into the real estate and hospitality businesses.
The veracity of these allegations is being investigated by the law enforcement agencies.
What is certain is that Rose Valley built a number of resorts and hotels in the countryside, and even entered the timeshare business.
Rose Valley's business gained traction once the Left Front government in West Bengal started to slip into decline.
"It was after the gram panchayat elections of 2008 that the business of Rose Valley multiplied.
"The company started investing in media ventures that became the mouthpiece of a certain political party," says De.
In 2009, the Left Front government, alarmed at the rate at which the money pooling business in the state was growing, formed the Economic Offence Cell to look after the matter.
But that did not change anything on the ground.
Lured by the promise of high returns, unsuspecting people kept pouring in money, often their lives' savings, into such schemes.
For instance, money collected by Rose Valley Real Estate & Construction through a scheme called Ashirbad shot up from Rs 1,358 crore (Rs 13.58 billion) to Rs 2,016.32 crore (Rs 20.16 billion) by the end of March 2011.
Apart from Rose Valley, other companies that raised large sums of money from depositors included Saradha, Prayag, ICore and MPS.
Finally, in 2010, the West Bengal government asked Sebi to investigate the matter.
The stock market regulator passed several orders against such schemes.
In July 2013, after the Saradha scam broke out, Sebi passed an order against the Rose Valley Holiday Membership Plan.
In the meantime, the Economic Offence Cell became virtually defunct, a bureaucrat discloses.
Perhaps, large scale scams such as Rose Valley and Saradha could have been averted had the cell been active.
There are more than 30 companies under the Rose Valley banner on paper, which includes companies such as Rose Valley Airlines, Rose Valley Microfinance, Rose Valley Fashion, Rose Valley Consultancy, Rose Valley Beverages, Rose Valley Infotech and Rose Valley Housing Finance.
However, the main companies are Rose Valley Hotels & Entertainment, Rose Valley Films, Brand Value Communications (which runs nearly six media outlets, including regional newspapers and channels such as News Time Bangla, Rupashi Bangla and Dhoom Music), Adrija (the jewellery retail outlet) and Rose Valley Industries (which makes FMCG products and packaged mineral water).
"Rose Valley will be missed. It produced some good films for urban-centric audiences that were small budget and made money," a film exhibitor says.
"To be sure, Rose Valley has worked with some of the biggest names in the Bengali film industry such as Goutam Ghose (Moner Manush), Kaushik Ganguly (Laptop and Shabdo) and Anik Dutta (Aschorjo Pradip).
Thus, Rose Valley's business was backed by investments in most cases.
Sen of Saradha, in contrast, had ploughed money into television news channels.
The other ventures that he invested in were mostly defunct units: a news channel of Trinamool Congress-leaning painter Suvaprasanna that never went on air and a motorbike facility with no production.
In his tell-all letter to the Central Bureau of Investigation after he absconded, Sen alleged that he was done in by the people in power.
Kundu's case is a little different.
He may have flourished with the blessings of influential people but he set up big businesses with the funds collected from the money pooling ventures.
Many of his peers from the film and hospitality industries describe him as a serious player.
Also, unlike Sen, Kundu was a well-known figure in Kolkata's business circles.
With his flashy add-ons -- the Rolls-Royce Phantom and outlandish attire with a fetish for stripes -- Kundu was hard to miss in a crowd.
Image: Gautam Kundu