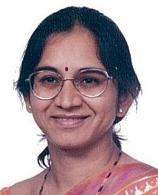 Like a dutiful Indian wife she was unflinching in her support for her husband, Satyam founder B Ramalinga Raju. And on Wednesday, she again showed her unwavering faith by bailing him out.
Nadini saved the day for Raju on Wednesday by becoming one of the sureties for his release. This is the second time that the wife of the beleaguered former chairman came forward to his rescue.
Earlier when Raju was suffering with multiple health problems, and the jail authorities were in a fix on paying for his costly treatment at the Nizam's Institute of Medical Sciences (NIMS), she took upon herself to foot his bills.
The NIMS authorities had told the jail officials that his treatment could cost around Rs 8 lakh. Generally all the medical expenses of prisoners are borne by the jail department, but release of funds can take a lot of time.
It was then that Nandini wrote to the director general of the jail department, saying that she was willing to bear the medical expenses and requested the officials to admit Raju to NIMS immediately.
Based on her request a local court directed the prison department to allow Raju to be admitted to the NIMS, where he undergoing treatment since December last year.
Doctors at NIMS on Wednesday said the treatment could take another 16 weeks. The AP High Court, on Wednesday, granted bail to Raju ordering him to furnish two sureties of Rs 20 lakh security each.
The court also put the condition that Raju should not leave Hyderabad and should attend the court proceedings after he is discharged from the hospital.
Nandini Raju and Suryanaraya Raju, a cousin of Raju provided sureties to bring the disgraced former Satyam chief out of jail, Raju's counsel Bharat Kumar said. "The lower court which is trying the case has given the release order. The same has to be produced to Chanchalguda jail authorities for his release," Kumar told PTI.
"Once we receive orders from the court, we will release him in the hospital itself and withdraw our security personnel," M Chandra Sekhar Superintendent Chanchalguda jail said.