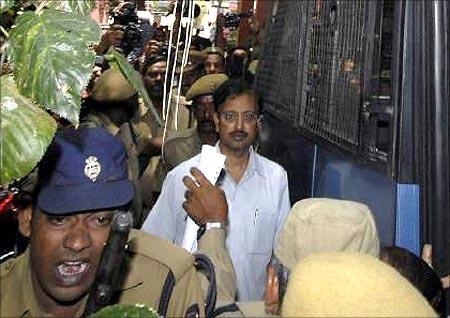 The final arguments in the multi-crore accounting "fraud" in Satyam Computers commenced on Wednesday in a local court with the prosecution starting its arguments in the case.
CBI Special Public Prosecutor K Surendra, who began the arguments gave a broad outline of the "modus operandi" adopted by prime accused and former company chairman B Ramalinga Raju and nine other accused "over a period of 10 years by fabricating records and financial documents and indulging in the accounting scam and how they (Satyam scam accused) made money."
After completion of arguments by the prosecution, the defence will put forward its arguments and the next stage will be for delivering the judgement, the CBI counsel told PTI.
The process of recording statements of prosecution and defence witnesses (examination of prosecution and defence witnesses) was completed on Friday last at the XXI Additional chief metropolitan magistrate (ACCM) court here.
CBI had earlier cited 226 witnesses including employees, officials, bankers among others from 650 while defence came up with 10 witnesses.
Satyam's founder Raju and nine other accused, including his brother B Rama Raju and chief financial officer V Srinivas, are facing charges ranging from criminal conspiracy, criminal breach of trust, cheating, forgery and falsification of accounts in connection with the over Rs 14,000 crore accounting scam, which surfaced in January 2009.
The CBI, which investigated the case, has filed three charge sheets.

Photograph: B Ramalinga Raju, Courtesy: Reuters