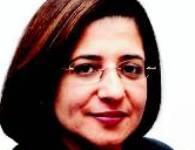 Marketing pharmaceuticals, financial services and fast moving consumer goods. Been there, done that. Now, a new dawn breaks for Sangeeta Pendurkar, 43, who takes charge mid-month as managing director at Kellogg India.
She takes on the job of country head with the breakfast cereal maker at a time when the sector's bowl is brimming over with competitors like Marico and PepsiCo on one hand, and modern retailers such as the Future group on the other. Even Nestle is eyeing this space.
Pendurkar's immediate priority, say company sources, will be to firmly grip its spoonful of the crucial cornflakes segment, where it is the leader. But it is the smaller oats segment that will prove a challenge.
Though cornflakes accounts for almost 80 per cent of the Rs 500-crore breakfast cereal market, wheat porridge, white oats, muesli and breakfast cereal bars are increasingly popular in large cities. But the bachelor in pharmaceutical sciences from Mumbai University, who holds an MBA in marketing from Pune University, is prepared for the crunch ahead.
Her diverse experience should certainly help. Pendurkar's previous jobs include chief marketing officer at HSBC Middle East and stints at Hindustan Unilever and Hindustan Ciba-Geigy (currently Novartis India).
At Coca-Cola - from where she moves to Kellogg - Pendurkar led the strategic planning function and was in charge of the Georgia Coffee business, as well as international trade. Maybe it's time for Kellogg's competition to wake up and smell the Java.