An equal joint venture agreement between state-run SAIL and South Korean major Posco is likely to be inked during Steel Minister Beni Prasad Verma's proposed visit to Korea starting November 5.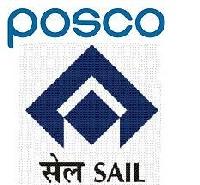 The shareholding pattern of the proposed venture is seen as a hurdle in signing the pact. The proposed joint venture aims to set up a plant at an investment of Rs 16,000 crore (Rs 160 billion) in Bokaro to produce three million tonne auto-grade steel.

"We may have 51 per cent equity or it could be 50:50," Verma told reporters when asked about the likely shareholding pattern in the JV.

A senior official in the ministry, however, said the two parties have nearly reached an understanding to make it an equal joint venture.

Posco's patented Finex technology, which would be used in
the proposed new plant, is not being used any company other than Posco.
Finex is an environment-friendly iron-making process where iron ore fines are directly used.
There is also the iron ore price issue which is yet to be resolved, Verma said, adding that if all the pending issues were not cleared within next two days, he might even cancel his tour.
The official, however, ruled out cancellation of Minister's visit to Korea. Verma is slated to leave Korea for Russia on November 9 and come back to India on November 12.
In Russia, he will attend the memorandum of understanding (MoU) signing ceremony between state-run iron ore miner NMDC and Russia's Severstal.
NMDC had earlier signed a pact with Severstal for setting up a three million tonne per annum steel plant, expandable to 5 mtpa, plant in Karnataka entailing an investment of about Rs 25,000 crore (Rs 250 billion).