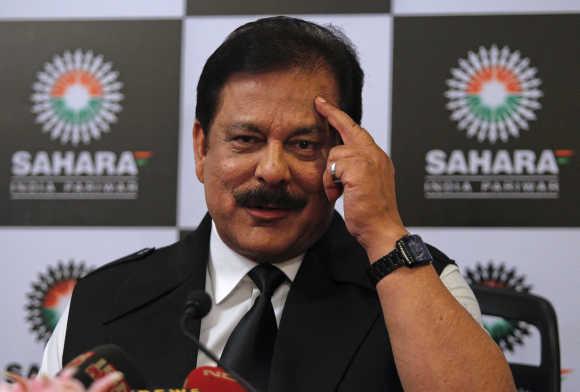 Uncertainties loom large over embattled Sahara's fund raising plans even as the group on Wednesday said that its proposed arrangements to raise money for release of its chief Subrata Roy cannot be subjected to public debate and speculative media trials.
Even as Sahara has presented a fresh plan to the Supreme Court for raising funds, reports from Madrid suggest that Spanish lender BBVA has denied offering any credit to the group.
On Monday, the Supreme Court granted three months time to Sahara Group for selling its offshore properties for raising Rs 10,000 crore (Rs 100 billion) to ensure the release of Roy, who has been in jail for a year for non-refund of over Rs 20,000 crore (Rs 200 billion) to depositors.
In a statement, Sahara said "submissions made before the court for adjudication in a sub-judice matter cannot be subjected to public debates and speculative media trials, as the same can attract contemptuous liability".
Due to the operation of confidentiality clause and the fact that the submissions have been made in the Court, it is not possible to say beyond this, Sahara said. Under the proposed deal, Sahara was to provide a bank guarantee from HSBC.
When contacted, an HSBC India spokesperson declined to comment on the matter. However, a senior official at HSBC India on condition of anonymity said that the bank had no connection with the proposed transaction of Sahara.
Under a fresh proposal, Sahara has informed the Supreme Court that BBVA would provide cash assistance of 900 million euro to Hong Kong-based Nouam Ltd, which would use the amount for paying and taking over the outstanding dues of the Bank of China related to Sahara's three overseas hotels.
Bank of China had lent money to Sahara in purchase of stakes in three overseas hotels.
Queries sent to BBVA and Nouam remained unanswered. Sahara had also submitted to the Court that about Rs 5,000 crore (Rs 50 billion) which has to be deposited as bank guarantee would be generated from HSBC.
The latest proposal comes after the proposed deal with US-based Mirach Capital collapsed after Sahara found that letter of credit furnished were forged.
According to Sahara, the proposal of a foreign company about BBVA fund is not meant for bailing out Roy. "The money in question is an endeavour of a foreign company which is planning to purchase loan portfolio of Bank of China," it added.
In the statement, Sahara said it has already paid 95 per cent (around Rs 23,000 crore) of the OFCD (Optionally Fully Convertible Debentures) liabilities of the two companies in question, way back in 2012.
"The current liability is of around Rs 2,000 crore (Rs 20 billion) only; against which, we have already paid more than Rs 12,000 crore (including interest) to Sebi and by the time our chairman (Roy) comes out of custody, we shall be having around Rs 18,000 crore (Rs 180 billion) with Sebi," it added.
"The original documents pertaining to investors and the refunds made by the the companies, including receipt vouchers and original bond certificates have been handed over to Sebi for verification; Sebi has not done verification of investors till now.
"Further, in more than last 30 months, Sebi has repaid only around Rs 2 crore (Rs 20 million) of the investors who have approached it... As per the order of the Supreme Court, the entire money with bank interest shall come back to Sahara after the verification," the statement said.