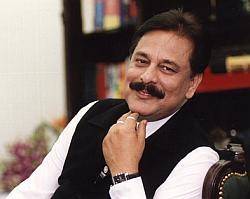 The government on Friday informed the Parliament that Sebi has discovered discrepancies in the claims by the bondholders and the database provided by Sahara Group in the Rs 20,000-crore (Rs 200 billion) investors money refund case.
Replying to a question in the Lok Sabha, Minister of State for Finance Namo Narain Meena said that as of November 29, Sebi had received 3,375 applications for refund of money amounting to Rs 25.37 crore (Rs 253.7 million).
Out of this, 3,254 applications were accompanied by original bond certificates/passbooks, which the Sebi tried to verify before refunding the money.
The Minister, however, said that in several cases the details provided by the investors did not match with the database submitted by the Sahara entities.
"There have been 758 applications involving 2,476 accounts/control numbers for amounts aggregating Rs 3.36 crore (Rs 33.6 million), where the details of bonds/bondholders are not found in the database of bondholders submitted by the Sahara entities," the Minister said in the annexure attached to the written reply.
He also regretted that although Sebi (Securities and Exchange Board of India (Sebi) referred the matter to the Sahara group for clarification, "but they have not responded so far".
Before making refunds, Sebi was seeking confirmation from Sahara group to avoid duplication of payments, Meena said.
The case pertaining to refund about Rs 20,000 crore -- collected by Sahara India Real Estate Corp Ltd (SIREC) and Sahara India Housing Investment Corp Ltd (SHIC)-- to investors is pending in the Supreme Court.
The apex court on August 31 last year directed the Sahara group to refund Rs 24,000 crore by November end. The deadline was further extended and the companies were directed to deposit Rs 5,120 crore (Rs 51.20 billion) immediately and Rs 10,000 crore (Rs 100 billion) in first week of January and the remaining amount in first week of February.
The group, which had handed over the draft of Rs 5,120 crore on December 5, has failed to pay the rest of the amount.
Last month, Supreme Court had barred Sahara Group chief Subrata Roy from leaving the country and also restrained it from selling any of its properties.
The court had said that its order for handing over title deeds of Rs 20,000 crore unencumbered properties to Sebi was not followed by the group in "letter and spirit" and prevented Roy along with other directors of the group Vandana Bhargava,
Ravi Shankar Dubey and Ashok Roy Choudhary from leaving the country.