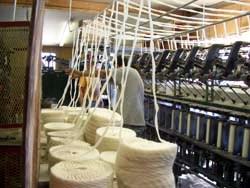 Executives at S Kumars Nationwide Ltd take their clothes very seriously. Impeccable suits, crisp shirts and well-tailored trousers are the norm in its office at Worli, Mumbai. "We're the clothiers of the nation today and the world tomorrow," says vice-chairman and managing director Nitin Kasliwal with quiet pride.
SKNL, which started out as a textile distributor in 1948, is today one of the country's largest textile and apparel companies with a portfolio of brands that covers all the segments of the market -- formal, informal and luxury. Segmentation, Kasliwal points out, is the key to his business strategy.
For instance, SKNL's strategic business units or SBUs are clearly outlined: Consumer textiles, luxury textiles, home textiles (Carmichael House), ready-to-wear and the international business.
But there's another, more important division Kasliwal focuses on: Socio-economic segmentation. At the bottom of the pyramid is the economy segment that caters to a population of about 250 million.
Higher up is the mid-premium space with approximately 160 million people. Even further are the premium and super premium categories which serve about a 100 million.
"We want to have the widest and deepest pan-India presence; which is why we're in each of these categories," he points out.
Wide and deep

In the economy segment, the company has its namesake fabric brand, S Kumars. But that market too has migrated fast towards readymade apparels.
So, on the ready-to-wear side, it is launching a new brand called World Player. Then in the mid-premium segment, it has Belmonte for both fabric and apparel. At the premium end, there's Reid & Taylor. And now at the super-premium segment, it has Stephens Brothers.
Kasliwal's flagship brand is Reid & Taylor. It retails between Rs 1,200 and Rs 2,500 in the ready-to-wear segment. It is present across 15,000 retail stores and 250 standalone outlets in 350 cities. It competes with the likes of Zodiac, Arrow, Louis Philippe, Van Heusen, Allen Solly, Color Plus and Provogue for market share.
Reid & Taylor was launched a decade ago. After an indifferent start, it has become the number two player in the worsted suit market. To begin with, it had got Pierce Brosnan to endorse the brand. Brosnan at that time was the lead actor in James Bond films.
But he failed to connect with Indian consumers, though the commercials were slick -- the company had decided to focus on television as the preferred medium of communication. SKNL then roped in Amitabh Bachchan. That did the trick for Reid & Taylor. In marketing circles, Reid & Taylor is considered the ageing superstar's biggest success as a brand ambassador. The brand has grown to Rs 1,000 crore (Rs 10 billion) now.
Going forward, Kasliwal hopes to make Reid & Taylor a lifestyle brand which can be extended to perfumes, shoes and so on. To beef up its premium portfolio, SKNL will soon launch Krugar, a premium casual wear brand. Perhaps because Reid & Taylor is very strongly associated with formal wear.
Meanwhile, it has begun to retail the super-premium British brand Stephens Brothers through eight stores across seven cities in the country. It is priced between Rs 1,500 and Rs 2,800. However, it will be repositioned as a mainstream brand. As a result, there will be price cuts and an increase in the number of stores.
Below Reid & Taylor, in the mid-premium category, SKNL has Belmonte. It is endorsed by Shah Rukh Khan, is available in fabric as well as readymade apparel, and is priced between Rs 500 to Rs 1,000.
This, sector experts say, is the sweet spot in which bulk of apparel sales in the country take place. SKNL has leveraged its association with Khan to become the formal wear sponsor of Kolkata Knight Riders (the Indian Premier League team owned by Khan.)
The company knows the great potential this category holds. So, it will launch a yet-to-be-named casual and denim wear brand in this segment. The reason is simple:  Strong growth of the Indian textile and apparel industry at about 9 per cent.
The middle class Indian population is expected to grow from 13 million households in 2005 to 60 million in 2015. Concurrently, annual household income is projected to grow 12 per cent per annum from 2005 to 2025.
For the masses
As for the economy end, SKNL has big things planned. While it already has a fabric brand in S Kumars, it is now launching World Player, a new ready-to-wear line. This brand, positioned as a mass product, will be priced anywhere between Rs 175 and Rs 400.
This line of clothing will be mainly focused on suburbs and towns in the B, C, D and E categories. Given its experience in the fabric business, Kasliwal is confident that while the margins may not be high, the return on capital will be decent. "We have the capability of making garments at Rs 35 per metre and then selling it at Rs 175," he says.
For the brand that will be launched in January 2010, the company did thorough research, to the extent that its marketers even went to rural homes and small towns. Results revealed that people in these regions want a brand with a foreign sounding name.
Thus, the company decided to come out with World Player, a brand that will not be high on fashion but will cater to their aspirations. Here too, a brand ambassador will be roped in. However, unlike its other brands, the television commercials of World Player will appear mainly on state-owned Doordarshan which runs on the terrestrial network. "Only 20 per cent of India is covered by cable anyway," says Kasliwal.
This, mind you, is also the price band that several retailers have as their target for their private labels. Most of them already have products with lower price points in their retail network. Kasliwal may have to bank on these very retailers to sell World Player.
Will they push it, given the fact that retail margins on private labels are far more attractive?
At the same time, Kasliwal is stretching himself in the the other direction as well. In 2008, SKNL bought Leggiuono, an Italian shirt fabric manufacturer. More recently, it bought Hartmax, a large formal wear brand in the United States. Hartmax is also a leading supplier to all leading department and specialty stores like Dillards, Nordstorm, Bloomingdales, Barneys, Neiman Marcus and Saks Fifth Avenue.
The rationale behind buying the company was the sheer size of the men's apparel market in the US. Within that, the men's formal clothing business, a $5 billion category, is growing at 7 per cent annually.
According to Kasliwal, SKNL will supply fabric and garments from India that will generate significant margins for the company. So for instance, a brand of Hartmax, Hickey Freeman is typically priced at $700 while the cost to make it in India would be just $70. "This is what we mean when we say clothier of the nation and the world tomorrow," says he.