Nikon India, a wholly-owned subsidiary of Nikon Corporation of Japan, has said that it will go for a price rise if the rupee depreciation will continue.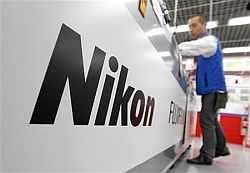 "Since we are importing all our products from Thailand, Japan and China, the rupee-dollar imbalance is affecting us badly. It has directly affected our profitability. We have already increased prices of some brands, but will be forced to raise prices if this trend of rupee depreciation is going to continue," said Hiroshi Takashina, managing director, Nikon India.

Launching Nikon D3200 digital SLR, Takashina said that the firm is expecting a turnover of Rs 1200 crore this year. Currently, the firm has a marketshare of 27 per cent in compact segment and 55 per cent in DSLR. "We would like to continue as the market leaders in DSLR segment, while will increase the compact segment share to 33 per cent.

Started its Indian arm in 2007, in the last six years, Nikon has introduced 10 DSLR and 19 compact models in the last
six years. Currently, Nikon India contributes about 1.5 per cent to the global revenue of Nikon Corporation. "We would increase this to 5 per cent in the next three years. Other major markets for us are China and Japan with contributes 10 per cent each to the global revenue," he said.
During the current financial year, the firm is planning to increase its number of outlets from 3000 to 3500. It is also planning to increase the number of Coolpix zones from 91 to 110 this year. "We have no plans to set up a plant in India in the near future. For marketing and branding only, we will invest Rs 150 crore (Rs 1.5 billion) this financial year, compared to Rs 120 crore (Rs 1.2 billion) during the last fiscal," Takashina added.
He expected hope that the DSLR segment is set to grow from 1.7 lakh units to 2.5 lakh unit this year, while in the compact segment sales may increase from 30 lakh to 40 lakh. The new D3200 model is available at black and red colour. It is available in two kits with a price of Rs 48,950 and Rs 37,950, while the body is priced at Rs  37,950.