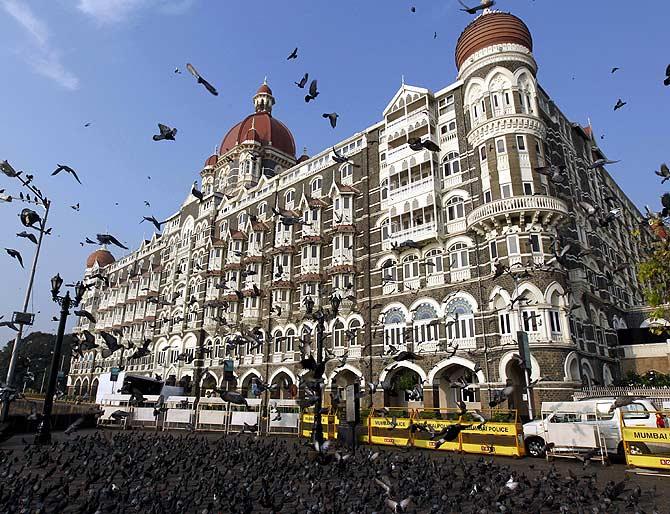 This is part of BJP's Mumbai Mission to gain supremacy in Mumbai civic body
In the run up to the crucial election to the BrihanMumbai Municipal Corporation slated for February 2017, the Bharatiya Janata Party-led government in Maharashtra will launch infrastructure projects worth Rs 1 lakh crore ($15 billion) during this year.
The list of projects include water reuse and recycling, sold waste management, Mumbai Metro expansion, Mumbai coastal road, Mumbai Trans Harbour Link, water transport, port and jetty construction, roads and Smart City.
The planning of these projects and its implementation are being monitored by the chief minister Devendra Fadnavis personally as it is part of BJP's Mumbai Mission to gain supremacy in the 227-member BMC over its ruling partner Shiv Sena.
The funds are being mobilised from these undertakings as well as from international financial agencies including Japan International Cooperation Agency.
These projects will be undertaken by BMC, Mumbai Metropolitan Region Development Authority, Maharashtra State Road Development Corporation by roping in contractors from India and other countries.
The Shiv Sena-BJP ruled BMC, which is a nodal agency for the Rs 13,000-crore or Rs 130-billion Mumbai Coastal Road project, is in the midst of inviting tender while the government soon expects final approval from JICA for providing 80% loan to the Rs 18,000 crore or Rs 180-billion Mumbai Transharbour Link.
The Mumbai Metro Rail Corporation expects to launch, before end of this year or early 2017, the construction of 33.5-km Colaba-Bandra-Seepz Metro Metro link.
The project envisages an investment of Rs 23,136-crore or Rs 231.36-billion project.
Besides, MMRC is striving to complete necessary pre-development work for the the 40-km long and 36-station Dahisar and Mankhurd via Charkop and Bandra Metro II corridor.
Fadnavis said a large number of companies from the US, Japan, China, European Union and Gulf Region have evinced interest.
He informed that several companies have also expressed their desire to associate with the state government in the development of International Financial and Services Centre in the plush Bandra Kurla Complex.
He however, noted that his government does not share his predecessors' vies to transform Mumbai into Shanghai but keen to learn from the latter the pace at which the transformation has taken place.
These projects are being planned when BJP, which is now playing a second fidddle in BMC, is exposing number of scams in the civic body and its various projects while targeting Shiv Sena.
Both ruling partners are gearing up for solo fight in the Mumbai civic body which they are ruling for over two decades.
BJP minister, who did not want to be identified, told Business Standard, "BJP is determined to project is pro-development image with the launch of various infrastructure projects by December end.
"The government targets completion of these projects by 2019.''
He informed that Fadnavis has cleared MMRDA's budget of Rs 6,647 crore or Rs 66.47 billion for 2016-17 which is the highest ever so far.
The outlay is almost 74 per cent more than the Rs 3,830 crore or Rs 38.3 billion that the authority had set aside for development works last year.
He noted that for 2016-17, the share of outlay for infrastructure projects within Mumbai is the largest in the development authority's budget, with at least 60 per cent funds dedicated to various works within the city.
Of the total outlay for Mumbai, the MMRDA has set aside Rs 2,151.75 crore or Rs 21.51 billion for three new Metro lines -- Rs 500 crore or Rs 5 billion each for the elevated Andheri East-Dahisar East Metro and the Dahisar-DN Nagar Metro, and Rs 1,000 crore or Rs 10 billion for the underground Colaba-Bandra-Seepz Metro.
The authority has also allocated Rs 1,000 crore or Rs 10-billion for the state government's much-delayed showpiece Mumbai Trans Harbour Link from Sewri to Nhava Sheva.
MUMBAI DREAMS
Some of the proposed projects are given below
Rs 13,000 crore or Rs 130 billion for Mumbai Coastal Road project
Rs 18,000 crore or Rs 180 billion for Mumbai Transharbour Link
Rs 23,136 crore or Rs 231.36 billion for the construction of 33.5-km Colaba-Bandra-Seepz Metro Metro link
Rs 2,151.75 crore or Rs 21.51 billion set aside for MMRDA for three new Metro lines
Rs 1,000 crore or Rs 10 billion for the state government's much-delayed showpiece Mumbai Trans Harbour Link from Sewri to Nhava Sheva
Image: The Taj Mahal hotel in Mumbai. Photograph: Danish Siddiqui/Reuters