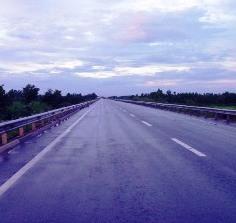 The government said on Friday that a new electronic toll collection system that will do away with the need for human tax collectors, and help plug revenue leakages will be put in place by May 2012.
A committee on electronic toll collection headed by Unique Identification Authority of India chairman Nandan Nilekani, which is developing the equipment, has recommended using Radio Frequency Identification technology for the system, Road Transport and Highways Minister Kamal Nath told reporters.
Radio Frequency transmits the identity (in the form of a unique serial number) of an object or person wirelessly, using radio waves.
The committee's report has been accepted by the government, Nath said, adding, "It would be implemented in the next 18-20 months and with the new systems the government would be able to check revenue leakages in toll collection.
"The revenue leakage at present is 15 per cent of the toll collection, which comes to about Rs 300 crore (Rs 3 billion)," he said.
Out of the 71,000 km of National Highways in the country, only 8,500 km is under toll and the government is planning to increase it to 30,000 km in the next five years.
"We should be able to toll 30,000 km of National Highways in five years," Nath said. Electronic collection system would allow cashless payment of highway tolls of vehicles passing through a toll plaza. Under the new system every vehicle will be fitted with an radio frequency identification tag, which will cost Rs 100 per unit.
Nath said the government will hold talks with the Society of Indian Automobile Manufacturers to have inbuilt chips in vehicles.
"We will consult SIAM to have this chip on every vehicle produced," Nath said.
As per the current SIAM data over 1.2 crore (12 million) vehicles were produced in the country on March 31, 2010.
Based on this estimate, the tags for ETC would cost about Rs 120 crore (Rs 1.2 billion).
Nilekani said the chip, which would be installed on the windscreens of the vehicles is rechargeable.
At present toll is collected manually at the toll plazas which results in increase in travel time for users.