On his three-day trip, the Microsoft CEO will meet governments and businesses to get them to use the company's platforms, reports Ayan Pramanik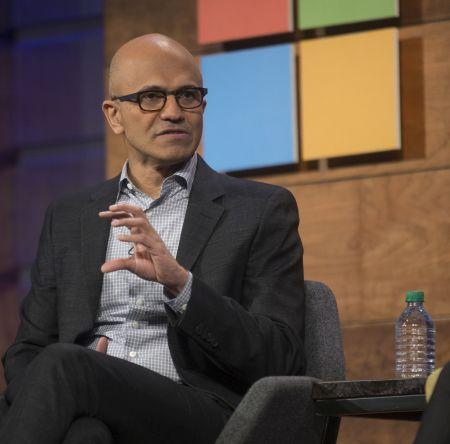 Satya Nadella, the Indian-born chief executive of Microsoft, will kick-start a three-day visit to India on Monday.
He will make a pitch to more than 300 start-ups in Bengaluru to use the company's platform to build new applications and host them on its Azure cloud platform, to grow Microsoft business.
Nadella, who will engage with India's digital transformation journey with Infosys co-founder Nandan Nilekani, is likely to pitch Microsoft's Azure cloud platform to users, as the company plays catch-up with the AWS services of Amazon in India.
The discussion will also focus on Ekstep, the education initiative by Nilekani, who would use the cloud to offer app-based training designed to help school students in rural India understand better concepts of mathematics, languages and science.
Amazon has a head start in India, being a first mover, in offering cloud services to start-ups. Microsoft and Google are aggressively wooing this community as well as enterprises. The companies want to get these companies at an early stage so that the firms would remain with them for many years.
Nadella, a former student of the Manipal Institute of Technology, is scheduled to meet government officials in Delhi on Tuesday. There, too, he is expected to pitch the Azure platform to host government applications and use of Microsoft platforms such as Skype for government programmes.
He would also update the government on the experiments being done on using the so-called white space or unlicensed spectrum for high-speed internet connectivity.
Information technology research firm Gartner had forecast last week that India was expected to spend $7.8 billion on information technology in 2017, nearly 9.5 per cent up from 2016. The country will majorly spend on areas such as internal services, software, IT services, data centre systems, devices and telecom services across state and national levels.
India's digital transformation story seems to be attracting the world's biggest technology firms. Nearly a-month-and-a-half ago, Google Chief Executive Sundar Pichai, an alumnus of Indian Information Technology-Kharagpur, came to India to share the company's plans for small and medium businesses and its contribution to India's digitisation journey. Much like his counterpart at the California-based search engine and tech giant, Nadella will also talk about machine learning and its solutions for the country's growth story.
In the first week of January, Pichai announced introducing tools for small businesses in India and platforms to support their digital growth.
A company spokesperson said: "While in Bengaluru, he will be talking to 300 start-ups and discuss how artificial intelligence and machine learning can accelerate growth for them. Nadella will meet business partners at its flagship event, Future Decoded, in Mumbai to discuss how Microsoft can play a key role in India's digital transformation."
Nadella will also meet the chief ministers of Maharashtra and Andhra Pradesh in Mumbai.