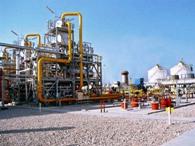 Reliance Industries has seen crude oil production falling by more than 31 per cent from its MA oil field in the predominantly gas-rich KG-D6 block off the east coast.
"The reservoir is not performing as per its predictions," a source in know of the development said. "Production has dropped from about 32,000 barrels per day achieved in May to around 22,000 bpd currently."
A company spokesperson declined to comment on the issue. Currently six wells are on production in MA field in the eastern offshore KG-DWN-98/3 (or KG-D6) block.
RIL, which commenced commercial oil production from MA field in September 2008, had in its field development plan (FDP) envisaged a plateau oil output of 34,041 bpd in the 2nd year of production and 28,684 bpd in the 3rd year.
So far, the maximum production level of about 32,000 bpd was achieved for few days only during May 2010, thereafter oil production has declined gradually. Besides crude oil, the MA oilfield produces 7-8 million standard cubic meters per day of natural gas.
This output together with Dhirubhai-1 and 3 gas fields, take natural gas production from the KG-D6 block to around 60 mmscmd. Even D1 and D3 fields have seen a two-year delay in reaching plateau output of 80 mmscmd.
The fields are now estimated to hit the peak production towards end of 2012. The source said RIL has been forced to cut output at MA oilfields because of sudden rise in water and gas production from the wells meant to produce crude oil.
Increase in gas production means the natural pressure of the reservoir, which helps push oil up to shore, is dropping. If gas comes out too quickly, crude oil, even though lying in the well pit, cannot be produced.
RIL, he said, has informed the oil regulator DGH that it will not recklessly produce oil at the cost of reservoir. It will judiciously produce from existing wells and look at raising output only by drilling at least two additional wells.
Sources said RIL and its minority partner, Canada's Niko Resources, had installed a floating production system (FPSO) to produce oil from MA fields. The FPSO, designed to process 60,000 bpd of oil, is also grossly underutilised due to the lower level of oil production.
RIL was studying the pressure at the oil and gas reservoir, he said adding the company plans to drill 2-3 more wells on D1 and D3 fields. These will be besides what the company was doing in MA field.