Reliance Retail Ltd, an arm of Mukesh Ambani's Reliance Industries Ltd, posted profit for the first time after opening its first store nearly three-and-a-half years ago, mainly aided by a tax provision of Rs 250 million (Rs 25 crore).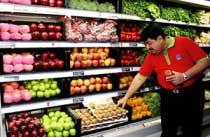 RRL posted a loss before tax of Rs 70 million (Rs 7 crore), however the tax refund helped it to post a profit after tax of Rs 182.2 million (Rs 18.22 crore), RIL's annual report shows.
RRL posted a net loss of Rs 202.4 million (Rs 20.24 crore) in FY09.
Turnover dropped by 53 per cent to Rs 2.9 billion (Rs 290.72 crore) for 2009-10, compared to Rs 6.22 billion (Rs 622 crore) in the previous year. Set up in 2006, RRL has over 1,000 stores across the country.
Most of RRL's subsidiaries posted losses after taxes in 2009-10. Prominent among them are Reliance Fresh with a loss of Rs 1.35 billion (Rs 135.16 crore), Reliance Hypermart (Rs 42.51 crore), Reliance Wellness (Rs 11.36 crore), Reliance Home Store (Rs 8.96 crore).
Last week, RRL unveiled an ambitious five-year business plan to make the company profitable by strengthening presence in multi-format retail stores, focusing on hypermarkets, building world class infrastructure and training facilities.