Trust Reliance Industries to spoil a competitor's party. Just when Bharti Infratel, the mobile phone tower arm of Bharti Airtel, was gearing up to raise Rs 5,500 crore (Rs 55 billion) from the primary market, media reports suggest that Reliance Industries is working on ultra-low-cost base stations.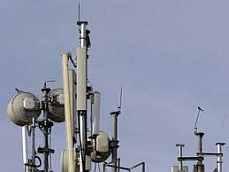 Reliance is looking at a cost of Rs 1 lakh per base station, which would be used to transmit telecom signals. Compare this with the existing players who have set up towers incurring a cost anywhere between Rs 5 lakh and Rs 50 lakh, depending on the height and location.
Bharti Infratel owns 33,000 mobile towers and also has a 42 per cent stake in Indus Towers, which is the world's largest telecom tower company with about 110,000 towers.
The IPO is expected to dilute 10 per cent of the company. A mobile tower company earns revenues by way of lease rentals, which is around Rs 26,000 per tower per month, while its cost of maintaining and running its operations is around Rs 10,000 to Rs 13,000 per month depending on the location. For a telecom company, a captive tower base results in lower operation cost for transmitting signals.
Given these facts, if Reliance is able to commission and operate its ultra-low-cost base stations,
both Bharti Infratel and Indus Towers are expected to be adversely impacted. Rentals for the tower company can come crashing down as their average annual rental will be nearly three times the cost of setting up the tower.
In this case, Bharti Infratel's valuation at which it plans to raise money would appear bullish. Perhaps, Reliance's roll-out could also have prompted Bharti to rush through its IPO. This move will also make it difficult for Reliance Communications to sell its tower business and bring down its debt burden.
Though it would take Reliance Industries some time to roll out its tower operation, the margins on mobile tower business would come under tremendous pressure and users would start benchmarking rentals with the cost of setting up towers.
Goldman Sachs in a recent report on telecom services sector has pointed out that valuations of tower companies have fallen by 90 per cent from its 2007 peak on account of slower-than-expected network expansion and licence cancellation of smaller operators.
Reliance plans to use these low-cost towers as part of its strategy to roll out its 4G in early 2013. It plans to set up 100,000 towers across the country and would lease out base stations for third party usage. Using this low-cost infrastructure, the company would be able to price its internet services much lower than other players.