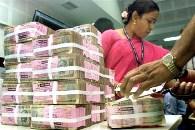 State-run insurer LIC and private fund house Franklin Templeton have hiked their stake in Mukesh Ambani-led Reliance Industries by collectively buying about 23 lakh shares, currently worth an estimated Rs 200 crore (Rs 2 billion).
As per the latest shareholding pattern filed by RIL with the stock exchange today, LIC has increased its stake in the company to 7.16 per cent in the first quarter of this fiscal.
During the same period, Franklin Templeton Investment Funds hiked its stake to 1.05 per cent.
As per the quarterly shareholding disclosure, LIC's holding in RIL increased by 18.6 lakh shares during April-June period, while that of Franklin Templeton rose by about 4.3 lakh shares.
At RIL's current share price of Rs 867.10, the additional shares acquired by LIC is worth Rs 161 crore, while that of Franklin Templeton is Rs 37 crore.
The shares have been under heavy selling pressure off late and fell by 0.7 per cent at the BSE today. The stock has fallen sharply from its 52-week high of Rs 1,187, scaled on November 1, 2010. It had fallen to as low as Rs 829 on June 20, its lowest level in one year.
During the April-June quarter, the promoter holding in the company remained unchanged at 44.72 per cent, while FII stake fell marginally from 17.7 per cent to 17.37 per cent.
The holding of large individual investors also fell down from 1.03 per cent to 0.96 per cent. However, small individual investors hiked their holding in the company to 11.48 per cent from 11.44 per cent.
Large individual shareholders are those who own shares worth more than Rs one lakh, while those having shares worth less than Rs one lakh are classified as small individual investors.
All the mutual funds together held 2.53 per cent stake as on June 30, down from 2.59 per cent at the end of previous fiscal. The insurance companies' holding, however, rose from 7.87 per cent to 7.93 per cent during the first quarter.