The Serious Fraud Investigation Office (SFIO) hasn't named Claus Heckerott, Adidas India managing director (from March 2012 to January 2013), and Shahin Padath (then director of finance) in the list of the accused in a complaint filed on the Rs 1,477-crore (Rs 14.77 billion) Reebok India fraud case filed with a Gurgaon court.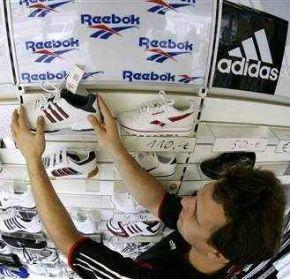 Citing a directive from Ministry of Corporate Affairs, SFIO's parent ministry, the complaint said the agency had been asked "not to include the names of Heckerott and Padath".
This was done on the basis of the law ministry's opinion, as sought by the corporate affairs ministry, the complaint added.

In the complaint, SFIO said both Heckerott and Padath were aware the accounts were falsified.
In May 2011, Padath had signed the company's financial statements for FY10, despite being aware it contained intentional fraud transactions.
This, the complaint said, made him liable for prosecution for violating various sections of Companies Act, punishable with imprisonment and fine, if found guilty.

However, in May 2012, Padath had filed a First Information Report (FIR) on behalf of the company against the fraud committed by then Reebok India managing director Subhinder Singh Prem and chief operating officer Vishnu Bhagat.

In response to a Business Standard query, Adidas Group said: "At this stage, we want to reiterate Reebok India is a victim of the fraud described in the report.
Company officials Claus Heckerott and Shahin Padath originally discovered the fraud and were whistleblowers to government authorities. We are pleased the ministry of corporate affairs has taken cognisance of our representation and recognised the responsibility taken by the whistleblowers."

Apart from seeking prosecution against Prem, Bhagat and some other employees, the complaint seeks prosecution against noted lawyer Jyoti Sagar, an independent director on the board of Reebok India who had signed the financial statements of the company in 2007, 2008 and 2009.
In response to an email seeking comment on the SFIO complaint, Sagar said: "Not having access to the complaint, it would not be appropriate to comment."


Praveen Agarwal, an advocate representing Prem, said anybody filing an FIR didn't become a whistleblower. "Indians on the board have been made the accused, while foreign directors and nominees of Adidas group have been let off," he added.

On lapses by internal and external auditors N N & Company and BSR & Co, SFIO has sought a criminal case against the partners of the audit firms. "We are not the statutory auditors and we refute all the allegations," said a BSR & Co spokesperson.

According to SFIO's complaint, the modus operandi of the fraud involved filing fictitious invoices to show inflated sales, recording fictitious sales by raising prices of goods sold, premature recognition of revenue and bills raised but goods not dispatched, etc.

SFIO investigations reveal Reebok India ran a "franchisee referral programme", through which it collected Rs 88.11 crore (Rs 0.88 billion) from 60-odd high networth individuals, including former attorney general Soli J Sorabjee, promising interest of 16-20 per cent.
The SFIO investigators say these funds were recycled by Reebok India employees as part of effort to boost cash flow.

SFIO said there was a lapse in corporate governance practices at Reebok India by the Adidas group, citing instances of Section 58A of the Companies Act being violated, forensic reports ignored, internal control failure and no heed to Foreign Investment Promotion Board norms. SFIO didn't state a final figure for the fraud at Reebok India.
It relied on the figure of Rs 1,477 core ( Rs 14.77 billion) cited by Adidas as its stated losses in its 2012 annual report.

WHO'S ON TRIAL
On direction from the corporate affairs ministry, under which the Serious Fraud Investigation Office (SFIO) functions, the investigation agency has not named Claus Heckerott, managing director of Adidas India from March 2012 to January 2013, and Shahin Padath, the then director finance, in the list of the accused in a complaint filed in the Rs 1,477-crore (Rs 14.77 billion) Reebok India fraud case
SFIO has sought prosecution against:
* Subhinder Singh Prem, ex-managing director
*Vishnu Bhagat, ex-chief operating officer
*Jyoti Sagar, a noted lawyer who was an independent director on the board of Reebok India and signed the financial statements in 2007, 2008 and 2009