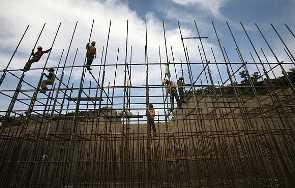 The government on Friday said complaints were received against 27 real estate firms across the country for alleged forgeries and dubious investment schemes, out of which 18 are being probed by different regulatory and enforcement agencies for further action.
Giving a list of these 27 entities, the Finance Ministry said that complaints against seven of them are being examined by Sebi, while the markets regulator has prima facie found two other firms to be running Collective Investment Scheme (CIS) and suitable actions are being taken against them.
In a written reply to the Lok Sabha, the Ministry also said that an examination by Sebi did not find any CIS violations at nine entities.
Besides, action has already been initiated by different agencies against another eight companies -- namely Alchemist Infra Reality Ltd, PACL Ltd, KBCL India Ltd, SGS Agro Farm Ltd, RBN Real Estate and Allied India, Maitreya Plotters and Structurals Pvt Ltd, Megacity Bangalore Developers and Builders Pvt Ltd and Sai Prasad Properties Ltd.
In one case, complaint has been taken with the company (Jain Housing and Constructions Hyderabad Ltd) and the reply is awaited.
Those having been found by Sebi to be running CIS scheme without approval include Ecogreen Real Estate India and Ken Infratech.
Besides, Sebi is still examining complaints against Nicer Green Housing, Imbowers Housing and Infrastructure Ltd, IHI Developers India Ltd, Servehit Housing and Infrastructure Ltd, Taneja Developers and Infrastructure (Panipat) Ltd, Royal Infra Towers Ltd and Maxworth Buildtech Ltd.
Providing the details, Minister of State in the Finance Ministry, Namo Narain Meena, also said that the government is considering a bill for setting up of a Real Estate Regulatory Authority and a Real Estate Appellate Tribunal in each state with powers to ensure transparency and quick redressal of grievances and disputes.
Huge public protests are being witnessed for many days now in West Bengal after Kolkata-based Saradha group was found to be running illicit collective investment schemes and is said to have defrauded lakhs of investors.
Earlier this week, Sebi ordered one of the group firms, Saradha Realty India Ltd, to wind up all its collective investment schemes and refund the investors' money within three months.
Meena informed the House that the entities that were not found by Sebi to be running any CIS scheme are Unitech Agro Hi-Tech Township, Landmark Apartments, Vatika, Habitech Ltd, Earth Infrastructure (two cases), Pawan Chawla, Assotech Reality, Wave Group and Cosmic Structures.
In cases where actions have been already taken or initiated, the Finance Ministry had ordered an investigation a matter relating to Alchemist Infra Reality Ltd and the Delhi High Court has granted an interim stay, the Ministry said.
In the matter relating to PACL Ltd, Registrar of Companies Rajasthan was asked to conduct a 'technical scrutiny' of the company's balance sheets on the basis of a complaint from a former employee.
The report sent by the RoC in case of KBCL India is under examination, while penal action has been initiated for non-filing of annual returns and balance sheet by RBN Real Estate and inspection has been ordered on Maitreya Plotters.
The Ministry has ordered launch of prosecution cases after receipt of investigation reports in cases of Megacity Bangalore Developers and Sai Prasad Properties.
In case of SGS Agro Farm Ltd, the Economic Offence Wing of Tamil Nadu police has already summoned the company's MD and steps are being taken to attach his properties and sell them to return the money to investors.
RoC has also taken up the matter with the company and a technical scrutiny of the balance sheet is being conducted.