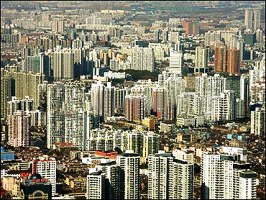 Narayana Seena Shetty, 45, a real estate broker in Thane on the outskirts of Mumbai, operates from the balcony of a closed shop.

After his landlord raised the rent of his shop from Rs 8,000 a month to Rs 10,000 this June, Shetty opted to move out.

"I have not sold a single house in the last seven months.

How will I pay for rent and office staff? These days, it's mostly leave and licence agreements (rental pacts)," says Shetty.

The story is no different for Hemant Thakker, 44, who operates from Ghatkopar west in Mumbai.

He had joined his brother's realty broking firm two years ago.

A disillusioned Thakker is now looking at some other business opportunity.

"The last time we sold a house was in January or February.

"People are mostly taking homes on rent where the commission is pretty low," says Thakker.

Dinesh Parmar of Bhoumesh Realtors in Vile Parle in the western suburbs is luckier.

He sold a house of 600 sq ft last month for Rs 2.10 crore (Rs 21 million) in an old building. But Parmar says he meets 8-10 prospective buyers every week, but hardly anybody comes back after initial enquiry.

The reason: High prices.

"Business has come down by 80 per cent.

"In these times, how many can buy a house at Rs 40,000 to Rs 50,000 a square feet?," says Parmar.

Shetty, Thakker and Parmar are among thousands of realty brokers in Mumbai whose business has nose-dived due to slowdown in property market, mainly contributed by high prices and economic slowdown that has led to lower disposable income.

And most are looking at life beyond broking at least till things improve -- even though they don't exactly know what to do.

Thakker says he knows at least 300 prospective buyers who are looking to buy a Rs 50- lakh (Rs 5-million) one bedroom-apartment in Ghatkopar, but are not getting anything at that price.

"A lot of properties are available, but sellers and developers are still holding on to high prices," he adds.

Yashwant Dalal, president of the 2,000-member strong Estate Agents Association of India says property sales have declined by up to 60 per cent in Mumbai compared to last year.

"Those who do not have a good line-up of clients are in serious trouble.

Some of them even do not have money to pay their telephone bills."

The demand-supply mismatch in Mumbai residential properties is such that, according to UK-based consultant Knight Frank, the city will take seven quarters to exhaust the existing unsold inventory in the market, which is just below Hyderabad which is at nine.

The ratio has been on a constant rise since December 2011 and has increased from five to seven during this period.

"Incessant price rise and higher concentration of premium projects with a ticket size of more than Rs 1 crore (Rs 10 million) in new launches have limited the purchasing ability of home buyers resulting in a decelerating rate of absorption over the previous four quarters,"
says Knight Frank.
According to Knight Frank, Mumbai remains the most unaffordable market in the country with 29 per cent of the city's total under construction units surpassing the Rs 1-crore (Rs 10-million) mark, compared to 11 per cent and five per cent for the National Capital Region and Bengaluru markets, respectively.
A recent Goldman Sachs report says that the average home prices in Mumbai are up 49 per cent since March 2010, which is higher than the national average increase of 41 per cent, and are now 1.7 times national average.
However, Mumbai isn't alone in high number of homes.
Inventory pile-up across NCR, Mumbai Metropolitan Region and Hyderabad have almost doubled in the past three years, according to a recent report from realty research firm Liases Foras.
Vijay Shah, a broker in the Dadar area of Central Mumbai who deals with holiday homes in Lonavala and Devlali -- holiday spots near Pune and Nasik, respectively -- says such homes are no more in demand as buyers think twice on spending on second homes.
The slowdown in real estate has also led to companies such as HDIL and Orbit Corporation defaulting on their loans to non-banking finance companies such as Indiabulls Housing Finance and LIC Housing Finance, respectively.
Many realty experts believe defaults will go up due to persistent slowdown in realty market.
Realty stocks have also taken a beating since the beginning of the year, falling up to 70 per cent in the past year.
"Market sentiments continue to remain low. Developers are doing various sales promotion techniques to increase sales volumes including relaunching their projects, rebranding and re-pricing them.
Some developers are giving 20-25 per cent discount to investors and taking loans at 25 per cent or doing both depending on their conditions," says Sanjay Dutt, managing director of Cushman & Wakefield, a global property consultant.
Some are hoping against hope.
Investors such as Sanjay R Sanghvi of Keshma Realty Holdings in Dadar area in Central Mumbai is hoping that the slowdown will bring down the rates.
"Like gold, everyone was thinking that real estate will never go down. But that is not the case. Both asset classes have took the plunge," Sanghvi adds.
It's clearly a case of who blinks first.
HIGH ON PRICES, LOW ON SALES
Inventory levels of unsold homes have almost doubled in Mumbai, NCR and Hyderabd in last three years.
Mumbai needs seven quarters to clear unsold inventory
About 29 per cent of under construction units in Mumbai are over Rs 1-crore (Rs 10-million) mark, rendering them unaffordable for money
Mumbai home prices are up 49 per cent since March 2010, higher than the national average increase of 41 per cent
Mumbai realty firms defaulted on payments, such defaults to rise