Here are some reactions to Prime Minister Narendra Modi's announcement of demonetisation of Rs 1,000 and Rs 500 notes with effect from midnight.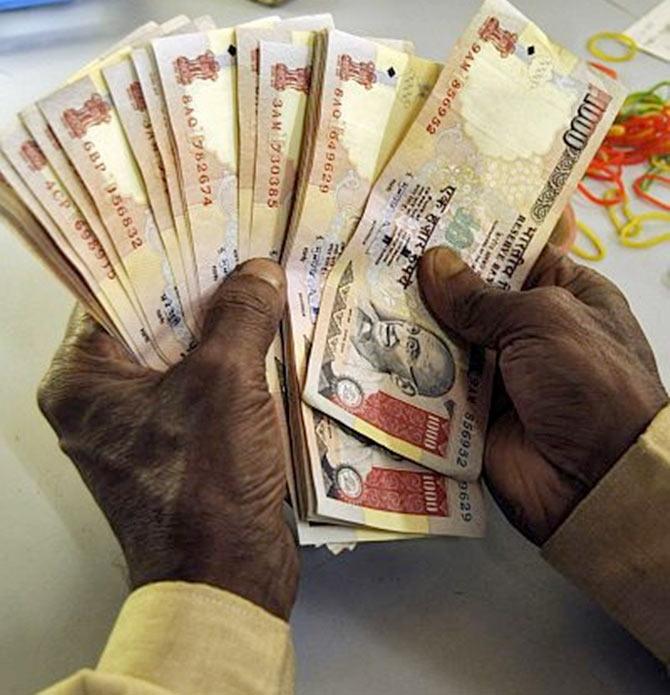 Hasmukh Adhia, revenue secretary: Government's move to withdraw currency notes of Rs 500 and Rs 1,000 denomination is its boldest step and a "surgical strike on black money". "This is the biggest and the boldest step by the government for containing black money. It is like a surgical strike on black money," he tweeted.
Ashok Lavasa, finance secretary: The step is another move to attack the biggest menace facing the country. "Citizens must understand, cooperate & join the fight against corruption," Lavasa tweeted.
Shaktikanta Das, economic affairs secretary: "New 500 rupee notes and 2,000 rupee notes will be introduced in the market from November 10 onwards. There are statistics that show that circulation of 500 rupee currency notes have increased by 76% & 1,000 rupee currency notes by 109%. Many investigative reports say fake notes were used to fund terrorism."
V Balakrishnan, former CFO of Infosys: "It is a good initiative to reduce black money. But we need to see implementation has to be seen because the transition can be painful. However, the first thing they should do to remove all the black money is to have political parties receive donations only in cheque. Today, 75-80% of political donations happens by cash. That is the starting point for black money. I think if they had done that too. It would have brought a lot of credibility to the whole process."
Arundhati Bhattacharya, State Bank of India chairperson: "We will strive to restock ATMs at the earliest and make them operational. The Government has given enough exemptions to ensure urgent needs are met. We will work round the clock to ensure that customers have a smooth experience." She said the banking system has handled such demonetisation in the past as well and will do so again this time.
Chanda Kochhar, ICICI Bank chief, "It's perhaps the most significant move ever taken to curtail the parallel economy. It will give a sharp boost to all formal channels of payments which in turn will help the formal economy to grow at a faster clip in the long term."
Deepak Parekh, HDFC chairman: "It is a big reform which no one expected and will have a huge impact on people who are hoarding money and not disclosing money for tax purposes." He said the realty sector, which depends a lot on cash transactions, may be impacted and construction activity can also slow down, but underlined that it is a pain worth taking in the short term for long term gains.
Anand Mahindra, Mahindra Group vice-chairman, tweeted: "success required an element of surprise and its incredible that this master stroke was kept confidential." In a lighter vein, he added: "Urgent message to anyone who robbed a bank tonight: You just got robbed..."
Sajjan Jindal, JSW Group: Termed the move as an "amazing and very brave step to curb black money," he complimented Prime Minister Narendra Modi for the bold step.
Nirmal Jain, leading NBFC IIFL chairman: The move "is a very powerful measure to curb black money. The Prime Minister has kept his promise of taking stern measures against black money. It was done some 30 years ago and since then a huge build up of unofficial money had happened. On the larger impact of the move, he said it will have deflationary impact in general and more specifically on real estate prices and make homes affordable. It is also indirectly a boon to honest tax payers.
Keki Mistry, MRHDFC vice-chairman: The decision is "a bold" one which can go a long way in containing black money, though effective implementation in the short term may be a challenge. If handled properly, it can unearth huge volumes of black money which can help bridge the fiscal gap as the Government's revenue collections can go up.
Anil Agarwal, Vedanta group chief: Hailing the development as a "great move", he said it would make corruption minimal. "There cannot be a better move and India will see its results. The rupee will become strong and I have a strong feeling there will be investment in growth in the right direction."
Naushad Forbes, CII president: Demonetising high denomination notes can be an effective means of checking accumulation of wealth in cash. "The government has taken a measure aimed at the heart of the black cash economy. CII congratulates the Prime Minister and the government for this step. Not only is the measure important but it requires extensive preparation for effective execution."
D K Pant, India Ratings chief economist: This measure, coming after the Income Disclosure Scheme -- which closed on September 30 -- is targeted at curbing black money.
"There may be some inconvenience to general consumers in short-run, however, this inconvenience is worth for long-term gain."
Vijay Shekhar Sharma, PayTM founder: It is the "best move" which will boost digital payments.
Vallabh Bhansali, veteran investment banker: This is the "third freedom struggle" after the Independence movement and the liberalisation of 1991, and a voluntary disclosure scheme in disguise. He also described it as a "revolutionary" step.
Gagan Banga, Indiabulls Housing Finance vice-chairman: "It's very good for housing finance companies as the element of cash will go down and demand for formal credit will increase."
Naveen Surya, Payments Council of India chairman: He described the move as extremely bold and much needed step "to cure us from disease of cash in our society".
C J George, managing director of Geojit BNP Paribas: This is the creation of Swachh Bharat in one stroke of a pen.
MP Ahammed, chairman of Malabar Gold: It is a bold and decisive step towards a cashless economy."