Reliance Communications announced a new rate plan - Simply Unlimited Pack - with unlimited talk time on a single monthly recharge for its CDMA pre-paid customers. However, the plan does not support SMS and other value-added services.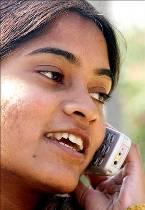 Through this new offer, RCom breaks away from the conventional rate metering practice of the Indian telecom industry. At present, pre-paid consumers either pay per call, per second or per minute. This is the first rate plan in the industry in which they would now have to pay once a month.
The local pack offers customers 3,000 minutes of call time every month to any local Reliance phone (Reliance GSM, CDMA or Fixed Line) and 900 minutes of free calls per month to any other network, with a cap of 30 minutes per day for Rs 299.
If customers shoot past the limit, they would have to pay 50 paise for every additional minute. National long-distance calls will be charged at 50 paise per minute.
The Simply Unlimited CDMA National Pack is available for Rs 599, offering 3,000 minutes of call time to any Reliance phone across the country and 900 minutes of call time to any other network, with a cap of 30 minutes a day.
Both plans will be available to consumers within the next three days.
"In India, the national average usage of a consumer is 443 minutes per month. These plans are so made that it will take care of the amount of minutes of calls which most consumers make in a day. Through this, we want to attract the medium usage segment in the country and aims also at the incumbent GSM customers, as they will know exactly how much they are spending every month," said Syed Safawi, president wireless, RCom.
The company has a 100-million customer base, of which 55 million subscribe the CDMA service.
The company claims its plans kill the concept of rate metering, wherein consumers need not count seconds and minutes.
"Consumers will not have to fear running out of pre-paid balance and they can re-charge once in a month. We already have plans for pay per second, pay per minute and now we have introduced pay per month," said Mahesh Prasad, President, RCom.
However, consumers will have to go in for another recharge for SMS, GPRS and other value added services like downloading songs and ringtones. "For services other than calls, consumers will be charged as per rack rates which are prevailing now," said Safawi
In response to the RCom offer, an MTS executive said, "We will come out with a plan which will be much lower than the Reliance offer in a few days."
Industry insiders, while admitting the plan was convenient, said, "Effectively, if you take out the calls from Reliance to Reliance, the new plan effectively means local calls will cost 33 paise per minute. The Tatas, for instance, already have a plan in place that offers Re 1 for 10 minutes talk time — an effective rate of 10 paise per minute."
"While Reliance's all India rates effectively comes to 60 paisa per minute, the Tatas and others offer similar rates."
"The fact that it is a one time monthly recharge, the company is securing ARPU. They are also encouraging higher usage. This plan will be positive if people make a huge shift as minutes of usage and realisations might improve," said Harit Shah, analyst at Karvy Stock Broking.
Nishna Biyani, Telecom Analyst at Prabhudas Liladher, said this plan would not have any significant impact on the earnings of the company. "There is a technological disadvantage because people do not like to change to CDMA plans. Besides, monthly plans with different tariffs for calls within the network are common."
The primary objective of the Simply Unlimited CDMA offer is simplification to the core and extends the Simply Reliance initiative of per second, per minute and per call to per month basis without further reservations on usage, balance etc for Reliance Mobile CDMA prepaid customers.