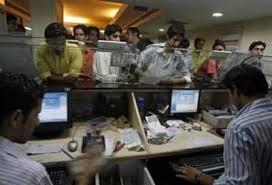 Amid reports in a section of media that the Election Commission may put a spanner on the Reserve Bank of India plan to issue the first few new bank licences by the month-end, senior-most deputy governor KC Chakrabarty on Thursday said they are yet to hear from the poll panel in this regard.

"I only know that the RBI has written to the EC seeking their views on this (issuing new bank licences).

"Whether they have replied or not I have no idea.

"Uptill yesterday, I had no information on that," Chakrabarty told reporters on the sidelines a function in Mumbai.

A section of the media on Thursday reported, quoting an unnamed EC official, that it may not allow RBI to go ahead with the plan before the polls and that they need more clarity from the Mint Road on certain aspects.

This is despite both Finance Minister P Chidambaram and Governor Raghuram Rajan expressing confidence that the EC would not have any issue on the topic as the bank licence was a process that started much before the poll season.

The process, in fact, began with the FY11 budget and was speeded up last July when 26
companies applied for entering the banking fray.
Since then the Tatas and the Mahindras withdrew from their applications saying given the stringent criteria it would be better for them to continue with their NBFC services.
As many as 24 public and private sector applicants, including India Post, IFCI and large business houses such as the Anil Ambani group and the Aditya Birla group, have applied for bank licences.
The RBI has reportedly written to the EC in the first week of March seeking its approval for its plan.
After the last RBI board meeting on March 7, Rajan had said that new bank licences would be issued in a few weeks after taking the EC on board.
"My sense is, if all goes well, we should be able to do it in a few weeks," Rajan had told reporters.
Rajan, however, added that the RBI would seek formal approval from the EC before issuing the licences as the model code of conduct is in force.
"Look, we have to (seek) the formal approval from the EC that announcing the bank licences will be okay.
"A number of people have said it will, but it would be best that the process is formally approved by the EC," he had said, adding the process was started last year and was not a new proposal.