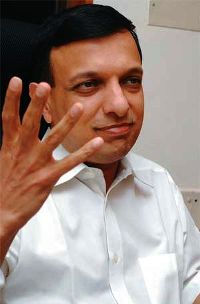 One of the four deputy governors of the Reserve Bank of India has traditionally been selected from among the chairmen & managing directors of domestic banks.

But the central bank has signalled a break from this by requesting the finance ministry to change the criterion to 'prominent banker' (who is not necessarily a CMD).

The request to change the existing rules, if accepted, could make Nachiket Mor, a former deputy managing director of ICICI Bank and now a board member of the central bank, among others, eligible for the post after K C Chakrabarty retires in June.

Mor was appointed to head a panel on financial inclusion after Raghuram Rajan took charge as the RBI governor in September. He is also a member of the high-level advisory committee that will recommend who should get new bank licences.

Banking on change

Retirement RBI Deputy Governor K C Chakrabarty (earlier CMD of PNB) retires in June<

Appointment

Present criterion: One of the four RBI deputy governors is chosen from among domestic bank CMDs Change sought: The criterion be tweaked to make 'prominent bankers' eligible for the post (even if they are not CMDs)

A deputy governor of RBI can be appointed for five years or till the age of 62 years, whichever is earlier.

To be eligible, a candidate needs to be less than 60 years. However, there are instances of both criteria being relaxed.

Impasse over Anand Sinha's replacement set to end

Meanwhile, RBI and the finance ministry seem to have resolved the deadlock over the appointment of another deputy governor to replace Anand Sinha, who retired recently.

Under a compromise formula, G Gopalakrishna, the senior-most executive director who was ignored by the selection panel, is to head the Centre for Advanced Financial Research and Learning, a research house funded by RBI, after incumbent Usha Thorat completes her term in mid-February.

The ministry had expressed reservations over the selection panel's decision to ignore seniority and recommend three other candidates -- B Mahapatra, P Vijaya Bhaskar and R Gandhi.

Sources familiar with the developments said R Gandhi, the senior-most after Gopalakrishna, and Bhaskar were now the top contenders to replace Sinha.
Image: Nachiket Mor