SLR could be reduced, banks might start lowering base rates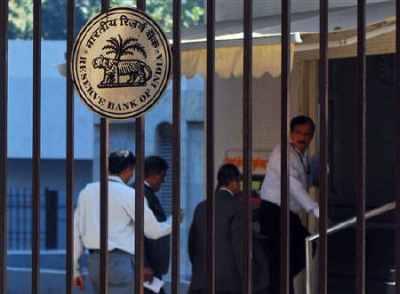 When the Reserve Bank of India reviews its monetary policy on Tuesday, market experts say, it might not change its monetary policy stance.
As many as 10 of 12 leading bankers and market players that Business Standard polled on Saturday expect the central bank to maintain the status quo on the benchmark interest rate during its annual policy meeting.
While only one respondent saw the possibility of a reduction in cash reserve ratio, three said they expected a cut of 25-50 basis points in the statutory liquidity ratio.
Bankers and market players said the recent unseasonal rains might exert pressure on food prices and geopolitical tensions could lead to an increase in global crude oil prices.
The central bank will also be concerned about foreign fund outflows, as speculation has begun to build up that the US Federal Reserve might raise the interest rate later this year.
Most, however, say a rate cut could come in RBI's June policy.
"RBI might maintain the status quo on repo, SLR and CRR. It has already lowered the repo rate by 50 basis points lately.
"Now, it could wait for more data indicators on retail inflation.
"Unseasonal rain and hailstorm adversely affected the prices of vegetables and fruit in March.
"But the central bank might reduce the repo rate by 25 basis points in June, as after that it might not have any scope to do so because of an uncertainty over monsoon and a possible Fed action," says Rupa Rege Nitsure, group chief economist, L&T Financial Services.
The rate of consumer price index-based inflation -- RBI's main yardstick for measuring price rise -- fell to a record low in November.
But it has risen gradually since, and was 5.37 per cent in February.
According to an agreement between the central bank and the government, the former's target is to bring the inflation rate to below six per cent by January 2016.
A few economists who believe there is scope for reduction in interest rates justify their stance by saying the impact of unseasonal rainfall on food prices will be nullified by open-market sale of items like wheat by the government.
As on March 1, there was a wheat buffer of 15.52 million tonnes, said HDFC Bank in a recent research note.
Another crucial issue is the wait for banks to start reducing lending rates.
Though banks have not yet passed on the benefit of the 50-basis-point cut in repo rate by RBI so far, most respondents say they might start lowering their base rate from April.
That is because credit demand is expected to drop further; the first few months of a financial year are generally seen as a slack season.
The comfortable liquidity position will be another factor.
However, there are a few challenges that banks have to address before taking such a call. Some bankers say the cost of deposits have not come down significantly; that is seen as crucial for cutting lending rates.
According to State Bank of India Chairman Arundhati Bhattacharya, customers are opting for locking their excess funds in fixed deposits, expecting deposit rates to fall.
As a result, the bank has not seen any significant reduction in deposit rate, despite reducing it in some categories in the past six months.
"More (policy) rate cuts and liquidity support measures would be needed to nudge banks toward lower rates in the coming months," says a Deutsche Bank report.