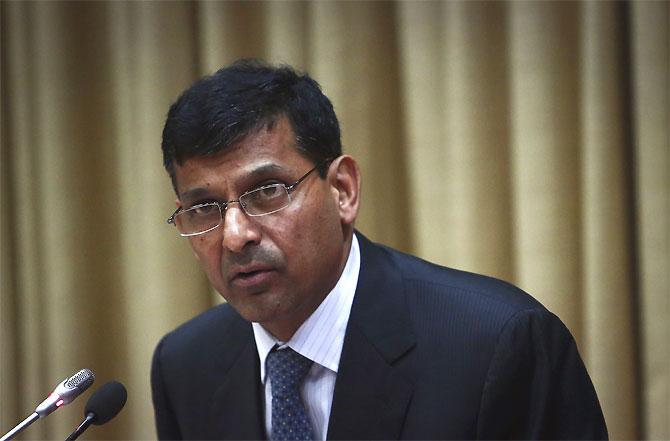 India's central bank kept its key policy repo rate unchanged at 8.0 per cent on Tuesday, as widely expected, while expressing concern about risks to its target to bring consumer inflation down to 6 percent by January 2016.
The Reserve Bank of India also kept both the statutory liquidity ratio (SLR) and the cash reserve ratio (CRR) unchanged.
Commentary
RADHIKA RAO, ECONOMIST, DBS, SINGAPORE: "The central bank's tone was neutral, expecting inflation to stick to the disinflationary path in the near-term but flagging upside risks to the FY16 CPI trajectory.
The base-effects driven swings in the inflation reading over the next six months will also keep the central bank wary of over-reacting to single data points.
We maintain that rate cuts are not imminent and the benchmark rate will plateau at 8 percent till end-FY15.
The cutback on export credit refinance facility is another step towards a shift away from sector-specific liquidity allocations.
In addition, the shift towards T+2 settlements for foreign investors is positive, helps widen the investor base and overcomes varying global trading hours."
SOUMYAJIT NIYOGI, ANALYST, INTEREST RATE & EQUITY, SBI DFHI PD:
"We see this as a very balanced and nuanced policy statement that is very future-oriented. The key takeway is that the central bank is now focussed on achieving the 6 percent inflation target (for Jan 2016) rather than the 8 percent target. The staggered cut in HTM will mean that it will gradually become aligned with the SLR level so that banks can manoeuvre their portfolios without any disruption in the bond market. Another heartening thing is that we are on our way to achieving the FRBM target."
SHAKTI SATAPATHY, FIXED INCOME STRATEGIST, AK CAPITAL, MUMBAI:
"The tone was well in sync with the central bank's determination towards inflation anchoring in the medium term, while acknowledging the stability across sectors would remain crucial. The series of initiatives from government's end though would weigh on forthcoming policy stances, a clear guidance on bringing down the SLR holdings under HTM (held-to-maturity) somehow indicates the approach of the central bank is more focused towards credit supportive growth strategy rather than a rate supportive approach. In the light of today's RBI guidance, we expect the rate cheer from RBI during the current calendar year seems unlikely with more thrust on liquidity supportive growth strategy."
SANDEEP NANDA, CHIEF INVESTMENT OFFICER, BHARTI AXA LIFE INSURANCE, MUMBAI
"The policy is more or less in line with estimates. I think RBI's guidance implies some caution. The statement seems more hawkish as RBI's model does not expect inflation to fall rapidly in FY16. Food inflation will take time to come off as a lot of it is in the hands of various states. However, falling oil and vegetable prices mean the door is not completely shut on rate cuts."
KUMAR RACHAPUDI, SENIOR RATES STRATEGIST, ANZ, SINGAPORE:
"The overall stance of the RBI remains cautious even though it mentioned that the risks to its inflation objective have somewhat decreased from pre-policy. From a markets perspective, the impact of reduction in HTM assets is marginally negative for bonds".
KILLOL PANDYA, SENIOR FUND MANAGER - DEBT, LIC NOMURA ASSET MANAGEMENT, MUMBAI
"The policy is totally in line with expectations. There have been no surprises at all. RBI Governor Raghuram Rajan remains worried about inflation. T
he governor worries that inflation would not remain at a lower level in the long run. I think RBI has given a guidance of wait-and-watch policy on interest rates. He has asked the government to reduce bottlenecks to ease food inflation which fall under fiscal space than monetary."
R. SIVAKUMAR, HEAD OF FIXED INCOME, AXIS MUTUAL FUND, MUMBAI:
"Our expectation is that even after the base effect is accounted for, inflation by January 2015 will be substantially lower than 8 percent. RBI is going to roll the goalpost one year forward, and if the CPI inflation moves towards 7 percent then we expect a gradual pace of rate cuts, and if inflation moves closer to their target 6 percent then we can probably expect a more aggressive rate of pace cuts.
The reaction on HTM cuts was already priced into the market and it is very muted.
We continue to believe cuts in HTM and SLR requirements over a period of time will be driven by RBI's goals to have banks meet their Basel-III liquidity norms."
Background
India regained its "stable" rating from Standard and Poor's on Friday, more than two years after an embarrassing downgrade, in a validation of Prime Minister Narendra Modi's ambitious agenda of economic and fiscal reforms. - Reserve Bank of India Governor Raghuram Rajan said the country suffered from "persistent" inflation, adding India had to act, while also noting the need for more data across important economic indicators such as employment and producer prices.
The RBI Governor said India's macroeconomic indicators are improving and inflation has been coming down consistent with the central bank's forecast, but Asia's third-largest economy needs investment growth to pick up.
India's wholesale price inflation eased to its lowest level in nearly five years in August, but the central bank is likely to keep interest rates on hold later this month to prevent a revival in price pressures once the economy gains momentum.
India's state banks need to improve monitoring of loans and root out "bad apples" and "bad practices," Reserve Bank of India Governor Raghuram Rajan said, as the sector continues to struggle with bad assets.
Retail inflation, which the central bank tracks for setting lending rates, edged down marginally to 7.8 percent in August from 7.96 percent a month earlier, helped by slower annual rises in prices of fuel and clothes.
The RBI, which wants to bring retail inflation down to 6 percent, received conditional support for this target from Finance Minister Arun Jaitley who is putting emphasis on stronger economic growth.
(Reporting by Mumbai Treasury Desk; Editing by Sunil Nair, Anand Basu and Biju Dwarakanath)