Tatas plan to revive, not sell the Port Talbot steel plant.
The investment could be as much as $500 million.
Ishita Ayan Dutt reports from Kolkata.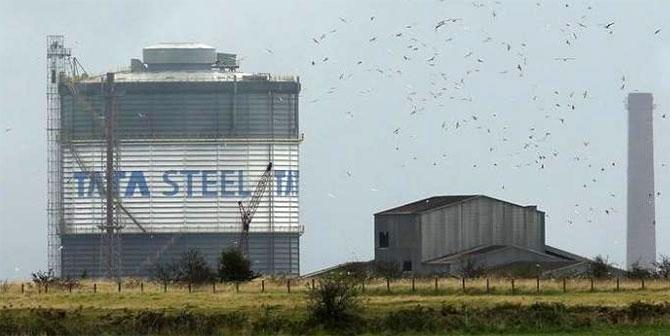 The Tata group is working towards turning around Port Talbot, which could entail a phased investment in assets and an overhaul of systems.
"The Tatas under Ratan Tata would like to turn around Port Talbot and a plan is in the works. The group realises that Scunthorpe was sold too soon," people familiar with the developments said.
The Tata Sons' latest explanation on why Cyrus Mistry was 'replaced' said that in the past three years the group had written down, written off or made provisions for impairment worth thousands of crores.
'Tata Steel alone has written off a large part of its investment in its UK/European assets. It is interesting to note that the new buyers of some of the steel assets for one pound in the UK have claimed a dramatic turnaround in the very first year of their takeover. In our view, these sub-par results cannot be blamed on the commodity cycle or economic conditions,' the letter released on Thursday, November 10, said.
According to media reports in the UK, the new owners of Scunthorpe were targeting a 10% profit margin on its annual revenues of 1.2 billion pounds, meaning it could make a profit of 120 million pounds a year.
Indeed, people familiar with the UK plants said that the plants' performance could not be just linked to raw material.
The plan to turn around could be a three-pronged exercise with investment in leadership and assets and an overhaul of supply chain.
"The investment in the plant could be around $500 million, but this may be staggered. The blast furnace at Port Talbot may call for relining in 2019 which is when the company will have to weigh in whether they will go for relining or a shift in technology like the electric arc furnace route," sources close to the development said.
Also, an overhaul of supply chain servicing could bring down the cost.
"The supply chain cost in the UK is much higher than Germany and France. It is expensive to import raw material and service markets using roads. But if waterways is used, then it is possible to bring down the cost by $10 to $12 a tonne. It will also be possible to reach out to the right markets," sources explained.
"The investment in Port Talbot has been 185 million pounds in blast furnace and 60 million pounds in gas recovery after acquisition. The plants were under-invested at the time of acquisition and even after acquisition, investment proposals mooted by the Tata Steel management were met with resistance from the erstwhile Corus management," sources said.
It was possible, sources indicated, to turn around Port Talbot and make it profitable and a plan was being put in place for the same.
Ratan Tata is a turnaround man, and he doesn't give up easily, another source said.
In March, Tata Steel decided to explore all options for the UK business, including sale. Tata Steel had said then that the group had extended substantial financial support to the UK business and suffered asset impairment of more than two billion pounds in the last five years.
The statement in March also said that the Tata Steel board had reviewed the proposed restructuring and transformation plan for Strip Products UK, prepared by the European subsidiary in consultation with an independent and internationally reputed consultancy firm, but the plan was found to be 'unaffordable'.
Seven bidders were shortlisted for the sale, but the process was put on hold in July, on Brexit concerns.
According to an earlier plan, in May, Tata Steel completed the sale of its long products Europe business -- which included the Scunthorpe steelworks, two mills in Teeside, an engineering workshop in Workington, a design consultancy in York, and associated distribution facilities as well as a rail mill in norther France -- to Greybull Capital LLP.
Currently, Tata Steel is pursuing a consolidation strategy in Europe which includes a potential joint venture with ThyssenKrupp and a separate process for selling the South Yorkshire-based specialty steels business.
Photograph: Phil Nobel/Reuters