The RBI has cited corporate governance and regulatory issues for not extending Kapoor's term. Further, the lender has been directed to search for a successor.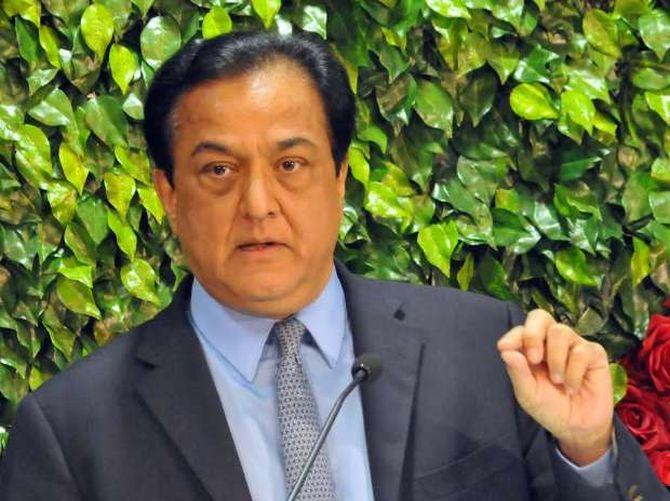 YES Bank managing director (MD) and chief executive officer (CEO) Rana Kapoor will have to step down from his position early next year.
The private sector lender said on Wednesday that the Reserve Bank of India (RBI) had allowed Kapoor to continue only till January 31.
"The board of directors of the bank is scheduled to meet on September 25 to decide on the course of action," YES Bank said in a filing to the stock exchanges.
According to sources, the RBI has cited corporate governance and regulatory issues for not extending Kapoor's term. Further, the lender has been directed to search for a successor.
Uncertainty over Kapoor's continuance as MD and CEO for three more years emerged at the end of August 2018, when the RBI postponed its decision on YES Bank's proposal to grant him the extension.
On August 30, the RBI allowed him to continue till further notice.
In June, YES Bank's shareholders had cleared the reappointment of Kapoor for three years.
This was then sent to the RBI for final approval. Experts said the RBI's latest move might not put an end to the uncertainty, and investors would take time to regain confidence in the bank.
Sandeep Parekh, founder, Finsec Law Advisor, said it was quite a disruptive move for the lender as there was no succession plan in place.
"Finding a successor in four months is not sufficient. This will impact not only investor confidence but also the whole governance at the bank," he added.
Some others said they would like to know the reasons for the RBI decision.
"I like that we have a muscular regulator. It will be good to have clarity on the RBI's thinking on the CEO and bank's performance.
"I expect that investors will remain tentative towards the bank till there is clarity on the successor," said Amit Tandon, founder and MD, Institutional Investor Advisory Services.
Earlier this year, the RBI had denied a three-year extension to Axis Bank CEO Shikha Sharma, despite the board endorsing her reappointment.
Kapoor, along with Ashok Kapur, who died in 2008, was part of the founding team of YES Bank.
As a promoter, Kapoor and his family own a 10.66 per cent stake in the bank. He has been the bank's CEO since 2004.
The banking sector has seen increased regulatory scrutiny over the last two years as the RBI has tried to push for appropriate recognition of bad loans.
The asset quality review initiated in December 2015 resulted in an increase in bad loans over Rs 6 trillion across banks, including YES Bank.
Banks were asked to disclose divergences in bad loan reporting.
As a result, the RBI judged gross NPAs at Rs 83.73 billion for YES Bank for 2016-17 against declared gross NPAs at Rs 2,018 crore.
Thus, there was a divergence of Rs 63.55 billion, or three times the reported amount.
Ashvin Parekh, managing partner at Ashvin Parekh Advisory Services LLP, said systemic stability (asset quality) and depositors' interest were paramount for the regulator while taking a call on top managers of any bank.
"This case is no different," he added.
"It would be crucial to see whether he would be allowed to become non-executive chairman," an analyst said.
Photograph: PTI Photo