B Ramalinga Raju, the tainted founder of Satyam Computer, on Tuesday made a dramatic appearance before a local court, which is trying India's largest corporate fraud running into about    14,000 crore (   140 billion).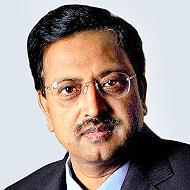 Raju, the prime accused in Satyam accounting fraud case, had been avoiding appearance in the court since September last year citing health reasons.
Raju, who was granted bail by the Andhra Pradesh High Court last week, was accompanied by his doctor.
The former Satyam chairman, who was arrested on January 9 last year and is currently undergoing treatment for liver infection in the state-run Nizam Institute of Medical Sciences here, was ordered by the court to appear before the trial court once he's discharged.