Former managing director of McKinsey & Co, Rajat Gupta, has stepped down as chairperson of the Public Health Foundation of India (PHFI). Gupta's resignation comes days before the PHFI executive was to discuss his exit.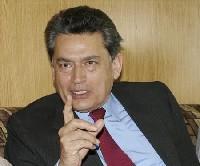 Confirming that Gupta had stepped down, PHFI president K Srinath Reddy told Business Standard he has not yet resigned as a member of the board.

Other members of the high-profile PHFI governing board include Planning Commission Deputy Chairman Montek Singh Ahluwalia, the prime minister's principal secretary T K A Nair; two members of the National Advisory Council, A Shiva Kumar and Mirai Chatterjee,

Nobel economist Amartya Sen, Gautam Kumra of McKinsey and Co, representatives of the Bill and Melinda Gates Foundation, UN agencies like UNAIDS, Unicef, WHO,  ministry of health of the government of India and industrialists Mukesh Ambani, (Reliance Industries) Shiv Nadar (HCL) and Harpal Singh (Fortis Hospital).

Earlier this month, Gupta had stepped down from the board of Genpact, American Airlines and Hyderabad-based Emergency Management Research Institute (EMRI) after the US Securities and Exchange Commission named him a co-conspirator in an insider trading scam, along with billionaire Raj Rajaratnam of the Galleon Group, USA.

He also quit his positions in every single US company he had been associated with, and has taken leave of absence from his own private equity firm, New Silk Route Partners.

He has, however, shied away from quitting the chairmanship of the governing bodies of two key institutions that he has mentored in India - Hyderabad-based Indian School of Business and the New Delhi-based PHFI.

PHFI sources said the foundation had been in talks with Gupta, trying to find an smoother way of exit. PHFI has so far benefited from grants worth Rs 400 crore (Rs 4 billion) from the Centre and the four states where it had opened branches. Several public health activists have expressed concern, as Gupta had not hinted at resigning from the post.

His continuation may bring PHFI into greater public scrutiny and questions will be asked about the influence of foreign funding agencies and other vested interests in an organisation that has been liberally funded by the government, said a public health professional.

Another public health activist, Sabu George, said the continuance of Gupta raises concern about ethics in academic institutions.