Locally manufactured coaches can achieve similar speeds as Talgo trains.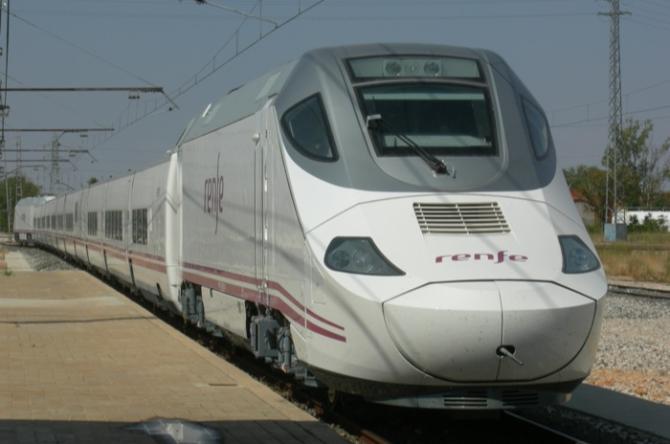 Amid the hoopla over introducing high-speed trains on the creaking railway infrastructure in India, mostly through foreign funding, the government is considering a breakthrough proposal by Spanish company Talgo-known the world over for its fast trains.
The transport major has offered what has been a dream for the 160-year-old Indian Railways: lighter and safer trains that can touch a speed of more than 160 kilometre per hour (considered semi-high in technical parlance) and that too without having to carry out any major upgrade of its existing tracks.
Not surprisingly then, it has caught India's imagination even as the details are still sketchy. It is not known whether Talgo will bring in entire train sets or just the coaches, whether the government will agree to the company's offer to manufacture and later export from India and how will the deal be financed?
But the company is soon expected to conduct free trials to showcase the operation of its trains on the Delhi-Mumbai route as part of its offer to raise speed on legacy tracks.
The benefits are immense. The Talgo service could cut travel time between Delhi and Mumbai to 12 hours from more than 17 hours currently.
And this, while bringing down energy usage, a key component of railways' expenses, by around 30 per cent. So, is the offer really as sweet as it appears? What makes Talgo claim it will ramp up speed without laying new tracks?
The Talgo edge
Not much has been written about what sets Talgo apart from other train-makers globally, but some details are emerging.
The Talgo trials, in all likelihood, will be conducted for coaches with its patented wheel system.
The USP of Talgo trains is its articulated bogies, light-weight shells with all aluminum coaches and a design that allows natural tilting of coaches, enabling it to negotiate curves at high speed.
The reason why conventional trains in India do not cross a certain speed (Bhopal Shatabdi holds the record for a maximum speed of 145 kilometre per hour) is that the network is shared between slow-moving freight and fast-moving passenger trains.
Fast-moving trains require higher banking of outer curves on tracks and while negotiating less banked curves have to slow down to avoid passenger discomfort or skid off the track.
Talgo has found a solution to this problem in a design that allows tilting of the superstructure of the coach without modifying the track.
In addition, the bogies are axle-less (to allow independent rotation of wheels) and the superstructure is lighter than conventional trains - something Talgo specialises in. In fact, it is the only company in the world to use tilting technology.
"Talgo could use the tilting technology to ensure smooth running of trains with higher speed at curves," says Sujeet Mishra, an officer of the Indian Railways Service of Electrical Engineers and a research scholar at IIT-BHU.
On its website, Talgo identifies tilting - apart from lighter construction, articulated bogies (or a shared bogie between two coaches) and independent wheels - among the highlights of its train technology. Talgo trains are currently operational in Spain, Portugal, France, Switzerland, Italy, the US, Argentina, Kazakhstan and Uzbekistan.
However, Talgo coaches are around 13 metres in length, shorter than the coaches of 22 metres that the railways uses at present. Also, because a pair of wheels is shared between two coaches, their uncoupling is not readily possible.
"It is possible to attach and detach individual coaches in traditional trains. But this may not be possible in Talgo trains where two coaches share a single wheel pair without the use of special mechanisms," says Mishra. However, he adds, this problem can be handled with "wayside infrastructure." This, of course, will come at a premium.
The Talgo trains, however, need fewer axles per train. A typical 20-coach Rajdhani train has 80 axles against 40 axles for a Talgo train of similar length. An email sent to the company seeking responses on its offer and details of the technology remained unanswered.
A long time coming
The idea of high-speed trains is not entirely new to India. Experts point out that the railways have had options to operate semi high-speed trains for more than two decades.
The WAP5 class locomotive, in operation since 1995, is designed for a test speed of 220 kilometre per hour. Similarly, the Linke Hofmann Busch stock of coaches was certified for 160 kilometre per hour way back in 2000.
So, why do our trains still chug along at curtailed speeds of average 25 kilometre per hour for freight and 45 kilometre per hour for passenger?
The answer is a mesh of infrastructure bottlenecks and India's typical geography: a large number of curves, weaker and older formations and bridges.
"The WAP5 class locomotive from the Chittranjan Locomotive Works can manage to achieve speeds of over 180 Kilometre per hour but the problem is that the tracks cannot support more than 140-150 kilometre per hour with heavy stock (engines and coaches). However, with lighter rolling stock now planned to be inducted, it is possible to cross the semi-high speed of 160 kilometre per hour without any major upgradation of the track infrastructure," says R Sivadasan, former financial commissioner, Railway Board.
However, with the government keen on high-speed services as part of its effort to reform the railways, all eyes currently are on Talgo.