ONGC Videsh Managing Director Ranbir Singh Butola was selected to head Indian Oil Corp, the nation's largest refining and fuel marketing firm.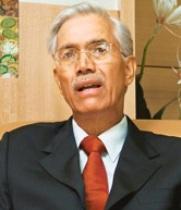 Government headhunters Public Enterprise Selection Board interviewed six candidates and named Butola as its No 1 choice to be chairman of IOC, official sources said.
PESB had selected R K Singh for the post of Chairman and Managing Director of Bharat Petroleum Corp on Tuesday.
Butola, 56, the man responsible for giving India a standing in the global oil scene with acquisitions such as Russia-focused Imperial Energy, was the senior most in the race and a natural choice to head IOC.
Born on May 5, 1954, Butola joined ONGC in February 1991 as Deputy General Manager (F&A) and was appointed as Director (Finance) of ONGC Videsh Ltd on November 15, 2002.
 He succeeded Atul Chandra as the Managing Director of the company on May 13, 2004.
He holds a Master's in Business Management with specialisation in Finance, and is a certified member of the Indian Institute of Bankers (CAIIB). Prior to his joining ONGC, Butola worked in a nationalised bank and also for the Government of India on deputation.
Sources said of all the 14 candidates shortlisted for the top job at IOC only six, including Mangalore Refinery and Petrochemical Ltd Managing Director U K Basu, Instrumentation Ltd Chairman and Managing Director Ramanand and A S Lamba, Additional Secretary and Financial Advisor in the Ministry of Agriculture appeared for personal interview.
The post of IOC chairman fell vacant after the government declined an extension of service to Sarthak Behuria till his superannuation age of 60 in 2012.
Behuria completed his five-year term in February-end and was eligible for extension till early 2012 but the government refused him the option. Prominent among those who did not turn up for interview before PESB included Bharat Petroleum Corp Ltd Director (Refineries) R K Singh, who was named by PESB as the preferred choise to head the nation's second largest public sector oil firm, sources said.
Shipping Corp of India (SCI) Director (Finance), B K Mandal, who was PESB's second preference to head BPCL, too did not attend IOC Chairman interview.
Pawan Hans Ltd Chairman and Managing Director R K Tyagi also did not turn up. Oil India Ltd (OIL) Director (Finance) T K Ananth Kumar, who failed to make to the grade at the BPCL interviews on Tuesday, too did not turn up for interview for the top post in IOC .