Public-sector enterprise stocks have seen a good run thus far in 2023-24 (FY24), with the S&P BSE PSU Index surging by over 26 per cent during the period, compared to an 11 per cent increase in the benchmark S&P BSE Sensex.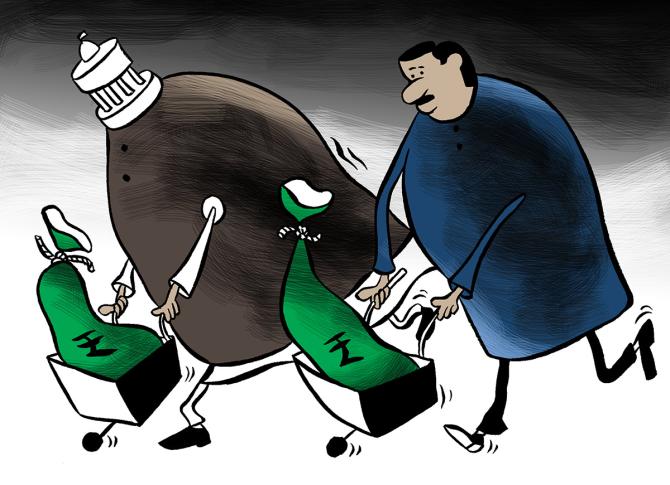 One key reason analysts believe is driving this rerating in public sector undertaking (PSU) stocks is the government's infrastructure and capital expenditure (capex) push ahead of state polls scheduled for later this year and the general elections set for May 2024.
According to A K Prabhakar, head of research at IDBI Capital, the government has been proactive in emphasising the theme of indigenisation and Make in India.
Consequently, many PSU companies have secured contracts, leading to a healthy order book size. Prabhakar believes that all these factors have triggered a rally in PSU stocks over the past few months.
"PSUs now need to deliver on their order books for the next leg of the rally.
"While it's essential to note that not all PSU stocks are equal, some of them now appear expensive.
"Therefore, one must be selective. There are near-term challenges that could cap the rally, but for investors with a three- to five-year investment horizon, PSU stocks may be suitable for purchase during declines.
"Among these, select defence-related plays such as Ircon International, Bharat Electronics, and Cochin Shipyard appear to be investment-worthy," Prabhakar suggests.
According to an Elara Securities report, the share of capex in overall spending rose to approximately 27 per cent in April-May FY24, reaching Rs 5,670 crore.
This is a significant increase compared to the past five-year average of around 13 per cent during the same period.
Among the ministries that led capex during April-May FY24 as a percentage of Budget Estimates (BE), the top three were the Ministry of Ports, Shipping and Waterways at around 31 per cent, the Ministry of Railways at approximately 23 per cent, and the Ministry of Road Transport and Highways (MoRTH) at about 22 per cent.
Regarding total expenditure, the Ministry of Railways, MoRTH, and the Ministry of Defence formed the top three, with spending percentages of 29.4 per cent, 21.4 per cent, and 16.5 per cent of BE, respectively, over April-May FY24, according to the Elara Securities note.
Meanwhile, in the stock market, companies such as Mazagon Dock Shipbuilders, Indian Railway Finance Corporation, Mishra Dhatu Nigam, Ircon International, Rail Vikas Nigam, Engineers India, and REC have doubled investor money by increasing between 100 per cent and 190 per cent in FY24, according to ACE Equity data.
Other stocks like Bharat Heavy Electricals, SJVN, Cochin Shipyard, MMTC, Mangalore Refinery and Petrochemicals, Hindustan Copper, and Power Finance Corporation have also gained between 74 per cent and 99 per cent during this period.
Chokkalingam G, founder and head of research at Equinomics Research & Advisory, points out that most PSU stocks are part of the small- and mid-cap category, which has witnessed significant run in recent months.
This, he believes, is one of the main reasons investors have been drawn to PSU counters.
"The surge in small- and mid-cap stocks is the primary driver of the PSU stock rally. In FY24 so far, the S&P BSE SmallCap Index has moved up 41 per cent, while the S&P BSE MidCap Index has seen a 33 per cent increase.
"Both have outperformed the Sensex during this period by 3x to 4x.
"PSU stocks have simply attempted to catch up in this small- and mid-cap rally," he adds.
Although he remains cautious about the small- and mid-cap segment due to the sharp run seen in FY24, Chokkalingam recommends Coal India and Balmer Lawrie as his two 'buy' calls in the PSU sector, citing attractive valuations.
---
Disclaimer: This article is meant for information purposes only. This article and information do not constitute a distribution, an endorsement, an investment advice, an offer to buy or sell or the solicitation of an offer to buy or sell any securities/schemes or any other financial products/investment products mentioned in this article to influence the opinion or behaviour of the investors/recipients.
Any use of the information/any investment and investment related decisions of the investors/recipients are at their sole discretion and risk. Any advice herein is made on a general basis and does not take into account the specific investment objectives of the specific person or group of persons. Opinions expressed herein are subject to change without notice.