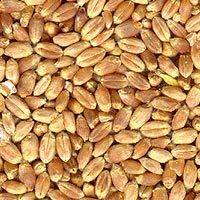 Punjab and Haryana, the two national granaries for the public distribution system, are likely to face a storage capacity shortage of 5.5 million tonnes in the rabi wheat procurement season that began on April 1.
The two states are planning to store quantities beyond 12 mt in temporary structures like marketing yards, rice mills, kaccha plinths, etc.
While this would cause a problem of plenty in terms of storage management for Food Corporation of India, the burgeoning wheat stock is expected to facilitate the government's plans to introduce food security as a law.
As on March 1, the government had wheat stock of over 18 mt and it has projected this year's procurement at 26 mt.
And, the rice stock was 26.95 mt tonne on March 1.
The government is likely to provide 35 kg of wheat/rice a month to 65 million families at Rs 3 a kg. This included 40 million below poverty line households and 25 million 'poorest of the poor' families covered under a separate Antyodaya Anna Yojana scheme.
Currently, both BPL and AAY households get 35 kg each of grain every month, with the below poverty line issue price at Rs 4.15 a kg for wheat and Rs 5.65 a kg for rice and Rs 2 and Rs 3 a kg, respectively, for AAY households. Giving legal sanctity to allocation would ensure higher offtake of grains.
Currently, annual wheat offtake for PDS is in the range of 15-16 mt, while rice is 18-19 mt.
The offtake is usually lower than allocation due to reasons like diversion, etc.
The storage capacity available with FCI and the state food department in Punjab is 11.12 mt, while the same for Haryana is 5.7 mt.
The food secretaries of Punjab and Haryana have informed the Union food ministry in a recent meeting that the state's storage shortage was 2.5 mt and 3 mt, respectively.
The shortage is projected in spite of evacuation of 12.17 mt wheat and 6.36 mt rice in 2009-10 (up to February) from these two states.
Evacuation of wheat and rice from these two states in the corresponding period of 2008-09 was 8.59 mt and 5.89 mt, respectively.
FCI is expected to procure 11.5 mt wheat in Punjab and 6 mt in Haryana, said one of its officials. "The two states are planning to store the surplus wheat in marketing yards, vacant spaces with HUDA, rice mills, sugar mills and kaccha plinths," he said.
In the last season, procurement in the two states was 10.7 and 7 mt, respectively.

To expedite creation of additional storage capacity, the government had formulated a scheme for construction of godowns for FCI by hiring these on a guarantee basis.

The proposals for creation of storage capacity in various states are considered by a state-level committee and are approved by a high-level committee of FCI.
The HLC gave approval for construction of storage godowns with a capacity of 7.12 mt and 3.88 mt in Punjab and Haryana, respectively. However, the response to offers invited by states for this construction has been lukewarm.
The Punjab government, for instance, invited offers to construct plinths of 4.4 mt capacity. However, interest was shown for construction of 650,000 tonnes only.