Master tailors, textile manufacturers and custom clothiers, however, say the upcoming festive season, reinvention in the form of new collections and digital outreach are salvaging the situation somewhat.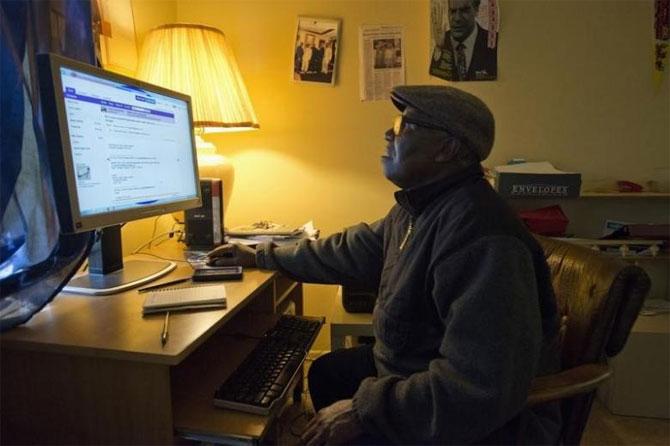 Given how work from home (WFH) is shaping dress codes, the power suit seems to be going the same way as the three-martini business lunch.
Back in the 1960s, '70s and, to some extent, the '80s, the noontime lunches embodied how movers and shakers closed big deals. Today, three-martini lunches are no longer in vogue.
And it appears, crisp business suits, too, are falling out of favour -- for the time being, at least.
Master tailors, textile manufacturers and custom clothiers, however, say the upcoming festive season, reinvention in the form of new collections and digital outreach are salvaging the situation somewhat.
Raymond, one of India's largest suit makers recently re-opened most of its 1,000-plus stores across the country.
Purchases now are largely driven by family occasions, such as weddings, says Ganesh Kumar, chief operating officer, Lifestyle Business, Raymond.
While the company has witnessed a slump over the last several months, there is a pickup in demand with festivals and weddings around the corner, he adds.
"Demand now is only event-based, with most people staying at home and choosing to wear shorts and t-shirts even while working," echoes Ratul Sood, director, Sood (earlier Burlingtons), a bespoke clothing store in Kolkata. "Last year, Burlingtons would typically make 30 suits a day. That's down by 75 per cent."
If necessity is the mother of invention, then innovation is a common byproduct of the lockdown.
Raymond, for instance, has launched a concierge service because customers are now averse to close contact while being measured. So, for measurements, the customers' best fitting jackets or trousers come in handy.
"These are matched with the new fabric and tailored with room for adjustment," says Kumar.
Raymond has also introduced Virasafe, a USFDA-approved technology that uses a silver-based chemical coating infused into the fabric to destroy bacteria and viruses. And then, "virtual shopping alone drummed up some Rs 60 lakh of sales in the last month for Raymond," Kumar adds.
In old-world Lucknow, third-generation clothiers Bhasin Sons would stitch around 350 business suits annually. The number has plunged by 90 per cent. Dhruva Bhasin, partner with the firm, says he is going to the store daily and has started beefing up his Instagram page and sending personalised videos and catalogues to regular buyers.
The worst hit has been the luxury suit market. Anupama Sachdeva, founder of Pezalli Bespoke, which caters to, among others, the promoters at Hero Group and former cricketer Kapil Dev, says people seem happy to work from home in polo t-shirts and shorts.
"A lawyer who has been one of our regular buyers said he attends conference calls and important meetings in a shirt, and slips on a jacket when required, but has traded his trousers for shorts. Those who shopped for occasions and parties have all disappeared."
Sachdeva is hoping to overcome the challenge of social distancing by using three measurements and approximations of body types to create clothing. Others are going a step further to give customers the confidence they need while ensuring they also get the perfectly fitted suit.
Sudhir Diwan, managing director of Delhi-based Diwan Saheb, sends swatch books to customer homes. At their store, they have also built glasswork partitions with three panels that a customer can step into. A master tailor can manoeuver his arms through slits in the panels to take the measurement so that the process of customised tailoring continues but with minimised risk.
Diwan Saheb, which creates bespoke suits, has seen business drop from 125 suits a month to around 25 now. With the wedding season beginning soon, Diwan says he hopes sales will pick up in September.
Raymond stores, meanwhile, are seeing t-shirts and casualwear selling faster than formals -- which is its core business. So the company has launched a WFH collection specifically for the current market. "The sale of our suiting fabrics is continuing through our website (myraymond.com)," Kumar says.
Besides the shift in the way people work now, a certain view is working against power dressing. The "peacock syndrome" of strutting around in the latest ensemble is no longer thought of as cool.
"Power dressing isn't appropriate at a time like this. We have observed that loose fits, soft drapes and casual, relaxed attire have become popular," Sood says.
The environment is also changing sensibilities. For those executives who are hosting webinars and need to be on Zoom calls, there's consideration being given to suits and shirts that won't jitter or look fuzzy on video. "Collections are entirely being re-thought," Kumar says.
Despite the abysmal sales, hope floats. Mumbai-based Kachins, a bespoke apparel store that caters to leading industrialists, would normally sell about 100 suits in a month last year. This year, the store stayed shut for several months because of the pandemic.
"But in August, we sold between 20 and 25 suits, which is an indication that business is trickling in," says Zulfi Shahpurwala, managing partner at Kachins. "We think demand for fine clothing will always be there and the pandemic will not push people to dress down forever."
Demand, in fact, is coming from unexpected pockets. Raymond is seeing an unpredictably high demand from small towns, such as Gulbarga in Karnataka and small cities of Tamil Nadu. "The logic is that Tier 5 and 6 economies are driven by rural income, which is coming back strong," says Kumar.
And then there are some unexpected purchases being made. "I actually sold a diamond chip-infused suit length by English fabric maker Scabal, which retails at around Rs 1.2 lakh per metre. I haven't sold that even in normal times, so we do have surprises," Bhasin says.
The takeaway is that just like classic formal wear, such as the jamawar, bandhgala or the sherwani, the business suit will never die. Bhasin sums it up succinctly: "James Bond will never stop wearing a suit as we will see in the upcoming film."