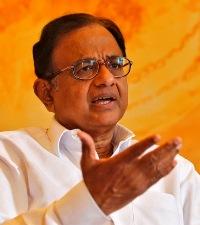 When P Chidambaram passes on the reins of the finance ministry to his successor, he might do so with the government's fiscal deficit for 2013-14 at 4.5 per cent of gross domestic product, lower than his revised estimate of 4.6 per cent, thanks to the Election Commission's code of conduct for the Lok Sabha elections.

As the code of conduct came into force on March 5, many ministries were unable to use the funds allocated to them, resulting in much-needed savings for the government.

The cut in expenditure not only made up for a shortfall of about Rs 6,000 crore (Rs 60 billion) in total revenue, but also left the exchequer with enough funds to cut the fiscal deficit further.

On condition of anonymity, a finance ministry official said, "There is a shortfall of about Rs 12,000 crore in tax collections. But as we got Rs 6,000 crore extra in non-debt capital receipts, the net revenue loss is only Rs 6,000 crore.

"That will be offset by savings in expenditure; we may still have Rs 6,000 crore more than the revised estimate. So, the fiscal deficit could fall to 4.5 per cent."

Another official said there was a ceiling on incurring expenditure in March (only 15 per cent of the revised estimate for expenditure could be spent).

He added the election code of conduct had aided the government's finances. Despite non-Plan expenditure exceeding the revised estimate marginally, net savings in 2013-14 would be less than the Rs 15,000 crore (Rs 150 billion) saved in 2012-13, as looking at 2012-13, some ministries had withdrawn funds in January-February, he said.

As of February-end, the government's fiscal deficit stood at Rs 5,99,299 crore (Rs 5,992.99 billion), or 114.3 per cent of the revised estimate of Rs 5,24,539 crore (Rs 5,245.39 billion).

To limit it to 4.6 per cent of GDP, the finance ministry required a fiscal surplus of Rs 74,760 crore (Rs 7,47.6 billion) in March, against an average deficit of Rs 54,482 crore (Rs 544.82 billion) for the first 11 months of 2013-14.

However, in March, it secured a fiscal surplus of Rs 80,000 crore (Rs 800 billion), according to provisional figures available with the government.

In other words, total revenue receipts, which were consistently lower than the total expenditure during April 2013-February 2014, reversed the trend in March.

According to internal estimates, the finance ministry's total revenue in March stood at a whopping Rs 2,59,000 crore (Rs 2,590 billion), the highest the month has recorded so far.

This was primarily aided by Rs 1,97,000 crore (Rs 1,970 billion) of tax revenue, against expenditure of Rs 1,78,000 crore (Rs 1,780 billion).

This means while 24.4 per cent of revenue receipts for 2013-14 came in March, only 11.2 per cent of the total expenditure target was spent during the month.

Economist Indira Rajaraman said there had been some postponement in expenditure.

When asked whether the ministry seemed to be resorting to financial jugglery, she said, "There could be a lot of revenue that was due, but claimed only at the last moment.

"Supposing there were a lot of disputed cases that were settled at the end. . . you cannot dismiss it as financial jugglery."

As far as the surge in tax collections in March is concerned, this is always the case, primarily for two reasons -- the final instalment of advance tax is paid by March 15 and tax authorities are more aggressive in raising tax demands to meet their target.

However, this March was exceptionally good, despite the economy not showing signs of an improvement.

Also, March was the only month in 2013-14 that saw a surplus, unlike previous years when fiscal surpluses were often seen in June, September and December, the months for quarterly advance payment of taxes.

In his interim Budget for 2014-15, Chidambaram set a fiscal deficit target of 4.1 per cent; a lower fiscal deficit for 2013-14 should make that target easier.

However, concerns have been raised that a lot of last year's expenditure, primarily towards subsidies, have been rolled over to this financial year.

"I will not dismiss 4.1 per cent beyond the realm of possibility, but it will require a fairly Herculean effort," Rajaraman said, adding the problem of spill-over would be there.

Chidambaram has a better record in controlling the government's fiscal deficit than his predecessor Pranab Mukherjee.

For 2012-13 Chidambaram restricted this to 4.9 per cent and for 2013-14 he might rein it to 4.5 per cent; Mukherjee, in his last Budget (2011-12) had delivered 5.7 per cent.

But during Chidambaram's term as finance minister, most fiscal correction was in March.

This was done by slashing Plan expenditure, while non-Plan expenditure was raised.
Image: P Chidambaram; Photograph: Reuters