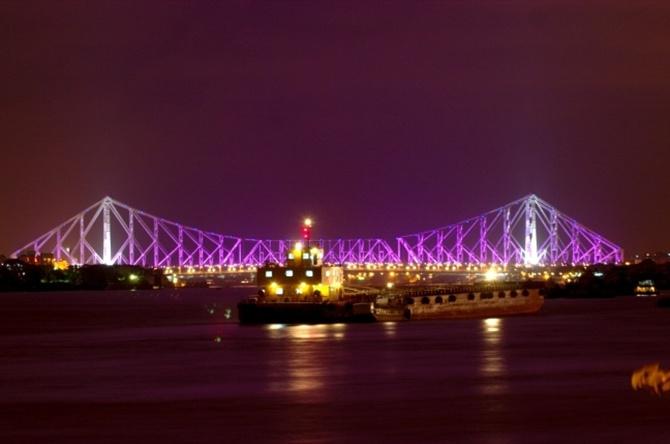 Soon after Trinamool Congress supremo Mamata Banerjee became the West Bengal chief minister, she declared her intent to transform Kolkata into London.
At the foundation stone-laying event of a pilot project to beautify the banks of the Hooghly river in 2011, Banerjee had said that she would like to see Kolkata have an official gateway like the Gateway of India in Mumbai, a ropeway, an integrated transport system involving road, rail and river transport facilities and even a giant London Eye-like structure.
While Mamata's followers had lauded her 'visionary' trait, her detractors had made fun of her statement as being 'ridiculous' and 'euphemistic'.
In a column in Business Standard in 2010, Subir Roy had written: For Mamata, to realise this dream her city 'would require massive, bold, and often unpopular reconstruction of its image'.
The biggest challenge for the Bengal chief minister would be revamping Kolkata's poor infrastructure.
Roads in Kolkata constitute only five-six per cent of total urban land, compared to 20-30 per cent in most US and European cities.
A study by the Federation of Indian Chambers of Commerce and Industry and research firm Ernst and Young done a couple of years back had concluded that poor infrastructure of Kolkata is a major put-off for investors.
The city also lacks in dynamic projects and an efficient land acquisition system.
As a result, many major infrastructure and energy projects are either stalled or shelved.
Though after coming to power in 2011, Banerjee had promised to generate millions of jobs, her pledge turned out to be only full of sound and fury.
On the contrary, the number of factories in the state closed down in the last few years, rendering thousands of people jobless.
Under these circumstances, will Banerjee be able to transform Kolkata into London?
Is the West Bengal chief minister's dream an illogical one?
How will she counter infrastructural challenges that plague the city?
With investors mostly staying away from the city, where will Mamata arrange the finances from?
Is the West Bengal chief minister's idea a feasible one? Tell us!
Image: Howrah Bridge/Rabindra Setu; Photograph: Dilip Muralidaran/Wikimedia Commons