In a major development in the Punjab National Bank-Nirav Modi fraud case, the Central Bureau of Investigation on Tuesday arrested president, finance, Firestar International Pvt Ltd, Vipul Ambani.
IMAGE: Searches and raids into the PNB-Nirav Modi scam continued for the sixth continuous day. On Tuesday, five other officials from Nirav Modi-related companies were arrested as well as some more PNB officials. Photograph: Shashank Parade/PTI Photo
The law enforcement body also arrested Kavita Mankikar, executive assistant and authorised signatory of the three accused firms.
Arjun Patil, senior executive, Firestar group; Kapil Khandelwal, chief financial officer, Nakshatra group, and Niten Shahi, manager, Gitanjali have also been detained.
Mumbai's Special CBI court earlier sent Bechu Tiwari, Yashwant Joshi, and Praful Sawant to police custody till March 3.
Bechhu Tiwari, the then chief manager in the forex department; Yashwant Joshi, scale-II manager in the forex department; and Praful Sawant, scale-I officer handling the exports section, were arrested on Monday.
The CBI insisted that the present accused were not cooperating in the investigation and were shifting all the blame on Gokulnath Shetty, the retired deputy manager of Punjab National Bank's foreign exchange department at the Brady House in Fort in Mumbai, and others in this case.
I-T raids 20 premises linked to Choksi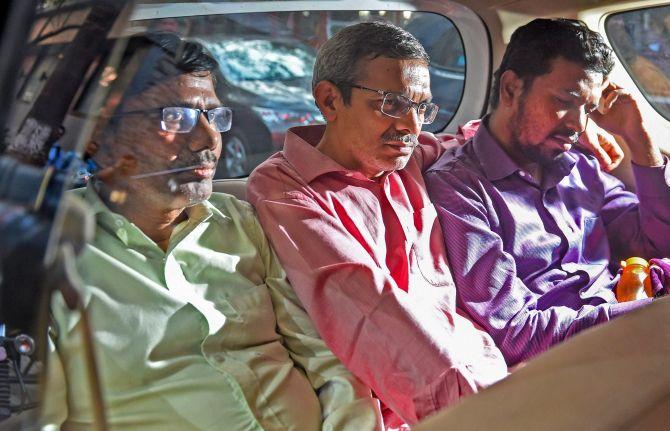 IMAGE: Punjab National Bank officials, arrested in connection with the multi-thousand crore rupees fraud involving diamantaire Nirav Modi, being produced at the Special CBI court in Mumbai on Tuesday. Photograph: Shashank Parade
The Income Tax Department on Tuesday raided 20 premises linked to Gitanjali Gems promoter Mehul Choksi and suspected shell firms in connection with an alleged tax evasion case against them, official sources said.
They said the searches, launched about 4 pm, were being conducted in Mumbai, Pune, Surat, Hyderabad, Bengaluru and a few other cities against 13 companies linked to Choksi, his jewellery firm Gitanjali Gems and others.
Sources said the action was being undertaken to check the activities of some shell firms allegedly routing funds in this case.
The I-T department found that in the context of these entities that are being searched on Tuesday, "huge investments were made in assets from unaccounted sources, diversion and layering of funds was done after these were received as loans from sources having doubtful creditworthiness as no interest has been paid on loans", an official said.
Twenty premises are being raided by a team of over 110 I-T sleuths, the sources said.
The department had recently attached the bank accounts and other assets of Choksi and the Gitanjali group.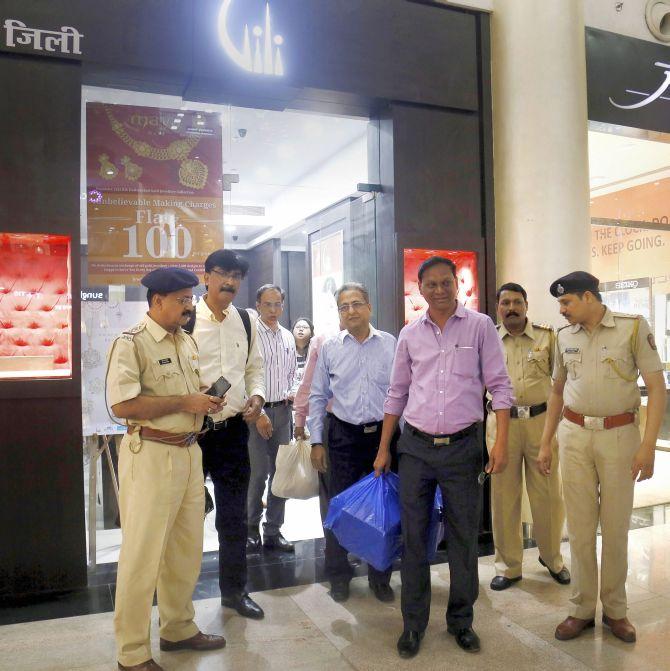 IMAGE: Enforcement Directorate seize cash, jewellery and bonds worth several crores after a raid at Gili jewellery store in relation to Nirav Modi-PNB scam in Thane. Photograph: PTI Photo
And the troubles for Nirav Modi continue to grow as the Income Tax department has slapped fresh charges under the new anti-black money law against him for allegedly holding an illegal asset abroad, official sources said.
According to them, this is the second overseas asset that the taxman suspects has not been disclosed to it by the diamantaire, who is suspected to have left India in January.
The Income Tax department had last week slapped sections of the Black Money (Undisclosed Foreign Income and Assets) and Imposition of Tax Act, 2015 against Nirav Modi last week after it detected that a bank account in Singapore was allegedly held by him, which is not disclosed to the tax authorities.
The latest foreign asset is suspected to be a trust registered in Jersey, located near the coast of Normandy. The business trust is being probed for routing funds with alleged links to Modi.
The department is also probing two separate transfer of funds -- Rs 284 crore from Cyprus and Rs 271 crore from Singapore -- to a firm linked to the diamantaire in India.
The income tax department, on February 16, had provisionally attached 29 properties and 105 bank accounts of the diamond merchant, his family and firms as part of its tax evasion probe.
A total of 105 bank accounts of Modi, his family and companies have also been attached, they said.
The Punjab National Bank detected a $1.77 billion scam, in which jeweller Nirav Modi acquired fraudulent letters of undertaking from one of its branches for overseas credit from other Indian lenders.
The scam was started in 2011 and was detected in the third week of January this year, after which the PNB officials reported it to the concerned agencies.
-- With inputs from ANI