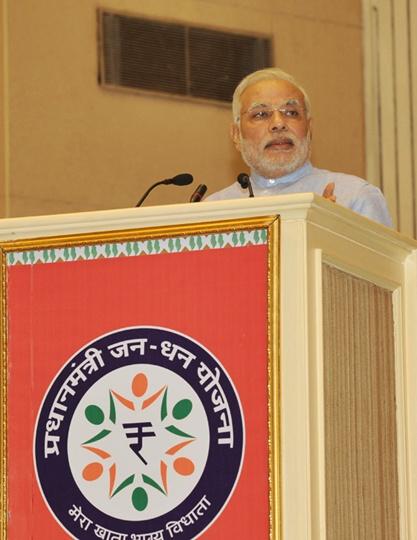 Five weeks after launching the ambitious Pradhan Mantri Jan-Dhan Yojana, Prime Minister Narendra Modi on Tuesday asked bank officers and staff to undertake "mid-course corrections required" as the "journey is bound to become more difficult" in the future.
In an email to bank officers and staff, he hailed their contribution in "successfully" rolling out the scheme but added a word of caution against slackening.
He said he is "delighted by the unprecedented response" the scheme has received so far as he noted that over five crore bank accounts have been opened within five weeks of the launch against a target of 7.5 crore accounts in the first year. "This is primarily due to your diligence and commitment.
I had urged you to ensure that no one is left behind without a bank account.
I always had faith in the ability of our system to rise to any challenge and with your unflinching dedication, sense of purpose and hard work, your results have far exceeded expectations," he wrote.
The Prime Minister had earlier sent an email to bank officers and staff on August 25 before launching the scheme on August 28. "However, as we move ahead from here, the journey is bound to become more difficult and achievements harder to come by. Reaching the last few who do not have bank accounts is going to be progressively more difficult. We must not slacken our efforts in ensuring full coverage," he told the bankers.
"This is also the time to reflect and make mid-course corrections as required," he said.