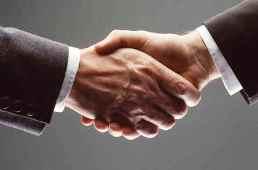 India and Germany would hold the second joint Cabinet-level meeting in Berlin on April 11.

The first such meeting, held in New Delhi in May 2011, was chaired by German Chancellor Angela Merkel and Prime Minister Manmohan Singh.

Commerce & Industry Minister Anand Sharma, along with other senior Cabinet ministers, would accompany Singh to Berlin.

This meeting, too, would be chaired by Singh and Merkel.

The meeting would focus on the multi-role fighter jet deal and the much-awaited India-European Union trade pact.

Issues related to the Eurofighter Typhoon are expected to feature prominently, following India's decision to buy 126 Rafale fighter jets from French aviation giant Dassault for $12 billion.

Last year, Eurofighter Typhoon lost the bid; Dassault emerged the lowest bidder.

A senior official told Business Standard it was expected Germany would push Eurofighter's case.

Germany, India's biggest trading partner in EU, has a considerable say in the ongoing talks for an India-EU free trade agreement (or the bilateral trade and investment agreement), which is expected to remove import duties on about 90 per cent of tariff lines.

Negotiations on the deal have on since 2007 and have missed several deadlines.

"India is also expected to raise the issue of Germany's export control regime.

"Several Indian companies continue to be on Germany's restrictive export lists, due to which they face problems in securing the necessary export clearances, even for products for civilian use, not under the dual-use category,"
said the official, on condition of anonymity.
India was also expected to express concern on the 'restrictive visa regime that acts as a trade barrier,' the official added.
Indian companies, especially those in the information technology sector, face many hurdles in securing visas for their employees to visit that country.
According to current norms, a businessman travelling to Germany on an official purpose has to apply for separate visas for every visit.
Also, immigration rules in Germany are complex.
The Indo-German intergovernmental consultations began in May 2011, when Chancellor Merkel led a delegation to India.
The discussions included a range of bilateral issues -- security and defence policy, trade, vocational training, education and research, infrastructure, sustainable energy and environment technologies.
Since then, ministerial-level delegations from both sides have visited each other's countries.
"Germany is the only country with which India has such a format of high-level discussion.
"The visit is expected to impart significant momentum to bilateral relations," said a statement by the Ministry of External Affairs.
During 2012 (Jan-Sep ), merchandise trade between the countries stood at $16.61 billion, against $23.56 billion in 2011.