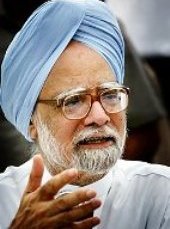 The Prime Minister's Office is taking a final view on the report of a task force, which suggested easy access to bank finance and preference in public sector procurement to the micro, small and medium firms.
The task force, headed by Prime Minister Manmohan Singh's principal secretary TKA Nair, held its meeting on Monday, which was attended by senior officials of different ministries and public sector banks.
"The PMO is working on the report. It may be put up before the Prime Minister within the next few days," an official said.
The group set up by the prime minister in August, has recommended intervention of the finance ministry and the Reserve Bank of India to step up bank credit to the sector which employs 42 million people.
It is also mulling a mechanism at the district level for early detection of sick units.
The task force has also supported a demand for procurement policy, under which it would be made mandatory for public sector units to procure 20 per cent of their total purchases from the MSMEs.
The MSMEs, which bore the brunt of the economic slowdown have been suffering sickness due to reasons such as shortage of working capital and technology obsolescence.
The task force has set up seven sub groups in the areas of credit, marketing, labour relations, insolvency and exit policy, taxation issues, infrastructure, technology/skill development and special issues of North East/Jammu and Kashmir, to look into the issues faced by the sector.
Image: Prime Minister Manmohan Singh