The Planning Commission on Thursday projected 8 per cent economic growth for the 12th Plan, but cautioned that "policy logjam" could slow the expansion to even as low as 5-5.5 per cent during the five year period.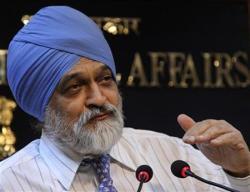 Moving away from previous practice of presenting single growth projection, the Planning Commission has come out with three different economic scenarios for 12th Five-Year Plan.

"Growth outcomes will depend upon on the extent to which we are able to take the difficult decisions needed to intervene at key leverage points to generate inclusive growth," Planning Commission Deputy Chairman Montek Singh Ahluwalia said at the National Development Council (NDC) meet in New Delhi.

The apex planning body has referred to a third scenario of "policy logjam".

"This is the scenario where there is very little progress on the different decisions identified. In this case, growth could be stuck between 5 and 5.5 per cent," Ahulwalia said.

He, however, said that scenario one - of strong inclusive growth -
is the only "scenario that will meet the aspirations of the people."
As per "aspirational" scenario one, the growth was earlier expected to be 8.2 per cent annually till 2016-17.
However, Ahluwalia said there is a need to modify the first scenario in the light of Finance Ministry's projection on 2012-13 economic growth (5.7-5.9 per cent) and assessment of United Nations that global economy would be significantly weaker in 2012 and 2013.
"In view of these developments, growth rate associated with scenario one could be scaled down to 8 per cent.
"I would like to emphasis that achieving an average of 8 per cent over five years, following a first year growth of say 5.8 per cent (2012-13) and say something over 7 per cent in the second year, will involve a sharp acceleration in the last three years of the Plan," he said.
Ta-Ta, Ratan: Tribute to an iconic Indian