India's aviation sector needs a regulator manned by people who understand the business rather than bureaucrats with little knowledge.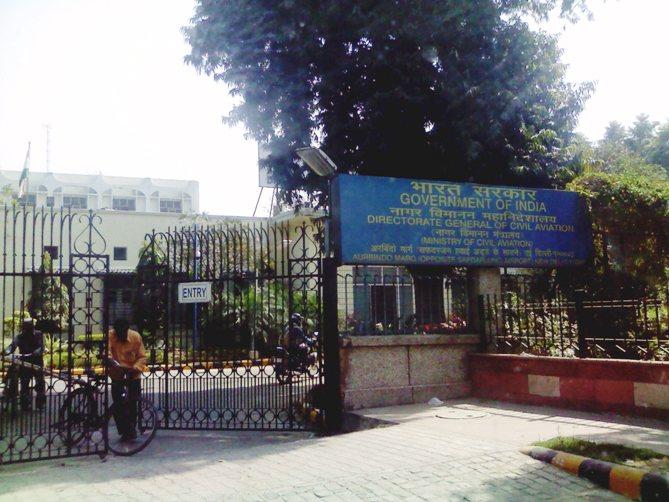 Image: The DGCA headquarters in New Delhi. Photograph: Courtesy,

Ashish Bhatnagar/Wikimedia Commons
Over the past couple of weeks, there have been news reports that 200-odd pilots in the country are flying without valid licences.
First, it seemed this was true of 130 Jet Airways pilots.
Then it came to light that Air India was not far behind and just over 100 pilots of the national carrier were similarly placed.
Let me clarify some points. To start with, the revalidation of the licences is essentially a technicality and is in no way a safety risk, no matter what some newspaper reports would have you believe.
Pilots have to get their licences revalidated after some intervals and if some have fallen behind it doesn't mean they have forgotten how to fly or that their skills are under question.
So at no point were we - the flying public - put at any kind of risk.
Second, in this particular case, the Directorate General of Civil Aviation (DGCA), for reasons best known to itself, changed the civil aviation requirements for pilots' licence revalidation without giving the airlines ample time to comply.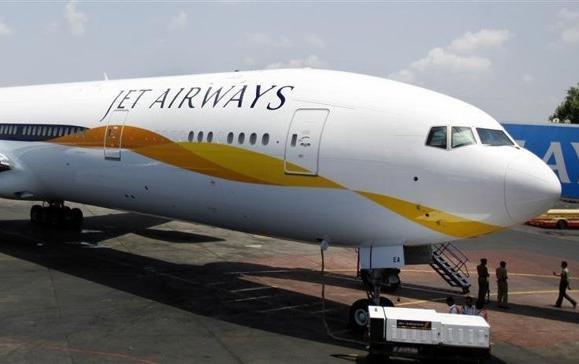 Image: A newly acquired Jet Airways Boeing 777-300ER aircraft sits on the tarmac at Mumbai airport. Photograph: Punit Paranjpe/Reuters
In fact, almost all the airlines found themselves in a similar predicament as Jet Airways and Air India.
The others went voluntarily and disclosed this to the authorities and were, hence, excused.
But what I find inexcusable in this case is DGCA's high-handed approach with Jet Airways and the remarkably different tone it used with Air India.
After Jet Airways pilots were found in violation of the licence revalidation norms, if newspaper reports are anything to go by, the DGCA asked for the airline's head of training to be removed.
It issued show-cause notices to the pilots and the airline on why their flying licences should not be cancelled or suspended.
It also asked for action against the airline's chief of operations.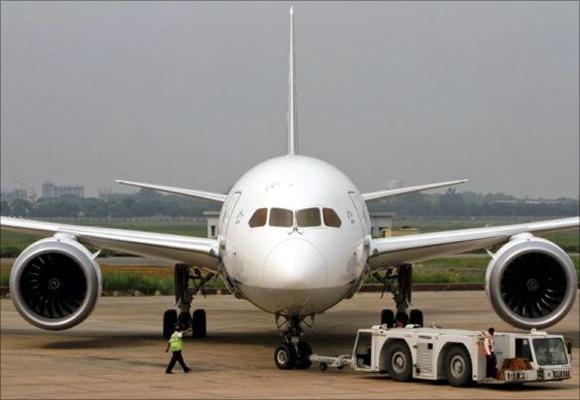 Image: A Boeing 787 Dreamliner aircraft for All Nippon Airways (ANA) is seen after its India debut landing at the Indira Gandhi international airport in New Delhi. Photograph: Mansi Thapliyal/Reuters.
Going a step further, it also ordered action against trainers (who are also the senior-most pilots) and has asked for several pilots to be taken off the roster.
All a bit over the top, in my view.
When I asked some Jet pilots and officials, they said some DGCA officials were trying to settle personal differences with the airline and that this reaction was a result of these petty disputes.
Then a few days later news broke that Air India pilots were caught in a similar situation.
And strangely, the DGCA's actions and response were totally different.
There was no strict rap on Air India's knuckles. Certainly, DGCA did not ask for removal of the airline's head of training.
Of course, asking for any such thing in a public sector company would be pointless since removing even one single employee would be a herculean task to start with.
Air India seemed to get off rather lightly, from what I could make out.
And this brings me to the larger point.
We don't need a DGCA manned with bureaucrats who have little or no knowledge of aviation and who often use their discretionary powers to settle scores with players.
We need an independent regulator on the lines of the Telecom Regulatory Authority of India in telecommunications or the Insurance Regulatory and Development Authority, which functions autonomously, independently and, more importantly, efficiently.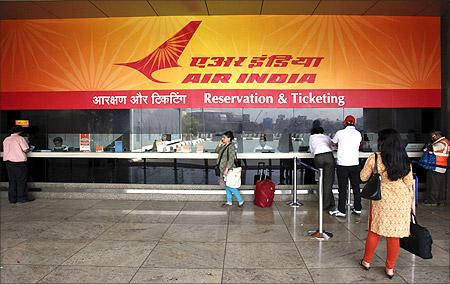 Image: Air India ticketing counter. Photograph: Reuters
Time and again private airlines protest that DGCA and even the ministry of civil aviation tend to view everything from Air India's lens.
When private airlines cut fares or offer new schemes, DGCA immediately looks into the matter and sometimes asks the airline to withdraw its scheme.
But if Air India cuts fares way below viable levels - which it often does to stimulate demand - DGCA happily looks the other way.
Private airlines - and I think it is a fair point - argue that there is no one to check what Air India is up to and Air India doesn't care how low its yields drop since it is funded by the exchequer and the funds are, therefore, limitless.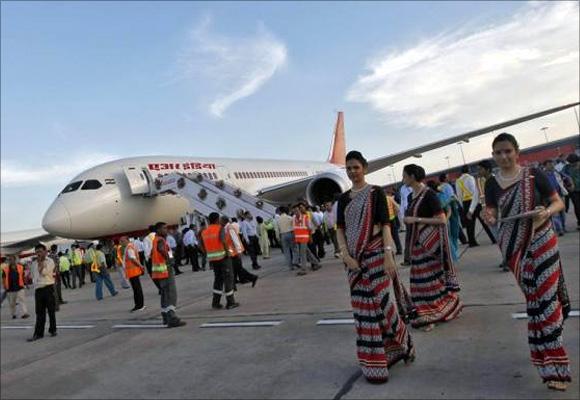 Image: Air India must cut losses and improve customer services, say experts. Photograph: Reuters
Similarly, when it comes to signing any bilateral seat entitlements, it is Air India's views and preferences that are kept in mind (except in situations where monetary considerations outweigh national interests such as when Emirates was granted a huge increase in seats during UPA-II).
So even if a private airline wants to offer better connections or connectivity, it is constrained by what Air India is offering or wants done.
Whether this happens because DGCA actually cares about the future of the national carrier or for other motives is not clear.
But either way there is no reason for this situation to continue.
Let's have an independent aviation regulator manned by people who understand the business; not some bureaucrat who can't distinguish his elbow from his knee.