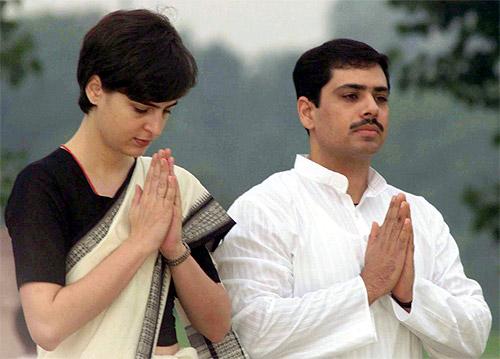 Image: Priyanka Gandhi and her husband Robert Vadra. Photograph: Reuters.
Amid the Bharatiya Janata Party governments at the Centre and in Haryana beginning to turn the heat on him, businessman Robert Vadra, also the son-in-law of Congress President Sonia Gandhi, recently ensured his companies filed their pending balance sheets.

The move, which might have been to avoid the wrath of the Ministry of Corporate Affairs (MCA), also revealed that Vadra's Sky Light Hospitality booked a profit of about Rs 33 crore (Rs 330 million) from its controversial sale of a land parcel in Haryana's Manesar.
A day after Haryana went to polls last month, Sky Light, which had sold the 3.5-acre parcel in ShikohpurVillage near Manesar, filed its balance sheet for financial year ended March 2013.

Though the document was dated August 30, 2013, it became available on MCA's website more than a year later, on October 16. Before this, the company had last filed its balance sheet in May 2012 for the year ended March 2011.
Sky Light Hospitality's profit before tax of Rs 33.26 crore for 2012-13 was mainly on account of its disposal of the Manesar land, which was valued in its books at Rs 15.38 crore (Rs 153.8 million).

Against this, an item of "advance against sale of assets" of Rs 50 crore (Rs 500 million) was written off by the company. After adjusting for accumulated losses of Rs 7.1 crore, Sky Light ended the year with reserves of Rs 26.12 crore (Rs 261.2 million).
An email seeking details and comments, sent to Vadra's office, did not elicit any response till the time of going to press.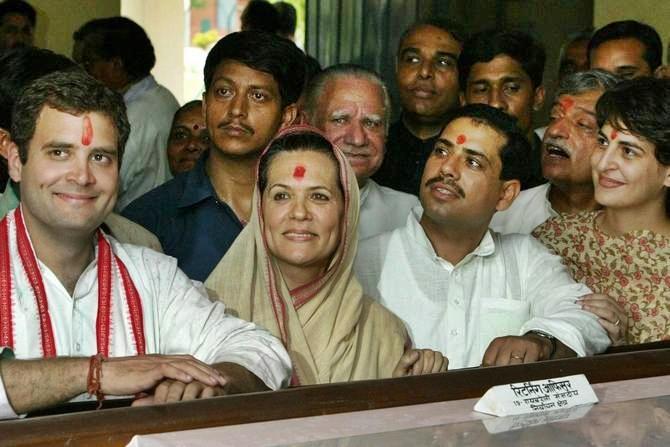 Image: Rahul Gandhi, Sonia Gandhi, Robert Vadra and Priyanka Gandhi. Photograph: Kamal Kishore/Reuters.
The numbers are significant, especially because a draft report of the Comptroller and Auditor General (CAG) is reported to have found irregularities in the Manesar deal.
"The CAG draft report underlines that the bilateral agreement between the state government and Skylight Hospitality required Vadra's company to retain only Rs 2.15 crore, and pass on the rest to the government account. Since Vadra's company had spent Rs 14.3 crore - Rs 7.5 crore towards land purchase and another Rs 6.84 crore on security and licence fees and conversion charges - the draft report says the (Bhupinder Singh) Hooda government should have realised Rs 41.5 crore from Congress chief Sonia Gandhi's son-in-law," The Times of India had reported on Sunday.
The advance was received by the Vadra entity from DLF Universal, a subsidiary of real estate major DLF Ltd. The advance paid by DLF in 2009-10 was part of a total consideration of Rs 58 crore paid for the Shikohpur land.

"There were two sets of business advances against purchase of property, one of which amounting to Rs 50 crore resulted in a satisfactory conclusion of purchase of commercial land and the second advance of Rs 15 crore was fully refunded," DLF had said in a statement after an expose by India Against Corruption in October 2012.
The 2012-13 balance sheet also showed that Sky Light had disposed of a land parcel in Bikaner, which was valued at Rs 79.56 lakh in 2011-12. The company's is yet to file its balance sheet for 2011-12.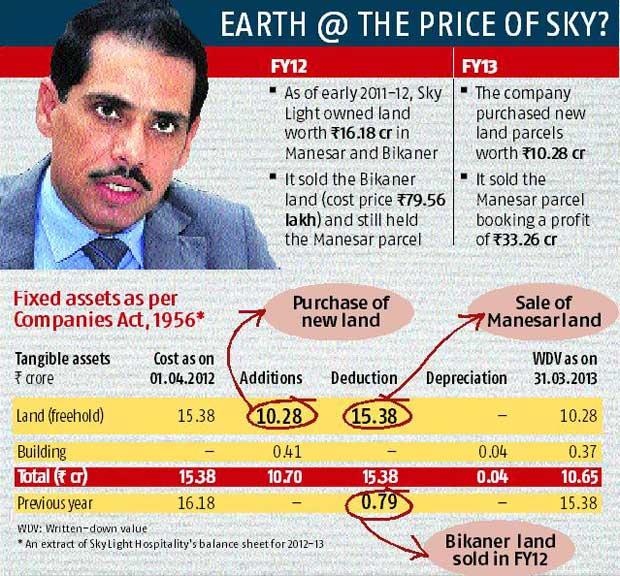 Interestingly, another land parcel, valued at Rs 10.28 crore (Rs 102.8 million), was purchased by the company in the first half of 2012-13. While its location and size are not known, this land and a building (combined value of Rs 10.6 crore) continued to be in Sky Light's books according to its balance sheet for 2013-14, which the company filed on October 20.
In 2013-14, Sky Light made a loss of Rs 2.3 crore. An amount of Rs 11.9 crore due to Saket Courtyard Hospitality, remained as a current liability. An interest of Rs 1.5 crore (Rs 15 million) payable on this sum was one of its major annual expenses and accounted for a significant portion of the loss.
Saket Courtyard Hospitality is the company that owns a luxury mall in South Delhi's Saket locality. The entity, initially floated as a partnership firm between Vadra and DLF, was later converted into a company, with Sky Light holding a 50 per cent stake. Sky Light's books also showed that it owned Rs 35 crore (Rs 350 million) worth of Saket Courtyard's shares at the end of 2013-14.
The two companies had gone quiet in the wake of intense media scrutiny on Vadra and Sky Light in October 2012. Except a resolution to appoint auditors filed in June 2013, not much was known about what the Vadra companies were doing.
But that seems to have changed over the past two weeks. Other Vadra entities, such as North India IT Parks, Real Earth Estate and Blue Breeze Trading also filed their latest balance sheets with the MCA last month.