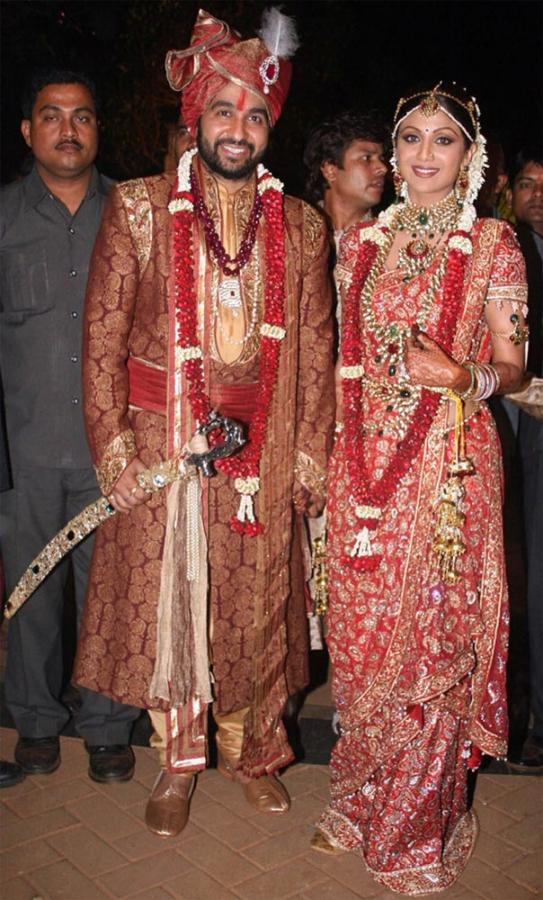 Image: Raj Kundra and Shilpa Shetty at their wedding. Photograph: Rediff Archives. The image is used for representational purpose only.

From high security cards to personalised cocktails, designers and planners are taking Indian weddings a notch higher
Shot on drones, printed on glass
Gone are the days when the photographer would land up at the venue on the day of the first function.
Today, wedding photography starts from the day of the proposal and goes on till the honeymoon is done and over with.
"Honeymoon photography is the in-thing.
"The photographer is taken along for two to three days and made to stay at a separate hotel.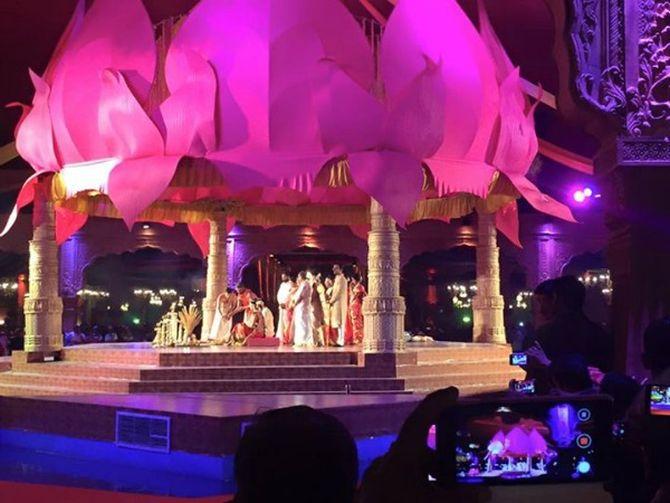 Image: NRI businessman Ravi Pillai spent Rs 55 crore on his daughter Dr Arathi Ravi Pillai's wedding to Adithya Vishnu, a Kochi-based doctor at the Asramam grounds in Kollam on Thursday. Photograph: Kind courtesy, Facebook. The image is used for representational purpose only
"The idea is to shoot the couple discreetly from a distance," says Mehak Sagar, co-founder, WedMeGood, a wedding planning website.
Glass albums are becoming the latest trend, with photos being printed on a new kind of glass.
Entertainment has become a huge aspect of weddings and a lot of thought is put into creating the mood through acts, which are more about style and substance than mere song-and-dance.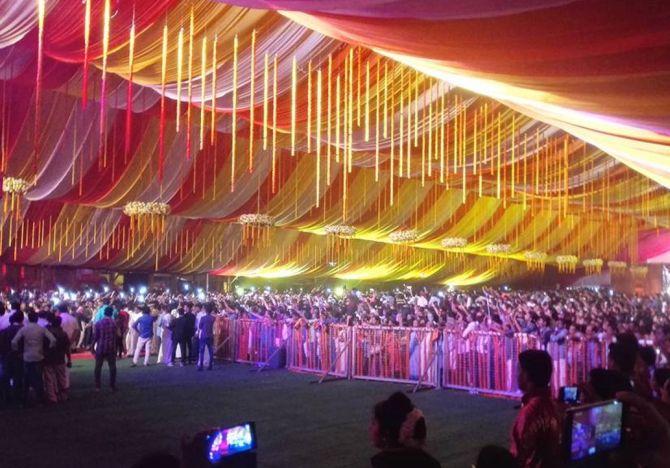 The image is used for representational purpose only. Photograph: Kind courtesy, Facebook

"Also, since a lot of international acts -- especially aerial and acrobatic ones -- are now accessible to Indian clients, with artistes coming to the country and staying for six months or so, it works very well for both the artiste as well as families who are looking to give their guests newer, more exciting experiences at their events," says Noureen Morani, weddings head, Cineyug Celebrations.
It is no wonder then that one of the most talked-about events at the Sanjay Hinduja wedding was the electrifying performance by Jennifer Lopez.
Meanwhile, wedding videos are going the Bollywood route, with full-fledged movies being made on the couple's love story.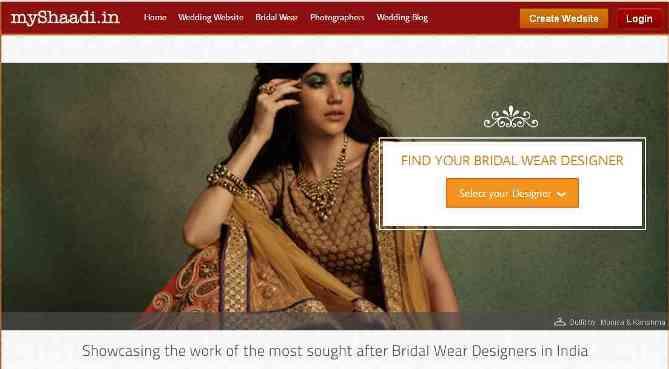 "Same-day edits are done and videos are shown at the reception.
"Instead of boring commentary in between sangeet performances, recorded videos of bride and groom's family on popular dubsmashes are being used to introduce the songs," says Sagar.
With the couple treating their guests to such novel experiences, it would be a tad disappointing if they received mundane and boring gifts in return.
To avoid such disappointments, Sudha Maheswari has started For My Shaadi, India's first wedding gift registry service.
The site, which went live six weeks ago, has already received two dozen registries.
Immensely popular are vouchers for bespoke gifts and unique experiences.
"So, we have got Häagen-Dazs to create a four-course dessert spread for the couple at their home.
"There are exclusive salsa classes at a studio in Bengaluru, followed by a romantic meal. We have even got an offline experience where Good Earth hosts a high tea for the couple," says Maheswari.
An invite to remember
Imagine opening a wedding invite to find a message from the groom's family on an iPad, or a box with a 3D rendering of a doli.
At a time when the big fat Indian wedding is bursting at the seams with luxury, how can the wedding invites be left behind?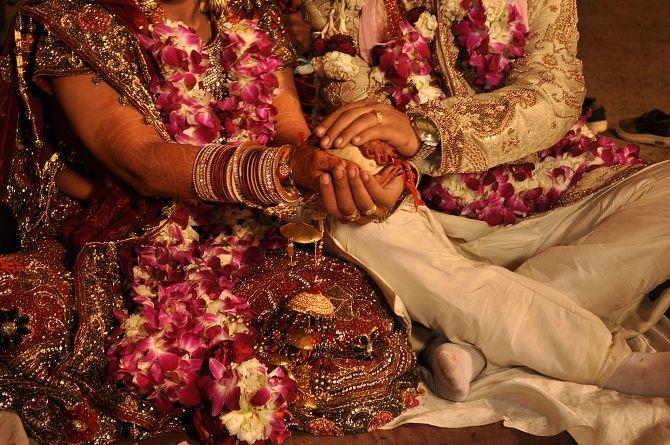 Image: A Hindu wedding. Photograph: Kind courtesy, Wikimedia Commons. The image is used for representational purpose only

Delhi-based wedding card designer Ravish Kapoor, who has created cards for Bollywood actors Shilpa Shetty and Shahid Kapoor, among other Bollywood celebrities, believes that there is no end to what can be created in today's world.
"The pole-dance party card, which I did, made people's heads spin with awe. We have even created invitation boxes with a crystal-inlaid piano," says Kapoor.
Known for his fine balance of craftsmanship and technology, he includes DVD screens and iPads in his invites, based on client requests.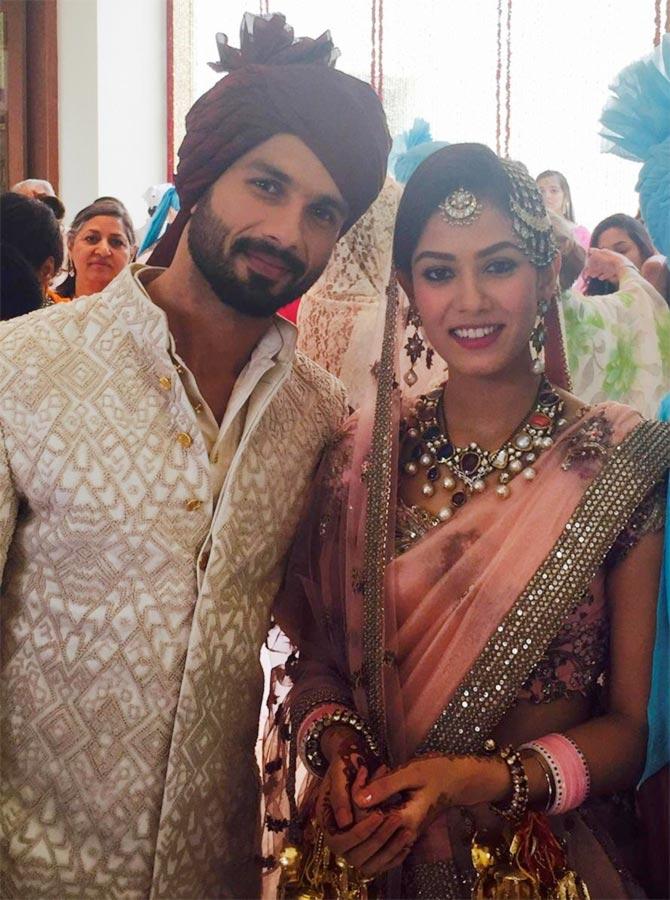 Image: Shahid Kapoor and Mira Rajput. Photograph: Mubina Rattonsey/Twitter

He also makes extensive use of laser technology to bring to life complex and intricate designs.
"The peacock on the lid of Shahid's card was created using one of these high-end lasers," says Kapoor.
Also, centred in Shahid's card was a chrome plate containing the event details, rendered in silver plating, which doubled up as the security pass. This has kickstarted the fad for invites embedded with security details.
Sending a mere invite, sans token gifts, is also passe.
Sommeliers and chocolatiers are now curating hampers to delight your guests with and offer a taste of the lavish celebrations to follow.
There are even special invites for the saat pheras, which include incense, exotic honey and supari, among other things.
Thea Tammeleht of Nordic Kandie Magic has been creating artisanal marzepan for weddings since 2014.
"Say, you have a pink or an orange theme for your wedding, we can customise our flavours and look according to that," she says, whose 18k silver- and 24k gold-coated marzepan is quite a hit.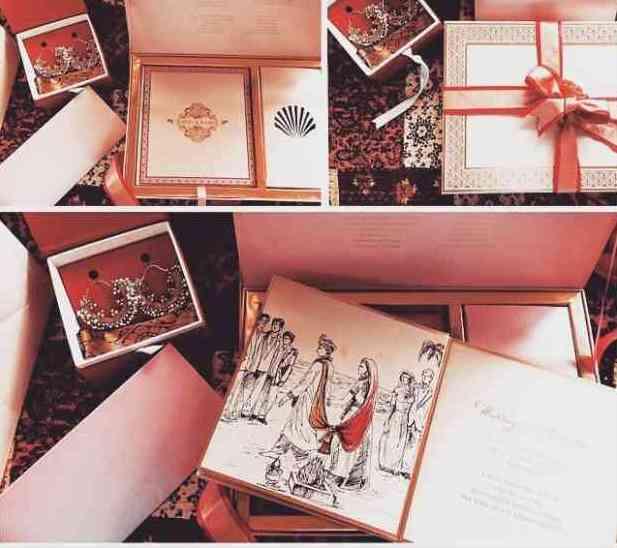 Image: Wedding invitation cards. Photograph: Kind courtesy, shaadisaga. The image is used for representational purpose only.

A tent made of 1,000 candles, anyone?
I won't be surprised if in 15 years, weddings will be held on the moon or Mars," laughs designer Varun Bahl who started a luxury wedding company last year to create the perfect decor for the big event.
With wedding themes getting more and more unique, and families scouring for something novel, wedding designers and planners are beginning to think out-of-the-box for the decor.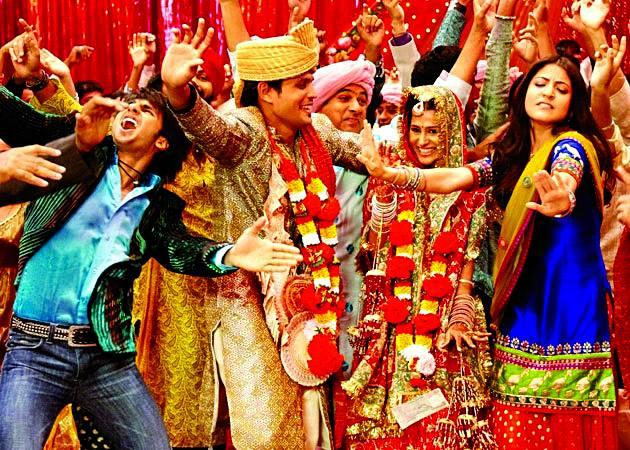 The image is used for representational purpose only. Photograph: Rediff Archives

Morani of Cineyug Celebrations does a lot of weddings for diamond merchants, most of whom know one another.
"Sometimes these social circles are a lot smaller and families would have attended weddings among their common circle.
So, it's understandable when they come to us asking for something that hasn't been done or seen before," says Morani, who together with creative head Priyanka Chaturvedi had planned the wedding for Laxmi Niwas Mittal's daughter, Vanisha.
She gets a lot of requests for fusion themes, sometimes for events with a huge guest list of 4,000 people.
"This one bride had been brought up in Hong Kong and the groom was from Belgium, and so for their wedding they wanted a blend of two very contrasting but equally rich cultures.
"We created a palette for them that was a mix of the colour red; because it is considered an auspicious colour in that region, and crystals to add the hint of glamour as the groom's family was in the diamond business," she says.
Bahl, however, prefers not to go over-the-top. "I like to keep it natural with creepers, flowers and candles," says Bahl, who designed four sides of a tent using thousands of candles.
"The fabric was only on the ceiling," he says.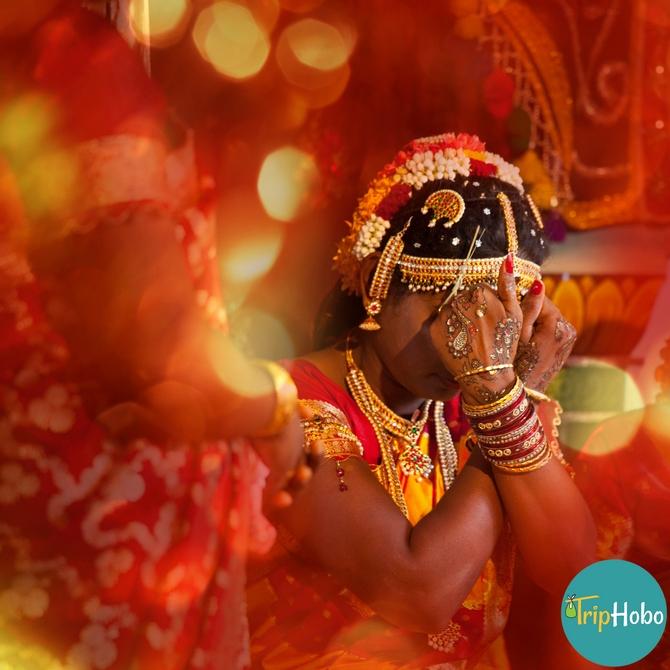 Image: A Hindu wedding. Photograph: Kind courtesy, Triphobo. The image is used for representational purpose only

An increasing number of wedding planners are opting for this line of thought.
"Sometimes the most elaborate sets don't do the trick, but a simple home-grown idea with detailed execution and a great experience does," says Bhavnesh Sawhney, director, Wedniksha, which was behind the grand wedding in Udaipur of designer Anu Mahtani with Sanjay Hinduja, chairman, Gulf Oil International.
The wedding, which was held in Udaipur last year, was conceptualised with designer Anu Mahtani.
"For a recent reception in Ahmedabad, we did an Imperial court theme, where the decor was done in hues of grey and matt gold with European-style detailing.
It drew inspiration from palaces like the Buckingham Palace," says Sawhney.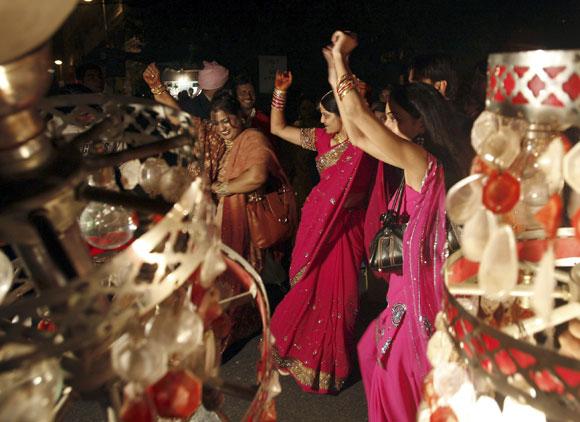 Image:

Indian women dance on the streets during a wedding in New Delhi

. Photograph:

Anuruddha Lokuhapuarachchi/Reuters.

The image is used for representational purpose only

Spinning a unique story
The level of customisation in Indian weddings has reached mind-boggling proportions -- from the kind of music that guests will listen to en route from the airport to the venue to dancers depicting the meaning of the pheras and new ceremonies being invented to make weddings more fun.
"Instead of going over-the-top, people are paying attention to detail. You can see unique customisations, especially at destination weddings.
"One bride came up with a spa party on the wedding day for all her guests," says Sagar of WedMeGood.
"Now, there are initials of the bride and groom engraved on everything, be it your hotel keys or pick-up cars.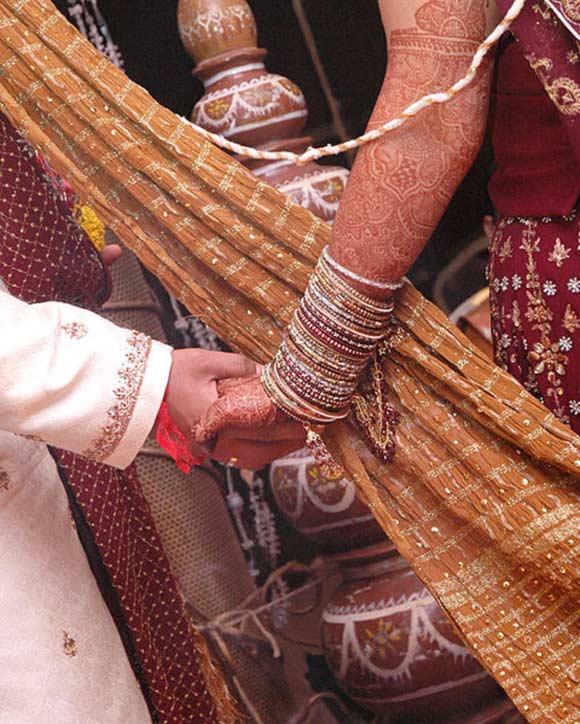 Image: An Indian wedding. Photograph: Clickmehul/Wikimedia Creative Commons. The image is used for representatonal purpose only.
"Even cocktails are named after the couple, who carefully select the drinks that truly 'signify' them.
"A Priya-tini or Abhi-tonic, perhaps?" Sawhney of Wedniksha too takes personalisation very seriously, with wedding apps being created for family members and friends to chat, discuss itineraries and event details.
"Offbeat" is the new buzzword in Indian weddings, especially when it comes to the sangeet and other pre-wedding ceremonies.
"A bride didn't want any flowers for her sangeet in Koh Samui. So, we worked around a theme of paper and origami art.
"Paper buntings, handmade by my florist's eight-year-old daughter, were draped between trees," says wedding planner Devika Narain.
At another event -- a mehendi in Jaisalmer -- the bride didn't want the done-to-death multicoloured mehendi.
"While driving from Jodhpur to Jaisalmer, we saw these beautiful indigo-and-white houses and instantly knew that our mehendi had to look like that," she says.