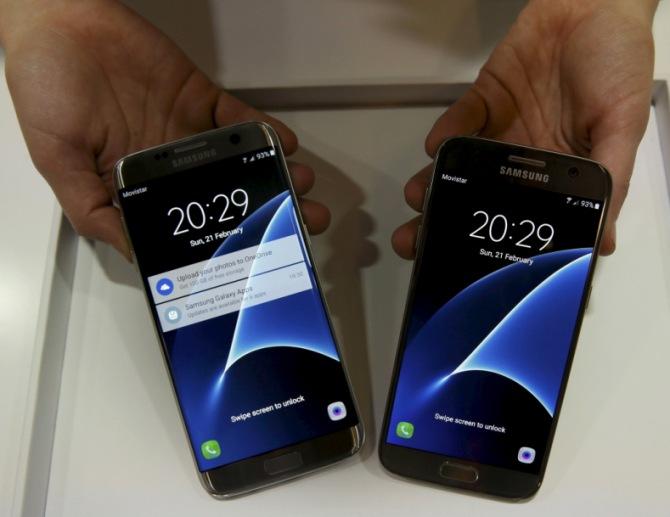 Image: New Samsung S7 (R) and S7 edge smartphones. Photograph: Albert Gea/Reuters

With high decibel launches and combative pricing, the two global majors are raising their game for the premium Indian smartphone market
From large newspaper advertisements, to television commercials and digital shorts, almost everywhere you turn, there is a smartphone brand staring back at you.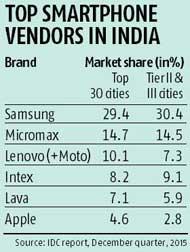 And with a spate of new launches by global majors Apple and Samsung assuming the decibel levels of slick Bollywood releases, the fight for the top spot in a market growing at over 20 per cent a year, is heating up.
Both Samsung and Apple are vying for the premium segment, but in keeping with the sensibilities of the Indian market, are offering customers a choice of affordable models too.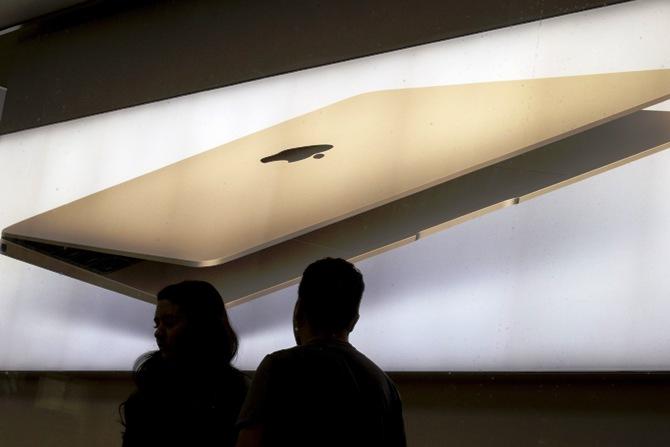 Image: Employees work at the SoHo Apple Store in New York. Brendan McDermid/Reuters
Although Samsung is far ahead of Apple (overall smartphone sales), the latter with the newly launched iPhone SE and growing hype over the 6S range, is raising its stake in the world's fastest growing smartphone market.
The noise level has gone up substantially during the past two months with the unveiling of a fleet of flagship devices at the annual extravaganza at Barcelona the Mobile World Congress.
Samsung launched Galaxy S7 and S7 Edge towards the end of February and within a fortnight, brought these models into India.
While, the alacrity is attributed to the growing importance of India as a market, analysts point out that it was a counter strategy to check increasing sales of iPhones in India.
Samsung has reason to be worried. Sale of iPhones has increased four-fold in the past three years -- from some five lakh in 2012 to two million in 2015.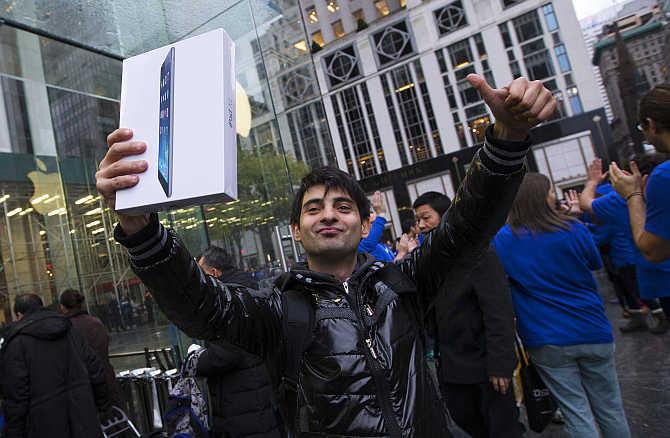 Image:

Rami Shamis celebrates outside the Apple Store on New York's Fifth Avenue after buying an iPad Air.

Photograph:

Mike Segar/Reuters



While Apple never made it to the list of top ten players in the country two years back, it has nudged itself into the reckoning.
Industry analysts said that Apple's fortunes turned in 2015 when it managed to sell a record number of iPhones in India, leveraging the hype among consumers over the launch of iPhone 6S and 6S Plus in October.
According to the research firm International Data Corporation, Apple became the number one player in the above Rs 20,000 price segment in the top 30 cities in the country, during December quarter.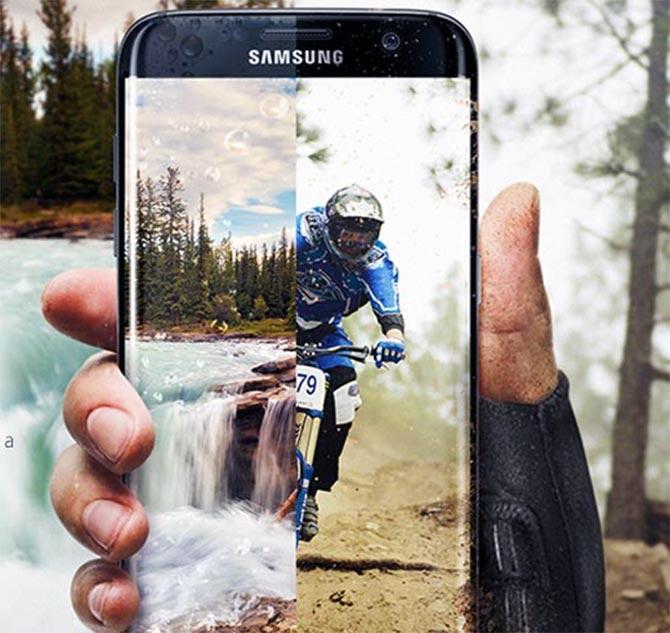 Image: The S7 edge, with a 5.5-inch screen, is easy to use one-handed. Photograph: Kind courtesy, Samsung

Incidentally, the leading 30 cities of India make up approximately 51 per cent of the entire smartphone market, too big a market to be ignored by any competitor.
IDC analysts said, "Apple regained the top position in above $300 smartphone market with 42.1 per cent share with the launch of iPhone 6S and 6S plus in addition to the price correction for iPhone 5S, 6 and 6 Plus."
Now Apple's new four inch avatar (at $400 compared to $650 plus for other new models) is expected to increase sales in developing markets like India, Africa and Latin America further.

In developing country markets, refurbished handsets (second hand iPhones) have a large market.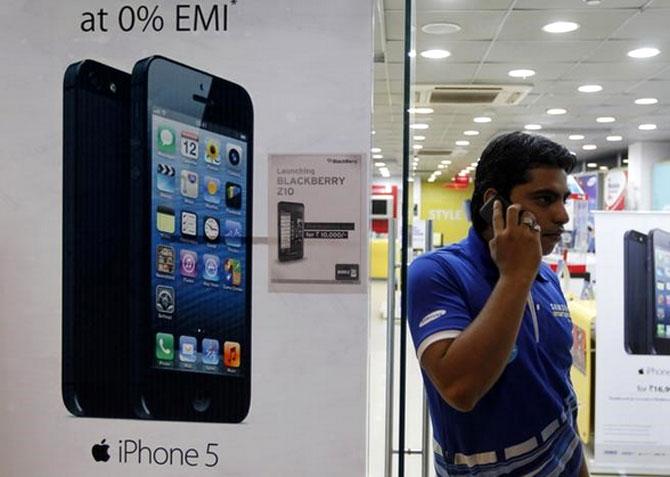 Image: A man talks on his iPhone. Photograph: Reuters
"Some smartphone recycling companies told us that as much as 80 per cent of refurbished smartphone sales are iPhones, when a new model is announced.
Apple would rather those customers buy a cheap new iPhone", Ronan de Renesse, lead analyst, consumer technology with London-based firm Ovum said.
Samsung, meanwhile, has trained its sights on the premium segment (above Rs 30,000), but has been careful to not price itself out of the market.
Image: Samsung Galaxy S7. Photograph: Kind courtesy, Samsung

After launching a dual SIM version of its flagship Galaxy Note 5 in January, it launched Galaxy S7 and S7 Edge on March 8 at a lower price than its previous models a year ago.
According to Manu Sharma, director, product marketing, Samsung India, the move was aimed at "staying competitive".
Apple has been steadily building its base in the Indian market.
"Between March and August Samsung's share in the premium segment goes beyond 50 per cent, but for Apple it has risen substantially during the September-December quarter," Neil Shah, director, Counterpoint Research said.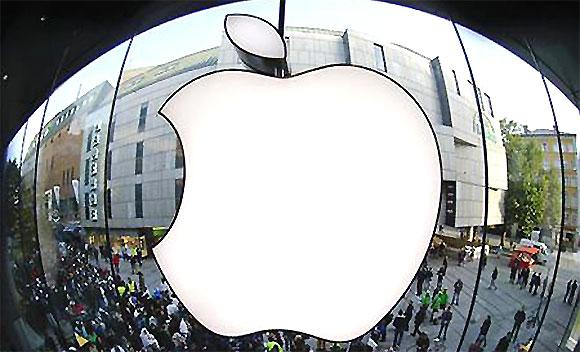 Image: Apple logo. Photograph: Reuters
"Apple added two distributors during 2015 and has managed to double its retail reach to some 10,000 outlets over the past year.
However, many analysts believe that Apple may have played its hand too late and pricing may still play spoilsport.
"I don't think iPhone SE will change the market dynamics in India and Latin America much because the average selling price in those regions is still well below $400 (Rs 27,000).
"We expect 77 per cent of smartphone sales in India in 2016 to be below $200 (Rs 13,500).
"But the other 23 per cent of the Indian smartphone market will correspond to 33 million sales which is what Apple is after," de Renesse said.
The iPhone SE 16GB version is priced at Rs 39,000 for the Indian market compared to its international price at Rs 27,000 ($399).
"Apple is the only smartphone maker in the world to grow its average selling price (revenues divided by unit sales) in the past two years from $606 (Rs 40,600) in 2013 to $671 (Rs 45,000) in 2015," he added.
Clearly neither Apple nor Samsung is willing to give up the fight and with both readying for a spate of new launches, the Indian customer can expect to be wooed in style in the coming year.