Increased use of aluminium in cars, global expansion to drive the company's fortunes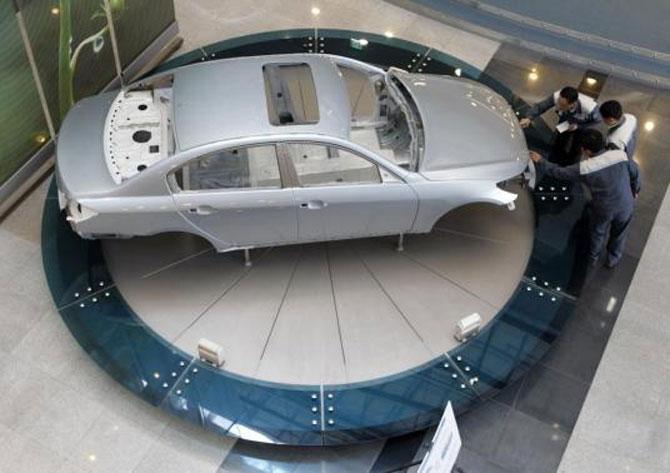 Image: Western automakers are embracing aluminum. Photograph: Lee Jae-Won/Reuters.
Kumar Mangalam Birla-owned Hindalco may be facing headwinds at home – fighting CBI (Central Bureau of Investigation) cases and de-allocation of mines, but its North America-based subsidiary, Novelis is all set for a sharp revival of its fortunes in 2015. This will be great news for the group, which wants to show its $6 billion bet in Novelis in 2007 was correct and beneficial for its parent Hindalco's shareholders. Here are five reasons why Novelis will make news this year:
Ford's new car: American car major, Ford has launched a new car called F-150 – made with aluminium body and engine. This has shaved off 30 per cent of the car's weight and has made it more fuel efficient. This can a game changer for the auto sector in the US – which is cutting costs due to economic slowdown there.
Ford claims the new car is 30 per cent more fuel efficient as compared to its earlier versions – thanks to the increased use of aluminium. Ford plans to produce 850,000 units of F-150 cars and will need about 350,000 tonne of aluminium sheets. This is a big bonanza for Novelis – which made its mark by supplying aluminium cans to Coca Cola.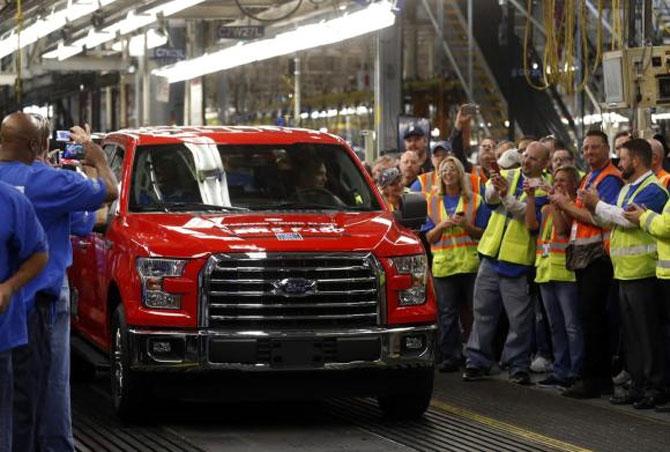 Image: Ford Motor assembly workers celebrate as the all-new 2015 F-150 pick-up truck is driven off the line. Photograph: Rebecca Cook/Reuters.
Recycling scrap: Novelis and Ford are working closely to recycle scrap generated from automotive body making process using aluminium sheets. Following the success of its strategy of using a closed-loop system in Europe for Jaguar and Land Rover, Novelis is now using the same technology with Ford's F- 150 in the US.
Novelis and Ford have an agreement that allows the Birla company to recover a big chunk of its aluminium costs by selling the scrap back to the former for recycling, and then buying it back in the form of sheets. This results in both the companies reusing the scrap, thus reducing wastage.
Fresh Investment: Novelis has invested close to $2 billion in the last two years to expand its capacity. Of this, $500 million has been invested to increase its recycling capacities. The company aims to use 80 per cent recycled content in its auto sheet business by 2020, up from less than 10 per cent five years ago. If rest of the auto industry follows suit, Novelis will have the first mover advantage.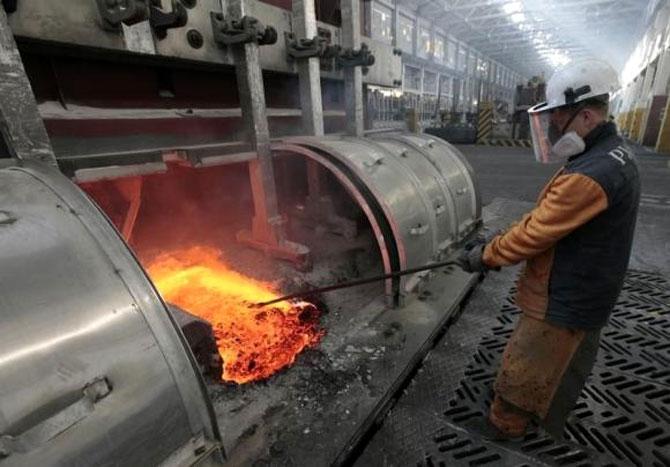 Image: A worker operates an electrolysis furnace, which produces aluminium from raw materials. Photograph: Ilya Naymushin/Reuters.
Europe & China: Novelis recently commissioned its new auto line in China while the other two expansions in the US and Germany are expected to be commissioned by the end of 2015. With this, the company expects auto segment to account for 20 per cent of sales volume by FY17.
Axis Capital says the volume share of aluminium in auto body and closure parts, which is currently at 2 per cent, is expected to rise to 9 per cent by 2016 and to 26 per cent by 2025. When the tide turns, Novelis will be poised to ride with the tide.
Hindalco's turnaround: Hindalco's consolidated EBITDA or earnings before interest, tax, depreciation and amortisation is expected to double in three years, led by favorable product mix at Novelis, doubling of aluminium volume and cost reduction at Hindalco. This makes it an attractive equity investment option, says Axis Capital. It's also time now for Hindalco to earn dividend from Novelis after investing a massive $6 billion in it.