Jungliceo.com has wowed new business owners by helping them network while watching lions and tigers in the wild.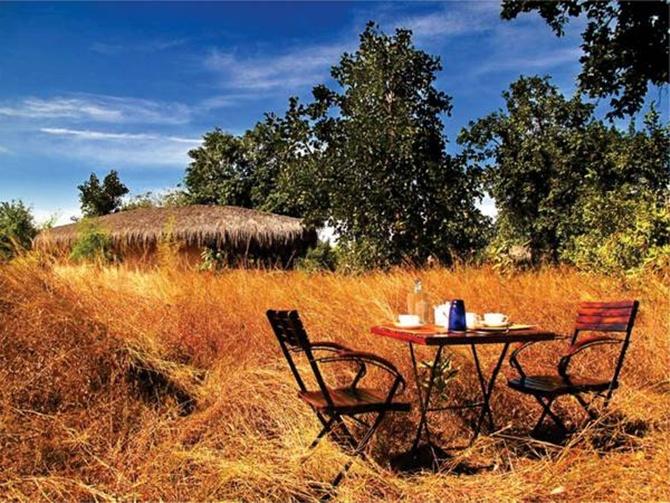 Image: Taking entrepreneurs on wildlife trips. Photograph, Courtesy: Jungli CEO
Leopards are Mukesh Ambani's inspiration. The Reliance boss once said he liked spending hours watching the wild cats and even takes business lessons from them.
A new start-up is helping budding entrepreneurs take a leaf out of the Ambani book by taking them on wildlife trips, allowing them to bond over tiger and lion sightings, and even generate business among themselves.
"This year, we intend to take at least 200 entrepreneurs and CXOs for our wild breaks across India," said Rajesh Madan, founder of Jungli CEO, and its website, jungliceo.com.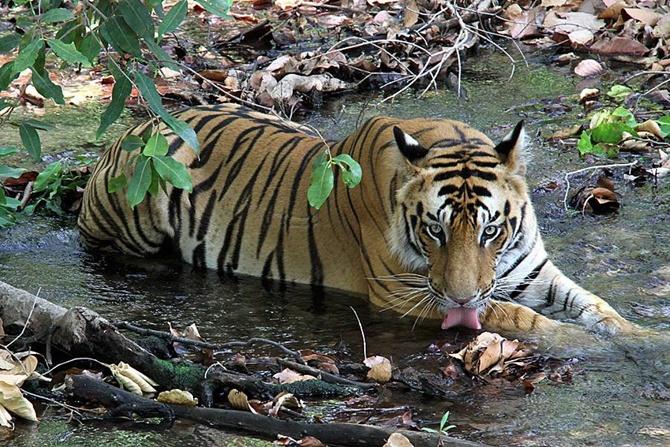 Image: Business people look for ways to mix business with pleasure. Photograph, Courtesy: Jungli CEO
Madan and two of his friends, Mohit Sareen and Mohit Aggarwal, picked up the idea while they were on one such trip. Though they ran completely different businesses, what bound them was passion for wildlife. Also, being entrepreneurs themselves, they "understood the pain points of entrepreneurship, chief among these to bond with the right people to grow their business".
Shailendra Beniwal, on one of the first trips, had spent two decades in the corporate world before the bug bit him. A former sales director at tech multinational Hewlett-Packard, he recently took the plunge into entrepreneurship, launching an organic food business called Deshse.com.

Even so, he was not so sure about the entrepreneurial world view. That's when he came across Jungli CEO . "It is a brilliant concept for people who are loners. A CEO is a loner," Beniwal said.

He was on a trip organised by Jungli CEO to Corbett reserve, a few hours drive from here, where he spent a couple of days with entrepreneurs like him.
"When you spend two decades in the corporate world, everyone you know is a corporate guy. The trip gave some important learning on how a business owner thinks," Beniwal said.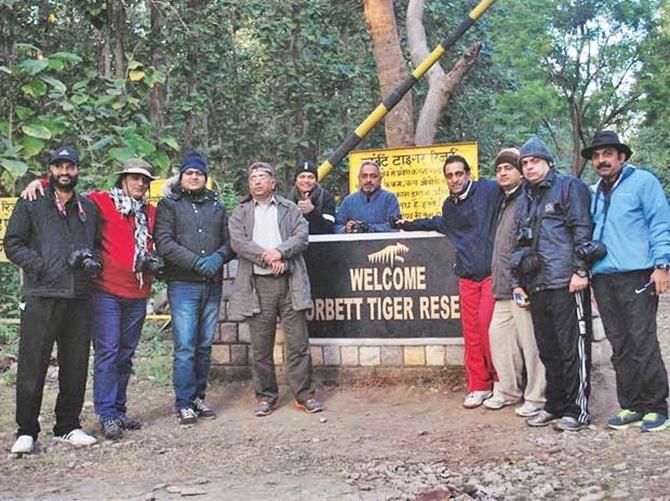 Image: Rajesh Madan (3rd from right) and Mohit Sareen (4th from right) , co-founders, Jungliceo, with other entrepreneurs during a trip to the Corbett national park.
Photograph, Courtesy: Business Standard
The founder of Deshse says his key takeaway was how frugal entrepreneurs are. "In the corporate world, you don't worry too much about the money. When it comes to business, they count every penny," said Beniwal, who plans to take some of the upcoming trips.
While established entrepreneurial networks such as The Indus Entrepreneurs (TiE) also offer member retreats, such events are few and far between. Nor do these have wild breaks as a theme. A TiE member retreat is coming up in Rajasthan's Pushkar next month.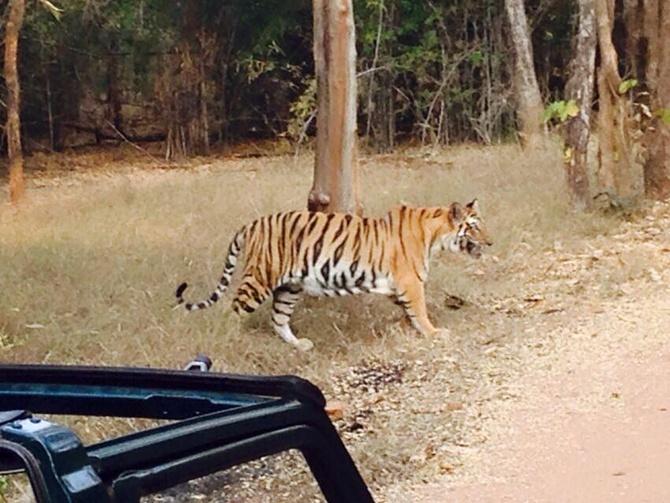 Image: One trip lined for every month of 2015. Photograph, Courtesy: Jungli CEO
Present & future
However, the calendar of Jungli CEO is packed. It has at least one trip lined for every month of 2015; on the agenda are the rhinos of Kaziranga, tigers of Bandavgarh and Ranthambore and even the Andamans.
At present, Jungli CEO acts like a travel company, earning from ticket charges for the trips, which can be as low as Rs 10,000. It is hoping to ride on the booming wildlife tourism sector.
Said co-founder Mohit Aggarwal: "The Indian wildlife tourism business has been growing at 15 per cent annually for the past decade or so. This growth promises to pick up speed, as busy business people look for ways to mix business with pleasure."
Madan said there was hardly any profit at this stage and the focus was to build the network and take it to 500 entrepreneurs next year. "We are putting in place a discreet mechanism to enable them to dock in the amount of business they generated for fellow members."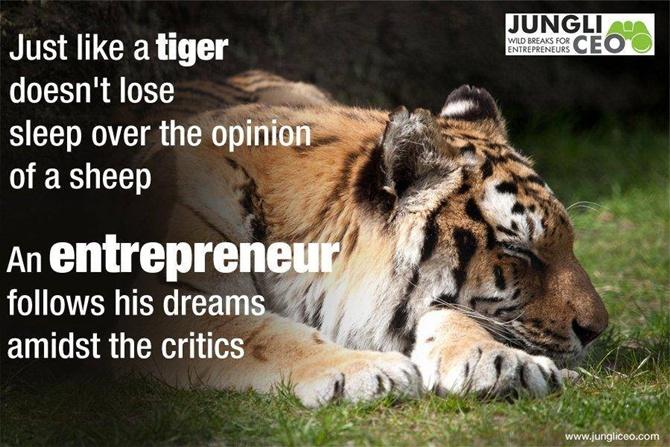 Manav Malvai, another entrepreneur, with interest in film-making and internet marketing, said he found two clients on one of the trips. "Though that is not the primary objective, when you spend time with people, there are a lot of exchanges of ideas and business tends to happen," Malvai said.
Madan said Jungli CEO intends to help its participants clock a business of Rs 3 crore (Rs 30 million) by the end of the year. "That will be the true yardstick for our success. Our guests have already achieved Rs 28 lakh of business from just two wild breaks," he said.
His plans are ambitious. "Next year, we will start taking wild breaks to overseas wildlife destinations like Masai Mara, Okawango, Borneo, Bhutan, etc." By 2017, Jungli CEO's destination matrix will also include destinations for adventure sports like rafting, bungee jumping and hang-gliding.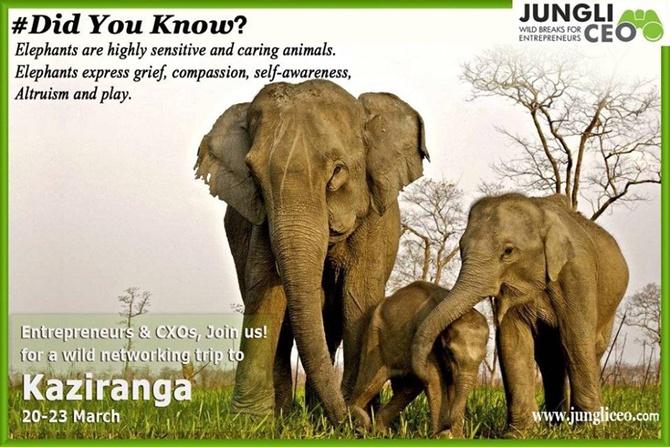 While entrepreneurs like Beniwal say they would like to take such breaks at least once every few months, they acknowledge that matching of attitudes, a love for wildlife and smart packaging of activities are critical for sustaining the interest and growth of this platform. "It is going to get built over years…largely through word of mouth," said Beniwal.
The founders are digging into other international business referral networks such as BNI, of which they were part of, to bring in new businessmen. They try to keep the personal touch going by being on the trips themselves. "At least one of the three directors of Jungli CEO will always be a part of all wild breaks. We will never delegate that crucial aspect to an employee or consultant. We will instead scale up by having more breaks and by offering high-value breaks," Madan said.