ICICI Bank CEO Chanda Kochhar and Microsoft CEO Satya Nadella have found a place in Time magazine's 'The 100 Most Influential People' in the world.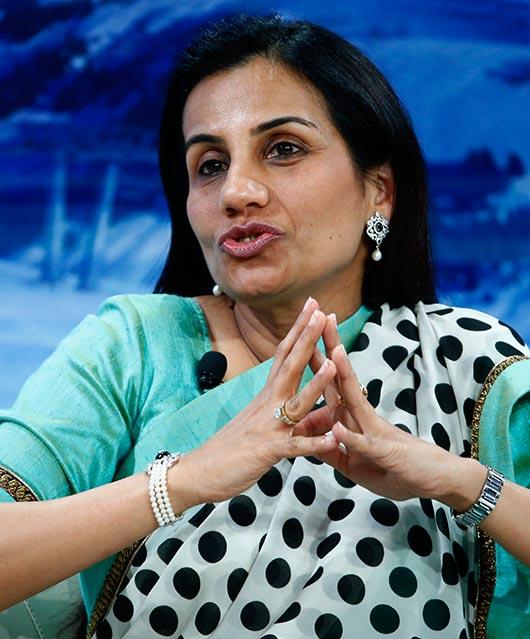 Image: Chanda Kochchar among most influential people.
Photograph: Ruben Sprich/Reuters
Praising the leadership qualities of Kochhar, her friend and Deutsche Bank co-CEO Anshu Jain has said he is yet to find anything she can't do.
Chanda Kochhar, who has been at the helm of ICICI Bank since 2009, is among the three Indians and the only Indian woman named in the list of 'The 100 Most Influential People' in the world by Time magazine.
Take a look at the most influential people from the world of business…
Chanda Kochhar
CEO, ICICI Bank

Chanda Kochhar's story is an inspiration to women across the world.

Kochchar who consistently figures in the Forbes' and Fortune's list most of powerful women, highlights the success of women in India's banking sector.

Kochchar, who joined ICICI Bank as a management trainee worked her way to head the organisation.

Chanda Kochhar has shaped retail banking in India ever since she assumed her pivotal role in establishing ICICI Bank during the 1990s, says Anshu Jain.
"Her calm, soft-spoken and understated demeanour belies her strength of conviction and clarity of thought," Jain said in the profile about Kochhar written in the magazine.
Noting that Kochhar is a first-class leader, strategist and friend, Jain said that when young women turn to her for advice, she tells them to put aside their unconscious inhibitions.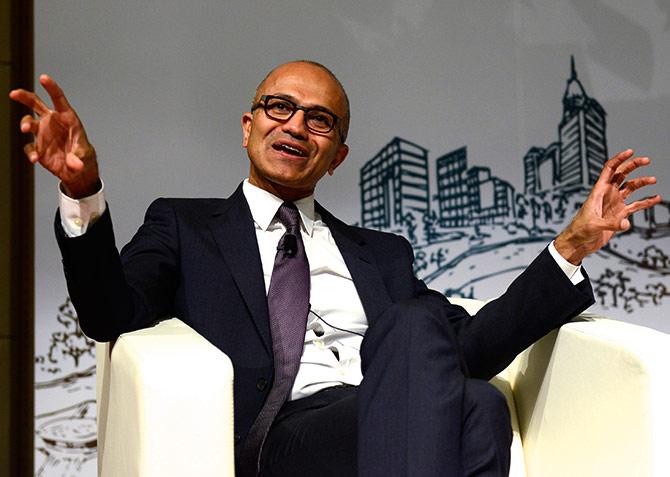 Image: Microsoft Chief Executive Satya Nadella. Photograph: Reuters
Satya Nadella
CEO, Microsoft
After being ranked as the highest-paid CEO in the United States, Satya Nadella has another feather in his cap – of being ranked as one of the world's most influential people.

After joining Microsoft in 1992, he quickly became a leader who could transform some of Microsoft's biggest product offerings.
Praising Nadella in the Time magazine report, Aaron Levie, the CEO of Box, said "Changes that once would have been considered blasphemous -- releasing open-source software, building on iOS and Android and even making Windows free in some cases -- are turning Microsoft around.".
"Satya is basically the star of one of those teen movies where the parents go out of town and the kid takes control of the place. And it's been great," Levie said.
US President Barack Obama plans to honour Microsoft's Indian-origin CEO Satya Nadella with the 'Champions of Change' award for bringing about change within his company to support working families.
Nadella, who hails from Hyderabad, has a Master's degree in Computer Science from the University of Wisconsin–Milwaukee and an MBA from the University of Chicago Booth School of Business.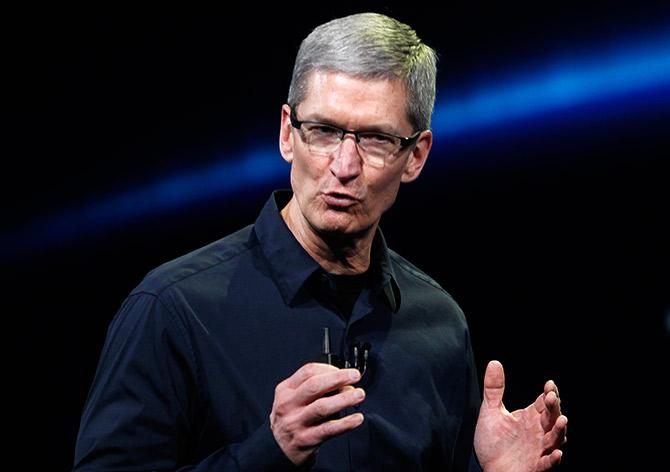 Image: Apple CEO Tim Cook, a courageous innovator. Photograph: Robert Galbraith/Reuters
Tim Cook
CEO, Apple Inc

The Time magazine calls Tim Cook 'a courageous innovator'.

Taking over the company after Steve Jobs quit, it was a daunting task for him to raise the company's growth to new heights.
Under their leadership, Apple crossed several hurdles and bounced back to become a $100 billion entity.
"Tim has pushed Apple to unimaginable profitability - and greater social responsibility," says John Lewis, a civil rights leader and Democratic Congressman from Georgia, in the Time magazine report.
Cook received BS degree in industrial engineering from Auburn University in 1982 and did an MBA from Duke University's Fuqua School of Business in 1988.
Cook spent 12 years in IBM's personal computer business. He then moved to computer reseller division of Intelligent Electronics and was vice president for Corporate Materials at Compaq for six months.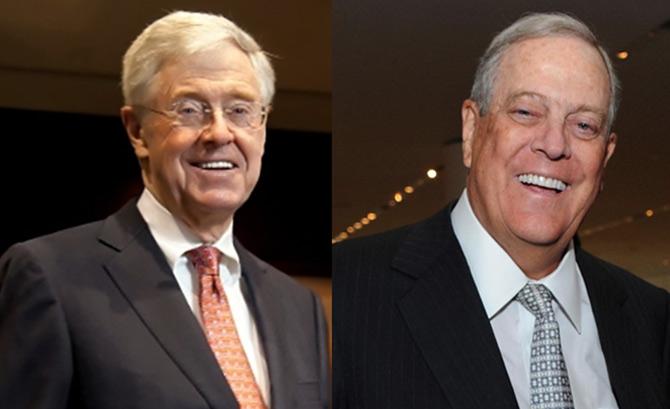 Image: Charles Koch & David Koch (R)
Charles Koch & David Koch
Koch Industries
Brothers Charles and David Koch are successful businessmen and known for their philanthropic efforts as well.
They manage Koch Industries, the second-largest privately held company in the United States.
The Time magazine appreciates Koch brothers for supporting 'freedom, equality and opportunity'.

"Consistent with their love of liberty, they have become prominent advocates for criminal-justice reform," says Time magazine.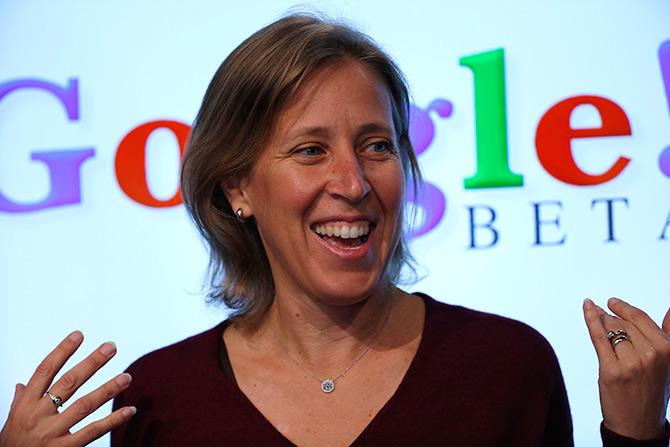 Image: Youtube CEO Susan Wojcicki. Photograph: Stephen Lam/Reuters
Susan Wojcicki
CEO, YouTube
Susan Wojcicki, CEO of YouTube is known as one of 'the most important persons in advertising'.
"When Google was created in her garage, it marked a pivotal moment in the history of the world. This ignited Susan's epic journey, which today finds her at the helm of yet another transformational platform: YouTube," notes Brian Grazer, an Academy Award–winning producer, appreciating the efforts of Wojcicki in the Time magazine report.

She is also ranked among Forbes 'World's 100 Most Powerful Women'.
Wojcicki started her career at Intel. She worked as a management consultant at Bain & Company and R.B. Webber & Company.

At Google, she worked on the initial viral marketing programs and Google doodles.

Later, Wojcicki became senior vice president of advertising & commerce, offering significant contributions to advertising and analytic products including AdWords, AdSense, DoubleClick, and Google Analytics.
Image: AirAsia CEO Tony Fernandes. Photograph: Andrew Yates/Reuters
Tony Fernandes
CEO, AirAsia

No-frills carrier AirAsia's chief executive officer Tony Fernandes, said he was shocked to find his name in TIME's top 100 list.
"It is a tremendous honour to be included in TIME's top 100 list -- I was shocked when I first received the news but I am very proud and humbled," Fernandes said in a statement.
Tony Fernandes is the founder of Tune Air, which introduced the first budget airline in Malaysia with the vision of making air travel affordable to all.

Fernandes transformed AirAsia into a very successful company.
"With his strength, candor and compassion, Tony helps get AirAsia's passengers home every day. And he continues to lead a company that has earned the trust of travelers," remarks Richard Branson about Tony Fernandes.
Tony Fernandes did a brief stint as an auditor in Richard Branson's company, Virgin Atlantic.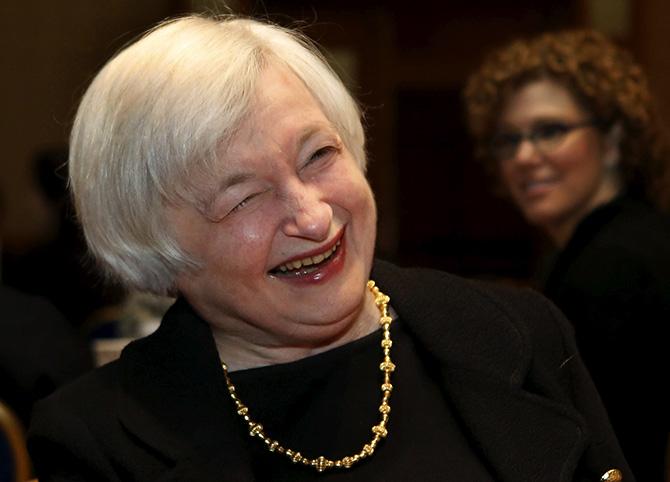 Image: Federal Reserve Chair Janet Yellen. Photograph: Yuri Gripas/Reuters
Janet Yellen
US Fed chairperson
"As the leader of the most important central bank in the world, Janet Yellen can impact economies around the globe," says Anat Admati, finance and economics professor at Stanford, in Time magazine.
Janet Yellen is the first woman to hold the chair of the Federal Reserve Board of Governors.
She was earlier president and CEO of the Federal Reserve Bank of San Francisco, Chair of the White House Council of Economic Advisers under President Bill Clinton; and Professor Emerita at the University of California, Berkeley, Haas School of Business.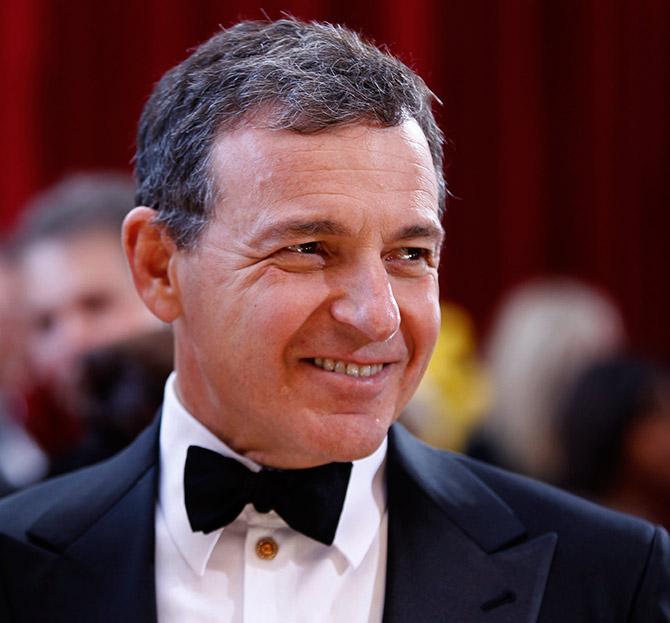 Image: Walt Disney Company President and CEO Bob Iger . Photograph: Lucas Jackson/Reuters
Bob Iger
CEO, The Walt Disney Company
Bob Iger is the chairman and chief executive officer of The Walt Disney Company.

Interestingly, Iger began his career as a weatherman for a local television station.

He then joined the American Broadcasting Company in 1974. He became president of the ABC Network Television Group.
Later, The Walt Disney Company acquired ABC and renamed it ABC, Inc.

"Hollywood blinked when Bob spent $15 billion on Pixar, Lucasfilm and Marvel. But they turned out to be great and logical investments that have kept Disney on the front foot," point outs Rupert Murdoch in Time magazine, appreciating Iger's efforts.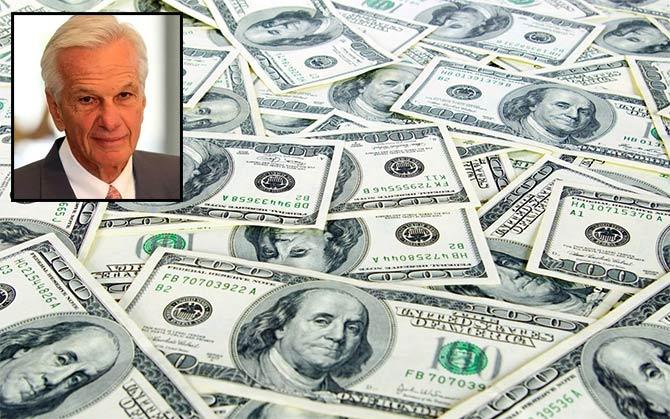 Jorge Paulo Lemann
Co-Founder, PE firm 3G

Time magazine calls Jorge Paulo Lemann an 'Artful dealmaker'.
Carl Icahn, says "I'd put Jorge Lemann in the top four or five smartest people I know on Wall Street."
With an estimated net worth of $25 billion, he is ranked world's 26th richest person by Bloomberg Billionaire Index.
He was also a national tennis champion in Brazil.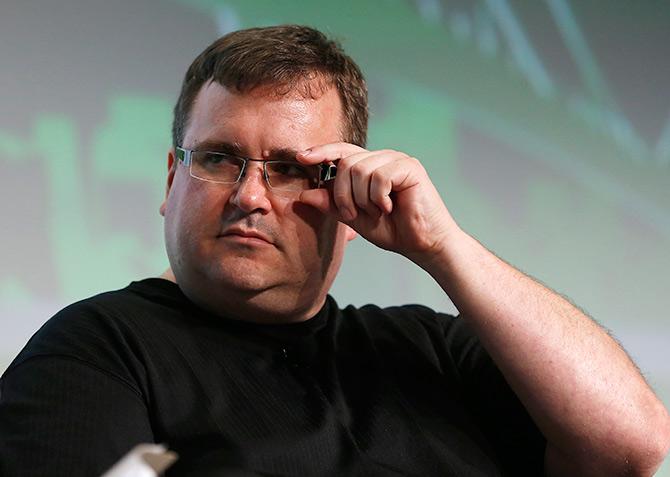 Image: Reid Hoffman, executive chairman of LinkedIn. Photograph: Stephen Lam/Reuters
Reid Hoffman
Co-founder, LinkedIn
Time magazine calls Reid Hoffman 'Silicon Valley's grand master'.
"LinkedIn succeeded in connecting the professional world, enabling social mobility on an unprecedented scale," says Sean Parker, an entrepreneur and investor, commenting on Hoffman's success.
Hoffman joined Apple Computer in 1994, where he worked on eWorld, which was an initial attempt to create a social network.

Later, co-founded SocialNet.com in 1997, much before social networking became a big trend.

Hoffman co-founded professional networking site LinkedIn in December 2002.

In April 2014, President Barack Obama named Hoffman as a Presidential Ambassador for Global Entrepreneurship.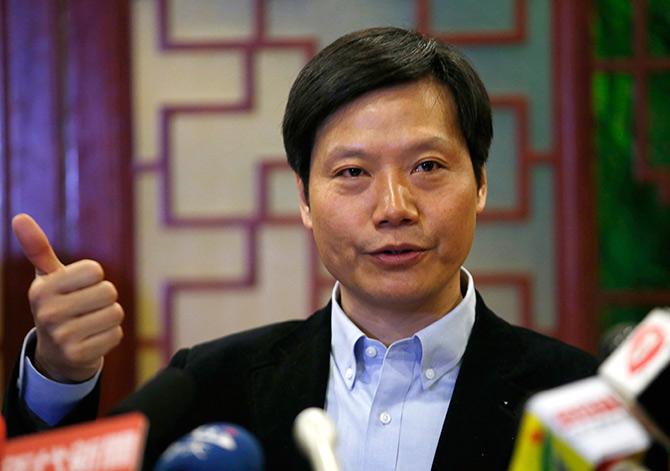 Image: Lei Jun, founder and chief executive officer of Xiaomi Inc. Photograph: Kim Kyung-Hoon/Reuters
Lei Jun
Xiaomi founder and CEO
Hailed as the 'Steve Jobs' of China, Lei Jun has invested in over 20 companies in China
Founded in 2010, Xiaomi rapidly grew to become the third largest smartphone maker in the world.

The company valued at $46 billion is the world's most valuable tech startup.
Jun is bullish on companies in the ecommerce, social networking, and mobile industries and continues to invest in these firms.